Raising awareness of mental health causes is something that has always been really important to me. I strongly believe that improving people's understanding of mental health difficulties and normalising discussions about these issues can have a positive impact on reducing the associated stigma enabling people to be more open about their own struggles. I was really impressed by a recent awareness campaign held for SAMH in Scotland.
On Valentine's Day, SAMH (Scottish Association for Mental Health) distributed love heart shaped stress balls to cinema goers at the Odeon Braehead. SAMH are Scotland's leading mental health charity and have run numerous initiatives including anti-stigma and anti-bullying campaigns.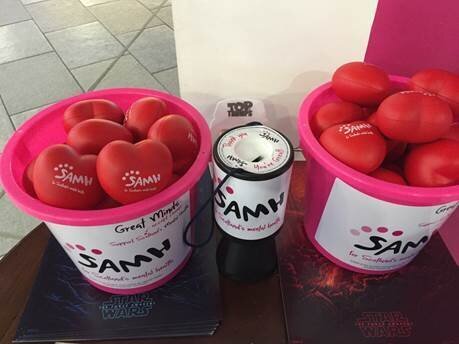 The love heart shaped stress balls were provided by promotional products provider Skyrise Branding and were designed to build awareness of the great causes SAMH are involved with. The campaign - attracting cinema goers on Valentine's day - sparked a talking point and should benefit the overall aim of getting more people to talk about mental health issues.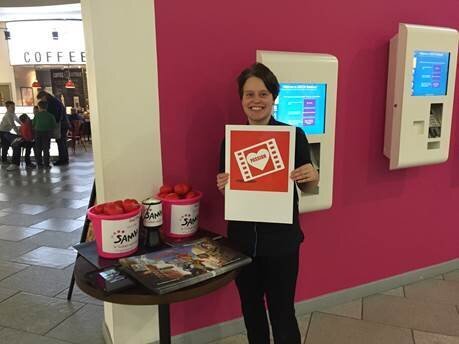 Sarah Nicholson, Corporate Partnerships Manager for SAMH said:
"We are very grateful to Skyrise Branding for providing us with the uniquely designed Valentine's Day themed stress balls.Research shows that 1 in 4 people will experience a mental health problem and if it's not you, it is likely to be someone you care about. Valentine's Day is a time for showing loved ones how much we care for them, whether its family, friends or even ourselves. Stress balls are great for relieving stress and muscle tension, and if you don't need one, then someone you know might benefit from it.SAMH would encourage anyone to do things that have a positive impact on our mental health which includes giving, whether it's giving a gift or even just your time to someone and staying connected with our loved ones."
SAMH are known for using their creativity. Their recent fundraiser - " An Evening with Sir Chris Hoy" involved inviting the cycling legend along with a panel of other sportspeople to take part in "A Sporting Question" The event raised more than £55,000 to go towards mental health campaigns and initiatives.
Hassan Rafiq, Director for Skyrise Branding shared the motivation behind supporting SAMH:
"We try to help a few organisations every year and SAMH is one we really admire. I feel mental health is often overlooked and that there is a stigma behind opening up to these issues. As such, I think everyone can be impressed by the services provided by SAMH. We are all likely to know someone who could benefit from the services provided by a mental health charity. This is why it's great to do a little bit to raise awareness of such a great organisation"
SAMH is the leading mental health organisation in Scotland, they work to provide community treatment for young people with mental health problems, are involved in policy and campaigning and in National campaigns. In January, SAMH challenged political leaders in Scotland to raise the profile of mental health in Scotland. Their 'Ask Once, Get Help' manifesto looks to improve access to mental health support with better timescales... something that is so relevant across the country!