I joined the Army 15 years ago and I worked for eight years as a Systems Operator in the Royal Corps of Signals, but I wanted more of a challenge from my Army career. I have always been mad about sport and fitness; I competed on the GB Development squad in Nordic skiing as a signaler and it seemed a natural progression for me to transfer into the Royal Army Physical Training Corps. I passed the grueling selection process and then the 9 month Physical Training Instructors Course and I qualified as a Royal Army Physical Training Corps Instructor in 2008.
Physical Training Instructors (or PTIs as we are known in the Army) exist to improve the physical and mental robustness of officers and soldiers, ensuring they are physically prepared for all their military duties. I decided to pursue one of the more specialized PTI career routes and I trained to become an Exercise Rehabilitation Instructor at Headley Court. I served for two years at Headley Court, working with soldiers who had suffered serious injuries - many of them sustained on operations in Afghanistan.
A year ago I was offered a chance to deploy to Afghanistan as a mentor at the Afghan National Army Officer Academy located in Qargha, out to the west of the capital city of Kabul. My job here is to mentor the Afghan female PTIs who will deliver the physical training syllabus to the female officer cadets. This is my third operational deployment to Afghanistan, but my first where I have worked closely with Afghans.
The Academy and is modeled on the British officer commissioning course run at Sandhurst and it opened in October last year with an intake of 270 male officer cadets. The cadets at the Afghan National Army Officer Academy follow a 12 month programme which equips them with the skills and knowledge to be an effective combat leader. June 2014 is an important milestone for the Academy as that is when the first female cadets will begin training alongside their male colleagues.
It was on day one of our pre-tour training at the Royal Military Academy Sandhurst that someone briefed us that "the male ANA soldiers won't listen to you as a woman" and "the men there have no respect for women". The deployment hadn't even begun and I was already feeling a sense of foreboding. Seven months on - if only I'd known then how wrong they were.
As the only female soldier in the PT mentoring team, I arrived feeling quite uncertain and I was anxious about how the newly qualified male Afghan PTIs would react to me. They would never have seen a woman doing physical training before and I was bound to be an object of fascination. When we arrived, there were still no women on the Academyís staff, so I just had to get on with mentoring the men, and that was that.
My first encounter with the PTIs was memorable; they stared, then they asked if I was a PTI. Their questions quickly progressed onto my marital status and how quickly I could run 2.4km and they laughed at how small I was in comparison to my male colleagues. I quickly got used to their staring and adopted a "don't mess with me" attitude. It didn't take long to earn their respect; I guess the key was to fit in, have a sense of humor and show them I was capable. They soon realised I was there to work (and to get them to work!), and I was not to be messed around.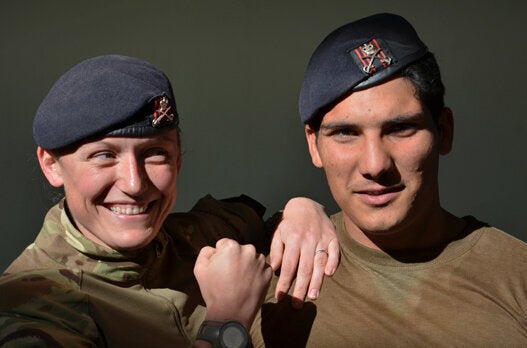 Mentoring the men has been a challenge so far and I have certainly had to prove myself to them. I go out on runs and forced marches, mentoring the Afghan PTIs who are delivering the lessons to the cadets. After each lesson I sit down with the PTIs and we discuss how the lesson went and how we could make it better next time. They listen to my suggestions and seem to take on the points, although it does always end with a long debate; however I have learned that this is the Afghan way.
The first seven Afghan female sergeants arrived at the Academy back in January and I was excited that I could start performing the job I was sent here to do. I am glad I have been given the opportunity to work with the male PTIs as this has earned me respect and I have gained invaluable experience. Hopefully I have started to change some of the Afghan male perceptions that women are not capable, I guess time will tell.
Three out of the seven ANA women were sent to the gymnasium to commence the ANAOA PTI course in Jan. This would be the first time females have trained in this area but more importantly, alongside their male counterparts.
Related