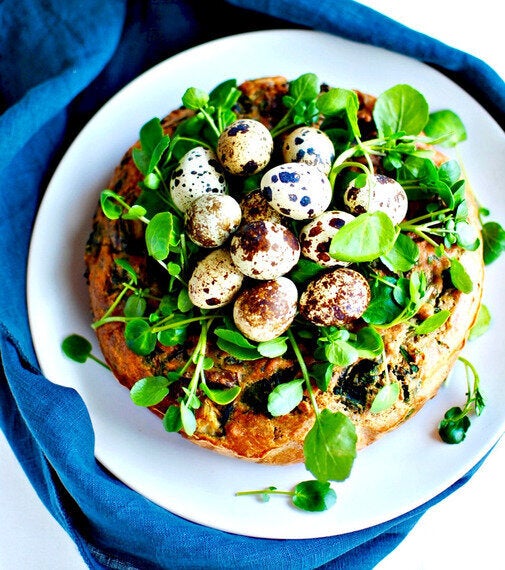 An easy, but potentially impressive, centrepiece vegetarian main course for Easter.
This is simply one of the nicest cakes I've made - sweet or savory. And it is not just the taste.
When I was doodling ideas for this Easter recipe I had an inkling that it would be a keeper. The deep, herbaceous freshness of young nettles and wild garlic, backed up with soft, slippery spinach and hidden depths of earthy-but-not-overwhelming porcini: that's going to be a bit of all right, no matter what. But I wasn't expecting to fall in love. Not with something so simple and practically free. Okay, the porcini are not free, but the dried ones I used aren't too budget-stretching. So, free-ish.
I should have realised that I would fall in love. As I folded the wilted greens into the loose batter I was glad I hadn't done so in my normal manner - with the arm-cramping vigour of a stout Victorian cook. Instead I gently scooped the batter around the greens in a loose figure of eight, trying to incorporate enough air to ensure good lift, and noticed it had marbled beautifully. It seemed perfect in its bumpy, swirling imperfection. And if a cake looks pretty in its infancy, before it's had a chance to brown and beautify and actually become a cake, well that's a good omen, isn't it?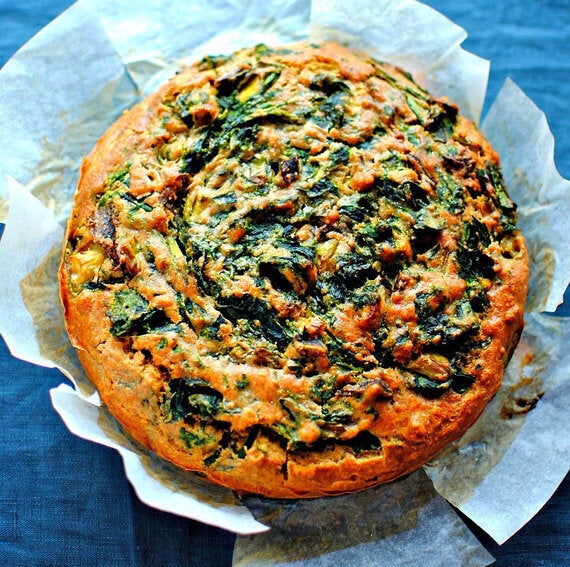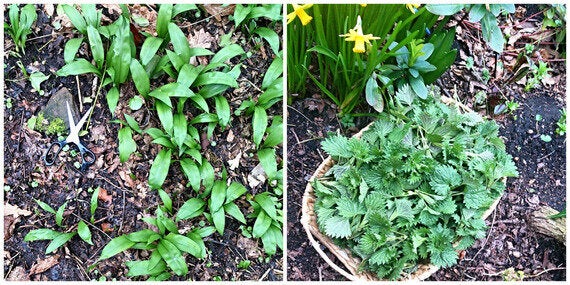 This is an easy and pretty flexible recipe. No nettles? Use all spinach. No wild garlic? Just use one small clove of bulb garlic. And of course use any deeply flavoured mushroom rather than porcini - but if you do you will miss out on the deep umami notes that porcini brings to this. Oh, I've given options for adding cheese, as well as olives, sun-dried tomatoes or walnuts, too. Like I said, flexible. Vegans, use your normal egg replacer and you'll be just fine.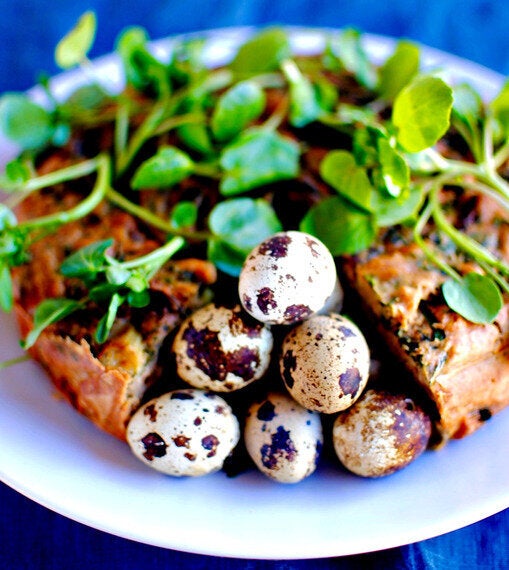 Wild Food Savoury Vegetable Cake
150g (5 oz) self-raising whole-grain (spelt) or wholemeal flour (I use Doves)*
150g (5 oz) self-raising white (spelt) flour
½ tsp baking powder OR 2 ½ tsp if you don't have self-raising flour
200g fresh spinach, washed
50g (1.8 oz) fresh, picked over nettle tops (the top five or six leaves from each plant)
30g (1 oz) wild garlic (about a double handful), chopped OR 1 small clove garlic, minced
20g (small palmful) dried porcini mushrooms soaked in hot water for 20 minutes, saving the soaking water
4 tbsp extra virgin olive oil
1 bunch spring onions/scallions, trimmed and sliced
1 tbsp Marmite or other yeast extract spread (if no Marmite or similar, try 2 tbsp dark soy sauce although it is not a real substitute)
½ tsp fresh ground pepper
1 tsp apple cider vinegar
200ml (6.75 fl oz) water OR liquid saved from blanching the vegetables and from the porcini soaking (I do the latter - no waste and more flavour)
Optional add-ins: 125g grated strongly flavoured cheese, such as vegetarian Parmesan, pecorino Romano, or vintage Cheddar; 75g chopped walnuts; handful of chopped olives; small handful chopped sundried tomatoes
Fancy garnishes for Easter: watercress or lamb's lettuce/ mache + cooked quail's eggs
1. Preheat the oven to 200C/400F. Oil a 20cm/8 inch round removable bottom tin and line with parchment paper. You could also use a 900g/2 lb loaf tin - oiled and lined, mini loaf tins or muffin tins - the latter two just oiled and lightly dusted with flour.
2. Dry whisk the flours and baking powder together in a large mixing bowl. Set aside.
3. Blanch the spinach and nettles in boiling water for 2 minutes, adding the wild garlic the last 30 seconds. Drain in a colander, catching as much of the liquid as you can to use in a bit. Run a cold tap and rinse the vegetables to cool them. Drain and press out the liquid with a spoon. You don't want the vegetables to be soggy or it will affect the cake. Chop, blot with kitchen paper, and set aside.
4. Heat the oil in a sauté pan and add the spring onions, Marmite, pepper and soaked porcini (chop or snip the porcini first). Cook, stirring, until the spring onion is just soft but not golden - about three minutes. If you are using garlic rather than wild garlic, sauté this with the onions. Set aside to cool.
5. Add the eggs, soaking/cooking water, and vinegar to the dry ingredients. Mix well, then stir in the softened onions and mushrooms. Gently fold in the wilted greens and any add-ins you wish.
6. Spoon the mixture into the prepared tin and bake in the preheated oven for 35-40 minutes, or until the cake is just pulling away from the tin and the top is golden. Just to be sure, pierce the centre with a skewer or toothpick and check that no batter clings to the tip. Every oven is different so do check just before 35 minutes and judge for yourself how long to keep it in. It will also depend on if you have added extra bits to the batter. Mini loaf tins or muffin tin versions should take about 12-15 minutes.