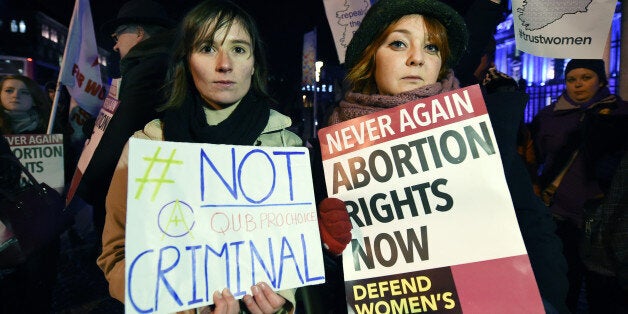 As Chair of Abortion Rights, I recognise the opportunity that International Women's Day gives us to celebrate achievements, highlight inequalities and give solidarity to other women. It's a day that should rightly be celebrated for all the achievements that woman have collectively added to our society and today I think its right to be talking about abortion.
Those of us campaigning for women's liberation know the importance of equal pay and for equal representation of women on committees, in decision making roles and to be visible as women. The ability to control our body and feel safe from violence underpins all of these achievements.
Next year Abortion Rights will be celebrating the 50th anniversary of the 1967 Abortion Act, which legalised abortion in certain circumstances and ended - at least for those who lived in England, Wales and Scotland - the desperate backstreet abortion option. This law was hard fought for and we recognise how important it is for women and society 50 years on.
For the twelve years before the Act, abortion was the leading cause of maternal mortality in England and Wales. The cause, in 50% of illegal cases was sepsis - which is how Savita Halappanavar died in hospital in Galway in Ireland in 2012.
Now, at least in most of the UK, abortion is part of our social landscape - 1 in 3 women will have at least one termination in her lifetime.
However, in the north of Ireland and in the Republic of Ireland there are two different legal scenarios where women are still having to collectively push back against the laws that prohibit them from control over their own bodies. These restrictive laws are affecting women who live in Ireland profoundly.
The Republic of Ireland recently held elections and we noticed that the #repealthe8th hashtag gained huge momentum on social media and had a massive effect on national politics, no doubt as a result of the reaction to the tragic death of Savita in 2012 which saw demonstrations in Dublin of 20,000 people against a confusing legal situation that effectively sees women as vessels to incubate babies.
For the first time, all political parties in Ireland had to have positions on the 8th amendment of the Irish constitution, which enshrines the equal right to life of the 'mother' and the foetus. In different ways, Fine Gael (promised to hold a citizen's assembly to decide if a referendum should take place), Labour (promised late on to have a referendum to repeal the amendment) Sinn Fein (had the position to repeal the 8th through referendum). Only Fianna Fáil held out against holding a referendum to allow Ireland to vote on this issue.
In the north of Ireland women are being arrested for purchasing and using abortion pills, despite this being one of very few options available to them and extremely common. We don't believe women just over the water from us are criminals, those who are paying the same taxes as us in England, Wales and Scotland, but are denied the right for a free, legal, NHS abortion. And we note that the Court of Human Rights recently passed judgment that in cases of rape and incest, the government is in breach of women's human rights.
We know that many women travel to London, Liverpool and Livingston for an abortion and pay between £500-£2000 a time. In 2014 3,735 women and girls travelled from Ireland to the UK for abortion services and from the north it was about 800. This figure had been going down, probably because of access to abortion pills, but we are concerned about the availability of this since the recent court cases.
From my position here, I offer solidarity to women in Ireland; Abortion Rights organises protests outside the Irish embassy and awareness raising activities to highlight the need to travel. This is a political problem for the people of Ireland and the north to solve, but in the meantime we will raise awareness of this injustice.
We can't run these vital campaigns on our own, we don't get the support that the antis do from well financed churches or other bodies, we rely on many little contributions from ordinary people that recognise that this campaign is vital. Make it your International Women's Day pledge to join Abortion Rights today.
Next year will be a big year for Abortion Rights and we want to tell the stories of ordinary people who set out to legalise abortion and then defend it against attacks to the time limit and many other challenges. Please get in touch with us if you have a story to tell pre-67 or if you took action afterwards to defend the law.
•Kerry Abel will be chairing a public meeting 'Campaigning for Abortion Rights' on Saturday 12 March 2016 in London, click on the link for speakers and more details.
Related