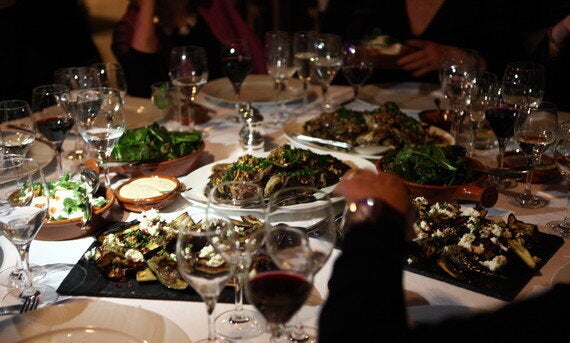 As the season of peace and goodwill to all, it's amazing just how much division and hatred Christmas can throw up.
Earlier this week I attended a fantastic meal put on as part of the 'Bethlehem Unwrapped' festival put together by creative director Justin Butcher. The food was cooked by celebrated chefs Yotam Ottolenghi and Sami Tamimi. Ottolenghi is Israeli and Tamimi Palestinian. They are gay, close business partners and their cuisine is a brilliant fusion of flavours from in and around Jerusalem.
It was delicious and the evening was a wonderful celebration of all there is to love about the region. With tables bursting with Christians, Muslims, Jews, Israelis, Arabs, Welsh, Scots - plus a lovely chap from Japan - it was vibrant, celebratory, festive and inclusive - everything that Christmas should be.
All of which left me shocked to hear that St James' Piccadilly, who hosted the event, has been dubbed by some Pro-Israeli lobbyists as 'The Church of Hate' and been vilified (predictably, given the author) in a blog on The Spectator as displaying 'absolute moral squalor.' The vicar, Lucy Winkett, has been attacked online as a Jew-hater, had explicit pictures sent to her of victims of suicide bombings.
My shock sprung from the absolute absence of any hatred surrounding the event. Indeed, all that was on show was love: love for food, love between an Israeli and a Palestinian, love for music and a love for the whole region from a mixed audience made up of people from all sides (not to mention love for the homeless, who are fed and allowed to sleep in the church).
The programme of events for the whole festival was specifically designed by Butcher to broaden - not narrow - the conversation, with strong voices invited to debate from both Israeli and Palestinian positions. The aim was to raise awareness of the plight of a town we sing carols about but seem to have such little knowledge of, and to do so without being naïve or idealistic.
Following a Joanna Trollopesque fiasco in my parents' village I had the dubious honour of playing the organ (badly) at Midnight Mass this year. One of the carols was, typically, O Little Town of Bethlehem. It was written by an American pastor following a visit to Palestine in 1865. Bethlehem was then a small town of perhaps 4000 residents and photographs from that era show a place not greatly changed from how it may have looked even in Jesus' time. As I played the tune as best I could, I couldn't help wonder how many people knew that the carol's description of Bethlehem is woefully outdated.
By way of helping people to understand the current situation, during the festival the view of St James' from one of London's most salubrious shopping streets was obliterated by the construction of an enormous wall - precisely copying the highly contentious 8m high concrete barricade that cuts Palestinian-controlled Bethlehem off from Israeli Jerusalem.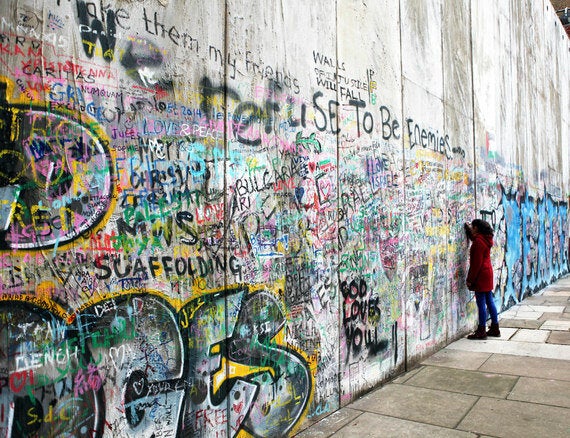 The erection of the wall outside of the church was a graphic disruption to the surrounding chocolate box ideas of Christmas on display in shop windows. It has done precisely what all good art should: force the issues to impact us and draw us into conversation. This is what the little town of Bethlehem is actually like now. This is the wall that has been built by Israel. These are the conditions under which Palestinian people live. When Israel refuses to abide by UN resolutions and continues to build illegal settlements, here are real people who are affected by that.
Bethlehem Unwrapped refused to gloss over or avoid the reality of what life is like in Bethlehem for people now - and it was the people of Bethlehem who invited Justin Butcher and Lucy Winkett to support them in this way by highlighting what they are going through.
The lazy depiction of this festival as coming from a place of hate is not only false, but dangerous. When people gather to eat a meal in peace and this is described by a loud minority as hatred, we should be very very fearful that there can be any positive moves towards justice and security and question whether these people have any mind for a future peace at all.
Bethlehem remains the site of political struggle, one of the many places experiencing the birth pains of peace in the Middle East. The wall is horribly symbolic that anger and anxiety, pain and injustice have been felt on all sides. Passions run high very quickly, but when Christians follow St Paul's teaching that in Christ 'there is neither Jew nor Gentile, slave nor free' it is only right that Christmas becomes a festival that works to embody that common humanity among all people.
Bethlehem Unwrapped was one such attempt and, given the feast so many enjoyed together, a successful one too.
It is perverse to hear it heralded as hatred, when all that was on display was great love. Those who did so are no friends of peace and thus no friend of either Israel or Palestine.
(Photo credits: Hannah Barton / Bethlehem Unwrapped)