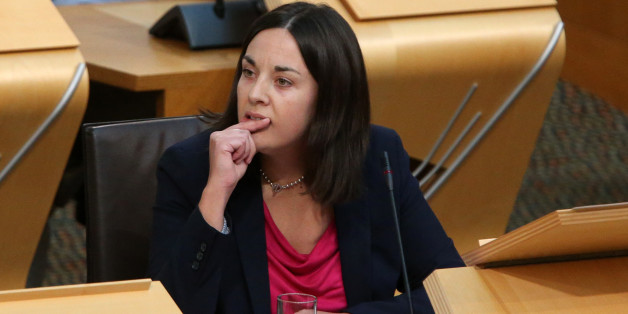 Andrew Milligan/PA Wire
Poverty in Scotland is at its highest level since devolution. 
In Scotland, 420,000 working age people in poverty are in working households - that means a job is no guarantee of staying above the breadline - an increase of 150,000 since the SNP came to power. 
'Since devolution' has become a familiar term when examining the record of Nicola Sturgeon as First Minister.
Under her government, Scotland has had its worst state of the NHS report since devolution, while the global education survey PISA produced the worst education report card since devolution.
Education of course, is supposed to be the SNP government's top priority. 
These working poverty figures expose a broken economy. Meanwhile Nicola Sturgeon's focus is to drag Scotland back to the arguments of the past with another divisive independence referendum. 
Tory cuts to social security, and the uncertainty surrounding Brexit, will make things even harder unless SNP politicians put the interests of the Scottish people before their own political obsessions. 
Nicola Sturgeon leads the most powerful Scottish government in history. It has the power to radically alter the Scottish economy to make working poverty a thing of the past. 
Closing the gap between the richest and the rest will be better for our whole economy. More working class people having more money in their pockets will stimulate our economy from the ground up. 
That's why under my leadership, Scottish Labour has relentlessly pursued an agenda to use the powers of the Scottish Parliament to invest in our economy, not carry on the cuts. 
Using the new social security powers
The powers delivered by the Smith Commission allow the Scottish government to completely reshape the social security system in Scotland.  Scottish Labour would use these powers to increase Child Benefit by £240 a year by the end of the decade. 
That's a move that would lift tens of thousands of children out of poverty and would mean more money going into the pockets of families across the country as household budgets face a squeeze. 
There are over £2billion worth of unclaimed benefits. Nearly a quarter of that is working or child tax credits that could be helping more than 100,000 people in Scotland. Over £250million of that is housing benefit - at a time when housing costs are one of the main drivers of poverty. Just think of the difference that could make to households across the country if these benefits reached those who are entitled to it. 
Labour will work to ensure that the new Scottish social security agency has a legal duty to maximise income. It's why we have opposed cuts to local services where income advice is delivered. This will need more than a half-hearted advertising campaign but a proper commitment to getting people the payments they deserve running through all government policy.
The real route out of poverty, of course, is well paying and secure work.  
Making work pay 
The real living wage should be the expectation rather than exception in Scotland. But the SNP's record so far is far more spin than substance.
The living wage is guaranteed in Scottish public sector jobs - but not public sector contracts. That means a civil servant in St Andrew's House on an above average salary is guaranteed at least the living wage - but a cleaner hired through a facilities management company to clean the offices is not. 
Meanwhile, the SNP are dishing out millions of pounds in taxpayer-funded grants to companies like Amazon - with no conditions about fair pay attached. Labour would do much more to extend the real living wage to where it needs to be - traditionally low paid sectors like hospitality and retail, and we would attach a living wage guarantee to any public contract or taxpayer funded grant. 
Tackling the cost of living 
There is so much more Holyrood could be doing to tackle the cost of living. Labour would make good on the SNP's promise and scrap the council tax, replacing it with a fairer system where 80% of households would pay less. We'd deliver more flexible childcare, starting with a breakfast club in every school. And we would take back control of public transport, allowing for frozen or even cheaper fares on our railways and buses. 
Investing for the long term 
Education is the single most important economic investment a government can make. We need to give our people the skills they need to compete for the jobs of the future. Yet under the SNP, investment in our pupils has fallen by over £1billion.
Working class young people find it harder to go on to university and when they do get there they rack up huge debt. 
Those who would use college as a route out of poverty see the ladder drawn up with 150,000 fewer college placers under the SNP. Labour would use the powers over income tax to invest in education. That means more investment in our schools and nurseries, and better bursaries for the poorest students. We would reform our schools as well, starting by scrapping unfair charges for exam appeals that the SNP government introduced and which see private schools more likely to appeal exam marks than state schools. Exam appeals can be the difference between a young person going on to college or university and all the opportunities that brings. It simply isn't fair to have any form of financial barrier to that. Labour would reform the senior phase of high school to establish a Scottish Graduation Certificate. That would allow schools to offer more vocational options in partnership with colleges and employers. We would link secondary with further and higher education by securing agreements with top universities for them to treat the certificate as a formal qualification. 
Finally, we want to see coding taught far more widely in Scottish schools, and far earlier. Tomorrow's economy will see coding as a vital component for medium to high skill jobs. It will become as essential as literacy and numeracy moving forward. To start off, Labour would fund primary school teachers to go on a basic coding course to allow schools to introduce this to pupils from Primary 1, and then establish a software development and coding apprenticeship. Not a single thing I have outlined is beyond the reach of the SNP government. 
All of these ideas would, in their own way, make an impact on those working poverty figures, either in the short, medium or long term. Rather than take Scotland forward however, Nicola Sturgeon seems determined to drag us back to the arguments of the past with another divisive independence referendum. Because the only answer the SNP has to the problems our country faces is, and will always be, independence.
Only Labour has the ideas and the political will to unlock the potential of the Scottish Parliament. 
Kezia Dugdale is the leader of Scottish Labour