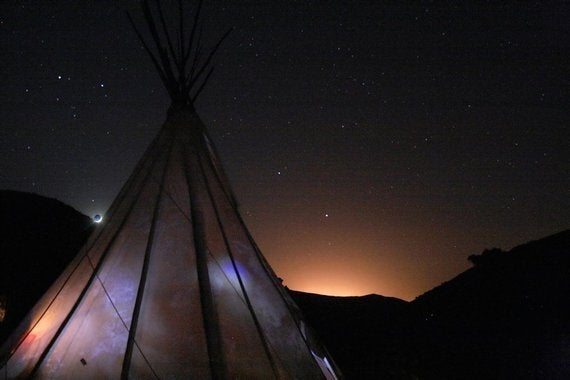 For some, there is something about ecotourism that screams fad-for-the-rich. You go to a remote location, dine on local insects, and revel in the fact your toilet is a hole in the ground. Then you go home, tell all your friends, and have your back patted for being so environmentally conscious. If this is your view on eco retreats, Tipi Valley will come as a massive surprise.
Located in a valley in the beautiful Costa Vicentina Natural Park, the camp blends in so subtly with its surroundings, you wouldn't know it was there if you hadn't been told. Here up to 10 guests lodge in tented accommodation, dining under the stars, and waking up to the sound of a gong for their early morning yoga practice. At about the same time, the local farmer rustles through the foliage, hurling abusive colloquialisms at his goats. It doesn't get more authentic.
All the ingredients which usually go into the eco-holiday experience are there. The bathroom is 'organic'. Energy is provided by solar panels. And what Paola, the Italian chef, doesn't find in the vegetable patch, is purchased locally. However, the difference at Tipi is that this experience in sustainable living is effortless, and fun, because Tipi Valley is a reflection of its creator, and his philosophy of life.
Laurie Quirk set up Tipi Valley in 2006. Born in Australia, Laurie spent part of his childhood living on boats, in far-flung and wonderful places the likes of which most children may only dream of. A talented surfer, he has travelled extensively, living in Sumatran jungles, and North American wood cabins. And as a guest at the valley, you get a feel of the extremeness of his life experience. It is in the artful bringing together of disparate influences -a Moroccan tent, Italian cuisine, Indonesian materials all happily coalescing- that Tipi feels truly wonderful. It is like being in Africa, Europe, and South East Asia at the same time. And this is why, in a weird way, to anyone for whom home is the open road, the valley feels more like home than any other 'official' home.
Laurie chose his space carefully. At a time in the stage of human development where people are travelling further afield for the kick of discovering new ground, Portugal lends itself marvellously to dreams of isolation, remoteness and authentic living. The country suffered greatly the rapid descent of its colonial heyday and, centuries later, still doesn't seem to have recovered. After having spent weeks in a bustling Spain where even an unbelievable 50% unemployment rate failed to dampen the party-spirit, crossing into Portugal felt like being introduced to your outgoing partner's quiet and slightly withdrawn sibling.
The Portuguese leave you alone. And this is exactly what you want the locals to do when you're on holiday. When you walk into the Portuguese equivalent of a pub, the soulful demeanours of the local artisans and farmers will illustrate visually, what only the fado manages to capture in words and sounds. In stark contrast to the rest of the global population, the Portuguese don't want to sell you anything. The melancholy waitress at the coffee shop will serve you, eventually, if you insist. And if you are lucky, she might even glare at you a bit for making her get off her chair, a welcome break from the fake chirpiness you usually come across in the Western world.