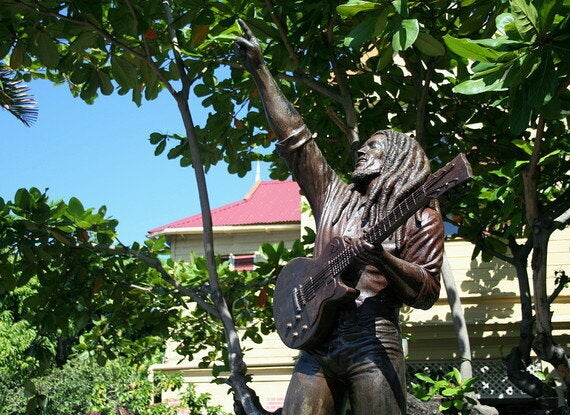 Reggae is one of those genres which, for most music lovers, is almost impossible not to love, or at least like a lot. There's something irresistible - to these ears anyway - about those bouncing bass-driven riddims, guitar chord jabs on the offbeat, and lyrics that oscillate between One-Love euphoria and call-to-arms protest.
Born in the downtrodden townships of this small Carribbean island, it's a musical style that's managed to permeate most of the globe thanks to the talents and efforts of its most famous son, who would have turned 70 this year had cancer not taken him at the age of 36 in 1981.
The world's most influential ambassador for reggae music and the Rastafari movement, Robert Nesta Marley is today more alive than ever, and here in the capital city he grew up in he seems almost to have attained the status of a prophet, this 70th birthday concert a kind of grand ceremonial canonisation or coronation in absentia.
There were thousands of fans of every shade of complexion congregated here before the huge stage erected on Kingston Waterfront, some of whom had flown a long way to be here for this, the climax of the weekend's celebrations, which had begun on Friday at sunrise with Rastafarian drumming and chanting, followed by a ceremonial cutting of cake and releasing of doves, attended by Marley's children and grandchildren and various influential political figures.
This evening though, as the first of a long line of reggae luminaries took to the stage, was when the commemoration became communally profound, when the vibrations reached their most positive.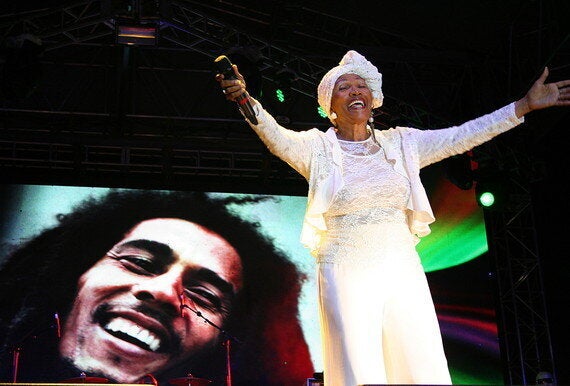 First up were Marley's former backing singers Judy Mowatt and 'Queen of Reggae' Marcia Griffiths (above), who later became solo stars in their own right - they provided an instant umbilical link with the deceased legend, performing brief solo sets respectively before uniting for a duet of 'Trenchtown Rock', first released by Bob & The Wailers in 1971.
There followed a succession of newer and older reggae and dancehall superstars who moved the crowd in different ways, from veteran Freddie McGregor taking everyone back further still to Bob's earlier days of ska, to 'The Fireman' of dancehall, Capleton, who spent much of his set airborne through bouncing about the stage in his yellow get-up, but never once breaking his lyrical flow. I was fortunate enough to be positioned in the press pit directly beneath Capleton and his antics to bag some memorable shots.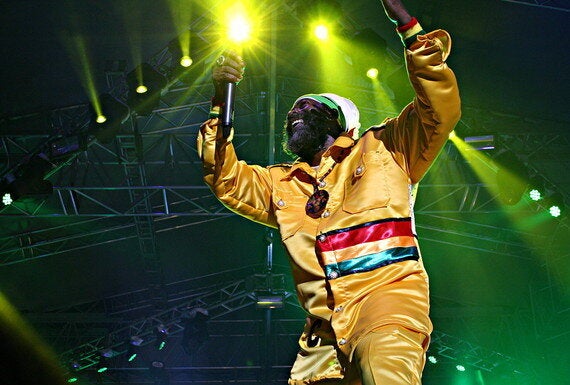 With the bar set high, it was only Marley's own sons who could sustain and eventually surmount it. First of the progeny to take the stage was Ky-Mani, covering within his set 'Iron Lion Zion', before Julian arrived and dropped an intense rendition of 'Exodus' within his own. Watching with unfocused eyes the latter's exuberant turn, his loose-limbed movements and dreadlocks flying, felt as close as one could get to watching Bob himself.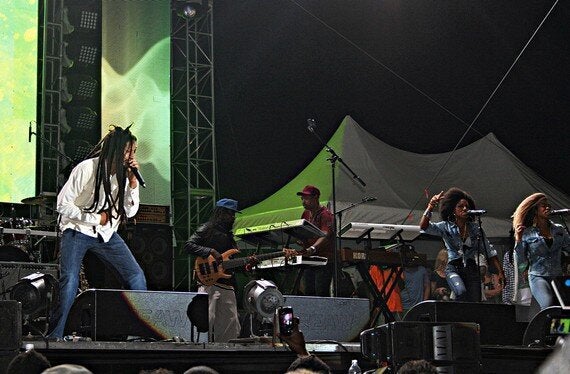 Finally youngest son Damian 'Junior Gong' Marley crowned the concert with his more robust African-themed grooves and a rabble-rousing 'Get Up, Stand Up', joined onstage by the previous brothers to bring down the final curtain at around 1.30am.
Throughout that final set the stage's digital screen had come alive with vivid Rastafari imagery, one minute the Lion of Judah, the next the face of Emperor Haile Selassie of Ethiopia - the original Ras Tafari. For every set before that it had been full-screen photos of Bob himself gazing beatifically over all, a new picture for almost every song.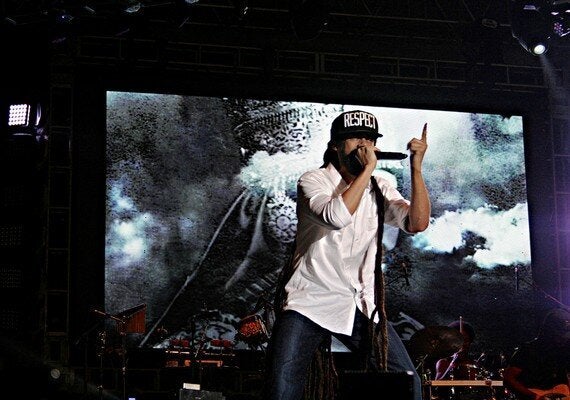 I have to say that it was a powerful experience to witness it all at such close quarters, having previously only ever seen obscurer reggae acts playing daytime UK festival slots, like Little Roy at Cambridgeshire's Secret Garden Party in 2012. This though was was my first proper reggae royalty extravaganza, in its homeland, whose music I received head-on from the front-of stage amp stacks pumping into us the resonant deep-frequency basslines which underpin so much of the genre, my eyes seeing only live musicianship of the highest grade and Bob Marley epically filling the background. No alcohol or ganja could have delivered the same high.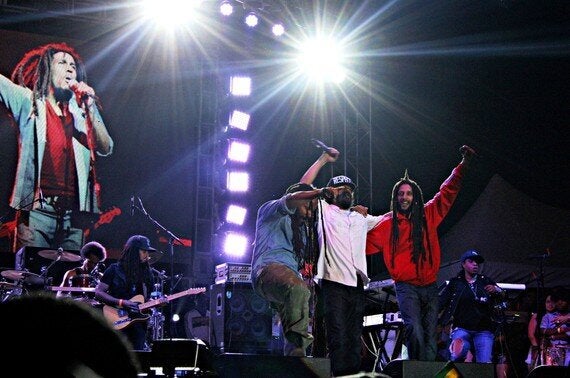 My only complaint if I could possibly have thought of one was that there was no airing of Could You Be Loved, my favourite Marley track which I drop into most of my DJ sets for a guaranteed floor rush. However, at a community theatre production based on Bob's childhood I attended the following night (Nesta's Rock), of course the song naturally closed the show in a euphoric choral rendition by the full cast.
The perfect closure then to a full weekend of musical celebration and elation, of which the Redemption Live concert will live longest in the minds of those who attended it. If my diary could extend 10 years then the 80th birthday gig and a longer trip to Kingston would be the first dates in there, although future organisers will have a job on their hands to come close to this.
Words and photography by Kris Griffiths, 7 February 2015
Full travel article on Kingston in the footsteps of Marley to be published next month at RoughGuides.com
Related