The discovery of up to 100 billion barrels of onshore oil near Gatwick airport was announced on Thursday by exploration firm UK Oil & Gas Investments (UKOG). Claimed to be the largest onshore discovery in the UK since the 1980s, it was heralded as a "world class potential resource" which holds "national significance". And I agree.
The amount of oil found is significant, but not for the reasons touted by UKOG. Assuming there really are 100 billion barrels of oil, if it was all extracted and all of it was burnt, a total 37.5Gt of CO2 would be released. This is roughly equal to one year of current global emissions.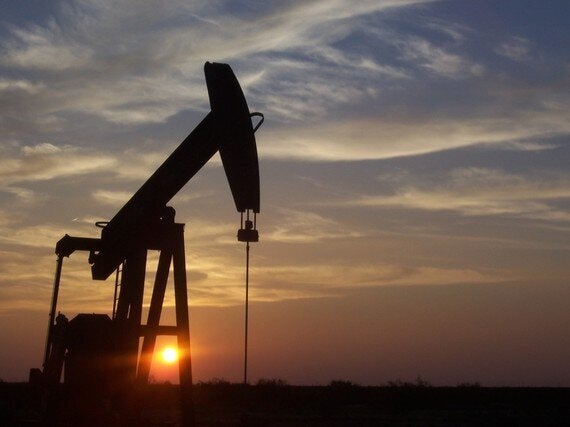 Of course, this will likely not happen. UKOG estimates that only about 3-15 percent of the reserve could be extracted. This is not to mention the mounting scepticism about UKOG's estimates, which have been criticised for being vague and confused. The Financial Times, for instance, is unconvinced by news of the lucrative UKOG discovery.
But, for argument's sake, let's assume there is some oil there. Given the repeated calls to leave the majority of fossil fuels in the ground in order to stay within 2⁰C of global warming, the discussion shouldn't be about how much oil or how quickly it will be extracted. Instead, it's time to ask: do we really need it?
Just because the cake is in front of us doesn't mean we have to eat it.
The speculation around this oil discovery offers Britain a chance to test how seriously it takes its commitment to tackling climate change. That's what's significant.
As Keith Taylor, Green Party MEP for south east England said: "This huge oil find is the perfect opportunity for us to have an important national debate about keeping fossil fuels in the ground."
"The scientific consensus on climate change has never been greater, and we have been told that the only way we have a chance of averting catastrophe is by leaving large reserves of oil in the ground."
Transitioning from fossil fuels to green energy is possible and necessary. Just this week, the Guardian published an article discussing how to "save the earth without giving up on growth". Meanwhile, the New York Times revealed that if all known fossil fuel reserves were burnt, the world would warm an astonishing 16.2 degrees.
According to scientists, beyond 3.6 degrees of warming the most catastrophic climate change consequences will be seen, possibly including the melting of the Greenland ice sheet. The consequences of 16.2 degrees of warming seems unimaginable in comparison.
Emphasising the need for debate and transparency, O'Donnell said: "We need clear information about whether it is wise to extract this oil at all and who is likely to profit."
"It's far too early to talk about potential economic returns - we don't know if extracting the oil is either viable or desirable," continued O'Donnell. "We can't commit to capping carbon emissions whilst simultaneously rushing to extract oil that would accelerate climate change when burnt."
Assuming we care about climate change, is finding more oil deep, deep under the ground really cause for celebration? And if it turns out that the estimates are exaggerated, the fact that they were should give pause for thought.
As Doug Parr, Greenpeace UK's chief scientist, argued in response to UKOG's discovery: "To gleefully rub your hands at a new fossil fuel discovery you need to turn the clock back to the 19th century and ignore everything we have learned about climate change since. We already have more than enough coal, oil and gas reserves to fry the planet.
"It's time we uncoupled our economy from the dangerous roller-coaster of fossil fuels and invested in the clean technologies that can provide safe and cheap energy for decades to come."
Kyla Mandel is the Deputy Editor of DeSmog UK, a climate blog dedicated to clearing the PR pollution that clouds climate science.
Related