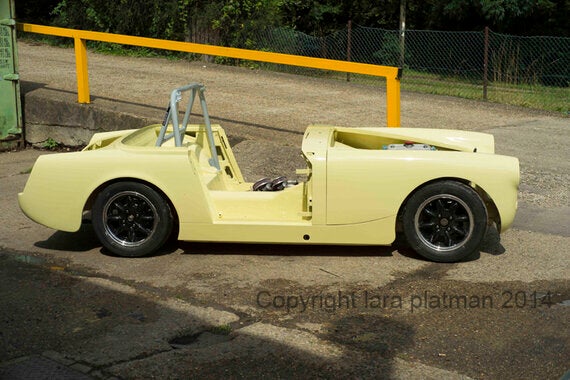 I took my Association of Racing Drivers Schools exam commonly known as ARDS over a year ago and rather embarrassingly to this day have yet to put one wheel on the circuit for a race.
It does take time, or rather I ought to say money, to go racing, although the costs for me to go racing in my Midget is somewhat less than a driver who would like to race at the Le Mans 24 hours, which would set you back a minimum of £100k for a seat in the GT Amateur class (the baby of the group). But slowly and surely my 1971 MG Midget is coming together literally piece by piece. We have acquired parts from here and there and have had our engine built. For me to go racing for the whole year will set me back around a tenth of the cost of the notable twenty four hour race (perhaps I am being optimistic) and that is with limited track time, and certainly with a minimal purchase of tyres.
This is where my morning with Strakka Racing comes in. Using their simulator I got myself familiar with the Brands Hatch Indy Circuit, one of the tracks that is on my racing schedule. On paper, it looks a bit like a jelly bean, really big curves along with some tight corners, it looks flat to the eye but sitting in a single seater cockpit, along with the 180 degree screen, you are almost right on it, feeling the undulations and experiencing the blind corners.
As my MG Midget is rear wheel drive, I started 'driving' a Caterham thinking it would be a good car for me to get used to the track, but the Caterham I soon learnt, is very unforgiving when you haven't perfected your breaking zones yet, so we moved onto a car that I thought would be harder to drive, simply with its name, the Formula Renault 2 litre, however, physically in the simulator it wasn't. It allowed me to get to grips with the circuit without having to concentrate on the car, although this does not discount the fact that next time, I must use the Caterham, as I heard that if you can drive a Caterham you could potentially drive anything.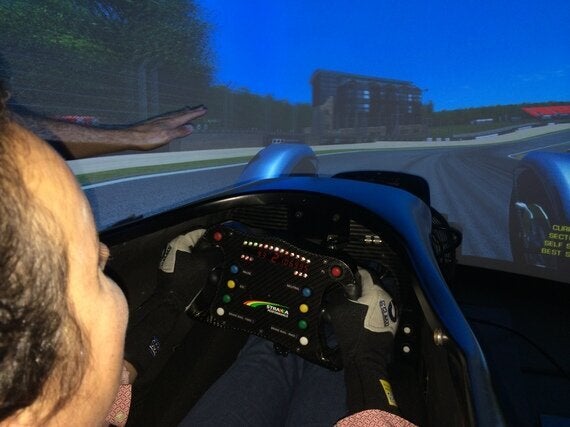 Working closely with the Strakka Racing technical driver support in the control room next door, I discovered that at first, my braking was pretty non-existent; this was due to the fact that my throttle was also pretty non-existent. I was not driving Miss Daisy one could say, but I needed to step on it on the straights, enough to warrant some braking at the corners.
As the morning progressed my confidence grew and the driving tutor, equipped with a variety of telemetry (simple to advanced depending upon your experience in the seat), showed me after every few sessions what I was doing on the circuit and what I needed to improve on, the charts showed I had indeed attempted some braking! Still not enough and I went out again to improve on those corners to be able to speed up on those straights. Brands Hatch Indy circuit was a perfect start for me.
The technical data covers the basics from throttle and brake control along with steering and gears to integral driver performance and car advancements. For my session as a novice, we concentrated on allowing myself to familiarise myself with the circuit, but an experienced driver such as those in LMP2 cars, would already know the car and the lines but would need critical developments within his or her racing advancement. From keeping steering wheel control or having to drive for 2 hours or finding a second on the follow through, this can all win the race.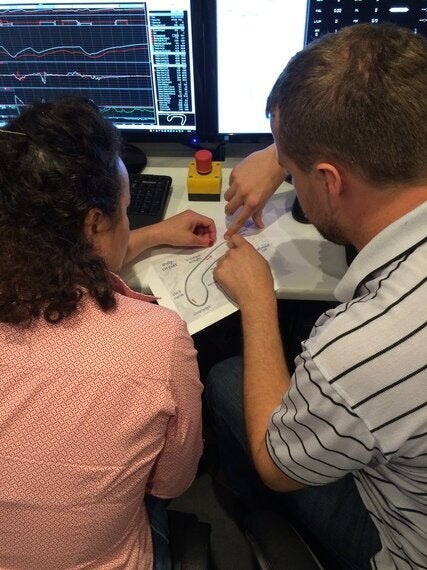 Strakka Racing offer simulators for many circuits and a number of cars, allowing novices like myself to practice the basics and professionals wanting to grab a 10th of a second. After 45 laps in the simulator and a cup of tea whilst perusing over my statistics, I now have time to reflect on how I progressed.
I can clearly see that I learnt how tricky corners such as 'Druids' are and how gorgeous the pit lane straight (which isn't straight) allowed me to develop my driving techniques. I have embedded into my mind the landmarks required so when I actually race on that circuit I ought to have a head start with at least knowing my lines, breaking zones or more importantly how much of a breaking at each corner is required.
This is the whole point of the Strakka Simulator. I didn't spend money on ruining tyres, or employing mechanics or crashing the car, and with confidence comes speed and that's when spinning and locking breaks start to reveal their lovely delights. Believe me I spun quite a few times this morning.
As a novice I can see the simulator to be a vital part of the racing preparation. It allows you to gain confidence at the tracks you have not visited and educates you, showing you your natural abilities, faults and habits in a race car. It is true that it can't beat the thrill of track time, but it certainly can help the pocket and might even help to save your life. When you know where you are going you can concentrate on improving without holding up the grid.
Racing is expensive and whilst one might think "Gosh paying for simulator time when I could be on a track" is indeed true, but mixed in with a planned racing or track time schedule, the simulator will save you money in the end.
I think next time I visit the Strakka Racing Simulator, I am going to race round Donington and most definitely in the Caterham.
Related