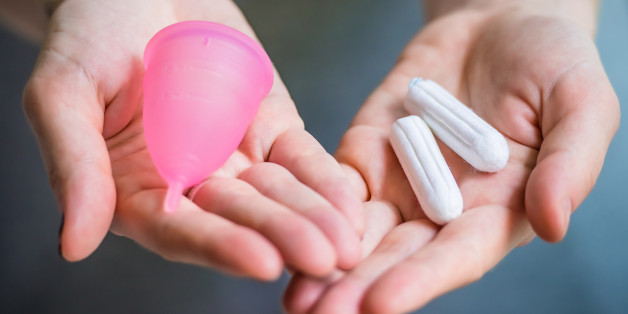 gregory_lee via Getty Images
Period poverty has existed for generations across the United Kingdom. Yep, that's right. Women and girls everywhere have been without sanitary products because they cannot afford them or do not have adequate access to them. What that means is that girls have been missing school to deal with their period within the confines of their own homes, and women have been using alternative materials, including "newspapers" and "socks", which pose a serious threat to their health. Yes, it is shocking. Here's what you can do about it:
1. Fight tampon tax
The 5% tax rate we pay on period products will end in 2018. Or so the Chancellor of the Exchequer has promised. We need to make sure this actually happens. Join our fight to end tampon tax, a sexist levy that upholds the period taboo that silences women and accelerates period poverty. We've already made history in pushing tampon-tax-ending legislation through parliament. But our job isn't over until the tax is finally axed. Period!
Join our campaign! Tesco have just launched a scheme that will absorb the 5% tampon tax rate - they have decided to pay this rate before their products go on sale so that we don't have to! That's amazing. Let's make sure other stores follow suit...
2. End the period taboo. Period
The period taboo underpins all of the problems that we face in terms of tampon tax and period poverty more widely. The reason these issues haven't been tackled is because we feel as though we cannot talk about them. We can't fix what we cannot see publicly. So, let's get period talk out into our streets, on our social media feeds and in our news streams. The more we talk, the more effectively we can tackle the issues we face; the issues that have effected women for so many generations in silence.
To help us tackle the period taboo, PLEEEEASE add a period story to our kickass period blog! Take a look here, add your own period story and become a HERO! You will help us talk about the issues of sexism and injustice surrounding menstruation. Period.
3. Get local
There are many amazingggg campaigns across the country dedicated to tackling period poverty in their local areas. There are three main ways you can help them.Firstly, you can join an existing local 'homeless period' campaign to help them collect donations for local food banks and homeless shelters. They do really brilliant work! You can find these campaigns on twitter or contact me at lauracoryton@hotmail.co.uk if you need any help finding your nearest campaign. It's always brilliant to connect period campaigners!
Secondly, you can support the amazing 'Bloody Good Period', an organisation dedicated to widening the access of sanitary products to asylum seekers, homeless women and refugees, with the click of a button!
Thirdly, if you don't already have a 'homeless period' project in your local area, you can start your own! To do this, you will need a group of amazing local people to help you, however big or small. Together you can collect donations of sanitary products from your kickass community. You can ask fellow heroes to plant donation points in their community centres, workplaces or universities to start making a big impact!
4. Sign, sign sign!
Sign and support our amazing sister petitions tackling multiple forms of period poverty. Here are just a few:
Schoolgirl Amika George set up her petition to tackle period poverty faced by girls and trans boys on free school meals.
Fourth Wave's petition hopes to address period poverty in schools more widely.
The Homeless Period is a fantastic project set up to help homeless women access the period products they need.
5. Lobby Government
Support our central petition and lobby the Government into ending period poverty, here:
www.change.org/homelessperiodproject. Scotland recently introduced a pilot scheme that hopes to help 1,000 women on low incomes in Aberdeen access period projects. It's a groundbreaking scheme that made history. If it's deemed a success, it will be rolled out across the whole of Scotland. If Scotland can do it, so can the rest of the UK!
Over the course of 2017, increasing research has been published to support girls and women in period poverty across the United Kingdom. That's pretty amazing. Let's make sure this trend continues. We're aiming to put period poverty in its rightful place - the history books. Get campaigning and become a hero!