Supporting Nema has some incredible advantages. Of course there is the satisfaction of knowing that we are doing some good, albeit in very difficult circumstances where nothing seems to progress as planned. Furthermore, since JoJo and Guludo cover the charity overheads locally and in the UK, all funds donated go straight to the end cause. And finally, we just can't help commenting, several times a day; "This is without a doubt one of the most beautiful places on earth!"
It's true the rains have just ended and whilst they were terrible and caused much damage, the land is green and fertile. So lush that in places there are paddy fields, tall grasses grow out of the dark red African soil and rivers flow again. It won't last but for now, the Quirimbas area of Northern Mozambique feels like the Garden of Eden.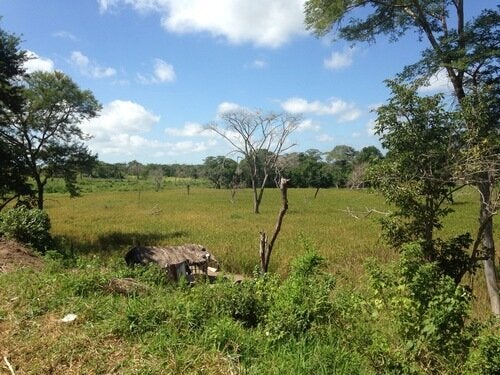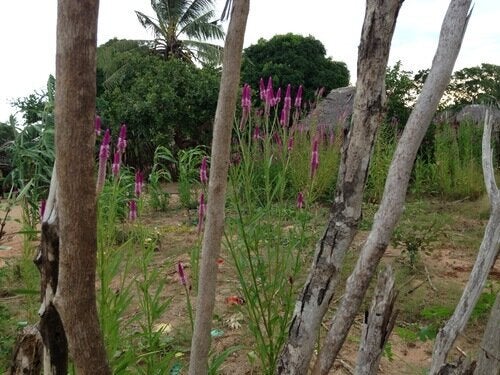 Nema HQ is at the Guludo Beach Lodge. Spread out along a stunning palm tree lined beach, the 'bandas' or huts are simple but comfortable with open air showers and eco-loos. If I were madly in love and needed nothing but the company of my partner, this is where I would come. Whilst it's hot, there is a sea breeze, whilst there are plenty of bugs and mosquitoes their bites do not seem too bad, whilst there is no electricity, what better excuse to head to bed early? I first came here with my kids, attracted because of the environmental policy that the lodge was totally made from natural resources; built from mud brick and thatch, tiles fashioned in the village by the artisan group, upholstery made by the Nema tailor from local African patterned fabrics. The policy that the lodge would never leave a scar on the landscape has proved itself in parts. During the terrible rains many of the bandas were damaged and have literally melted back into the earth. Thankfully most have been totally renovated and are comfy and stylish - really beautiful in their simplicity.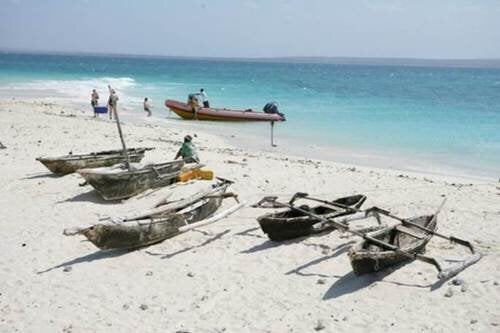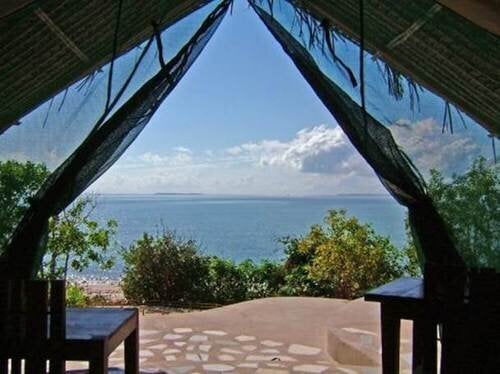 When I visited with my boys we walked into the village to play football with the local kids who are mad keen. This time I have brought with me 36 footballs and 4 pumps to donate where needed. Something as simple as owning a real football it outside their dreams - balls are all too often made from a jumble of plastic bags strapped together with tape and still much prized since getting the tape is a major challenge.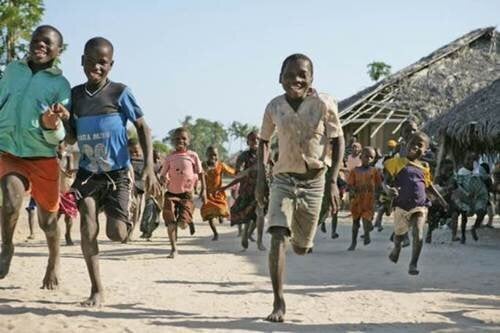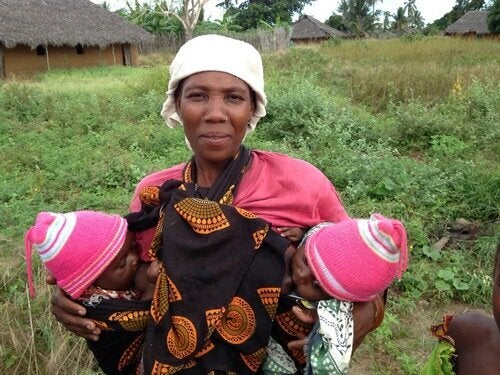 There is still so much work to be done, but we have spent a good few days looking at the projects. Lisa will continue to evaluate the work which has been done in the past and establish exactly what would be most helpful to the communities going forwards. What could be the most important use of our funds?
1. Water pumps - there are still many pumps which need mending or replacing?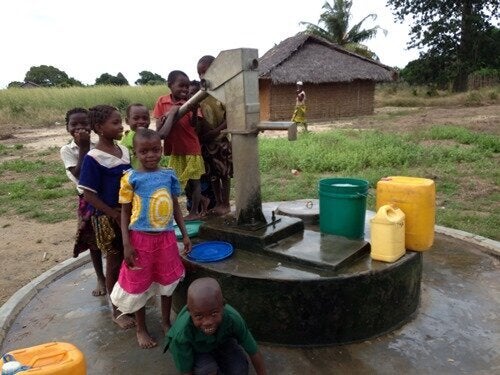 2. Funding school meals to ensure the children go to school?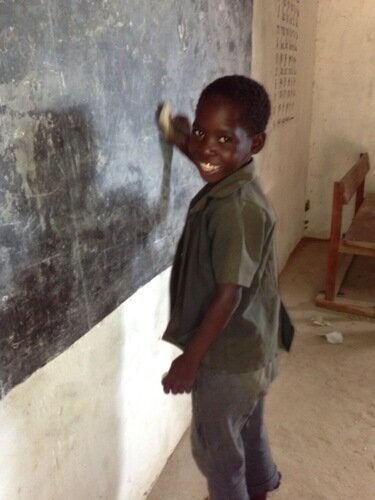 3. Building new schools, as some were washed away by the rains?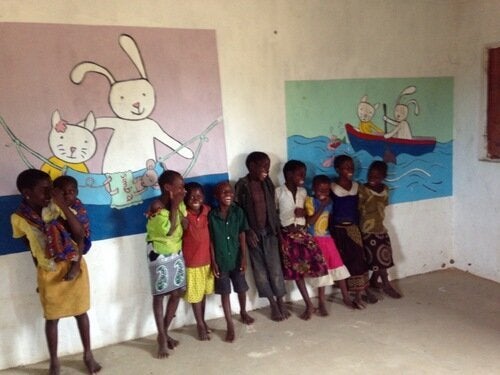 4. Or maybe the new hospital wing which is so badly needed?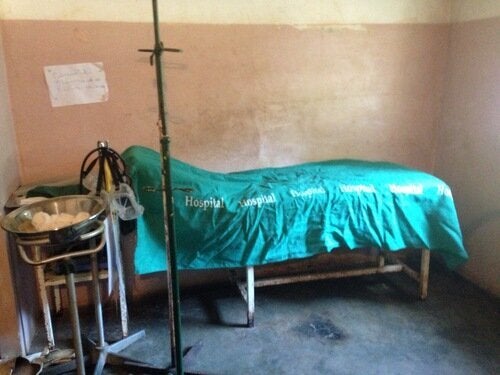 The projects we are sure we must continue are:
- The 110 scholarship children, funded to go to secondary boarding school. The gift of education is without doubt the best way to bring a generation out of poverty and help the local community for years to come. To help support the kids and make sure they get to school with uniform, books, transport, food at the boarding school we offer several full time jobs to locals. We are also considering tertiary education funding or micro loans for the graduates to help set them up for life post education. We have been lucky to get a generous windfall donation last year which has secured these scholarships for the time being.
- We will keep supporting the orphans and vulnerable children, employing Rema, who is our local Maternity nurse. Her job is to look after children in Nuande village where there are 5,000 inhabitants and for numerous reasons (HIV, Malaria, premature death, travelling for work and failing to return etc.), there are 160 orphans. In rural areas when you become an orphan, you will never be out on the street since the extended family that will take you in, but they are likely to be overstretched already. Finding enough food for the next meal is the main day's work and when there are extra mouths they can be left till last. Rema makes sure the orphans are not malnourished or lacking basic necessities like clothing and that they are allowed to go to school. We at JoJo have supported this project and helped to fund a little present for the vulnerable kids at the time of Eid (the big feast at the end of Ramadan which is a bit like our Christmas). We would love to roll this project out to other villages.
- The school feeding projects. When subsistence farming and fishing is the only way to eat, the more helpers the better. By offering a free school meal, parents can 'afford' to send their children to learn rather than out to work in the fields or fish. We really need to roll this out to more schools, but it's an expensive project and funds are not currently there.
Giving to a charity like Nema is win-win all round. The very poor local population benefit from the work we do, but we get so much back. And do you know what the best thing about this place is? They may have no possessions and the constant worry of what to feed their families that night, but people seem happy and they laugh so much. It's been a harrowing few days but I've giggled with them - it's infectious. Nema (happiness following hardship) is part of everyday life here - I wish it was the same in the UK.