Maternity Experience - or #MatExp as it is known across social media - is a powerful grassroots campaign that aims to identify and share best practice in maternity services across the country.
June is our month of action, and everyone is invited to get involved.
Actions don't need to be huge or onerous. They could be something you're already doing. For example, my action focuses on bereavement support for parents who have lost a baby. It is an extension of my blog, and the work I am already doing as part of Hugo's Legacy.
The loss of my son Hugo in March 2014 has, naturally, profoundly affected me. Nothing could have been done differently in either my or Hugo's care from a clinical perspective. However, better communication, especially at the end of Hugo's life could have made an already heartbreaking situation less stressful.
The immediate action for bereavement support is one that can be done by anyone, anywhere, anytime - and costs nothing.
Acknowledge the baby the parents have lost. If you know the baby's name, use it. If you don't know the baby's name, ask. Take the parents' lead on whether or not they want to talk about their loss. Try not to worry about saying the 'wrong' thing. The worst thing you can do is to skirt around the subject, or ignore it completely. To ignore the baby is insulting and upsetting to bereaved parents.
I am going to be continuing to encourage everyone - health professionals and the wider community - to talk about baby loss. I am calling it #saytheirname to help remind everyone of that one crucial action.
Parents suffer enough when they lose a precious baby - anything that can help make life after loss a little bit easier is invaluable.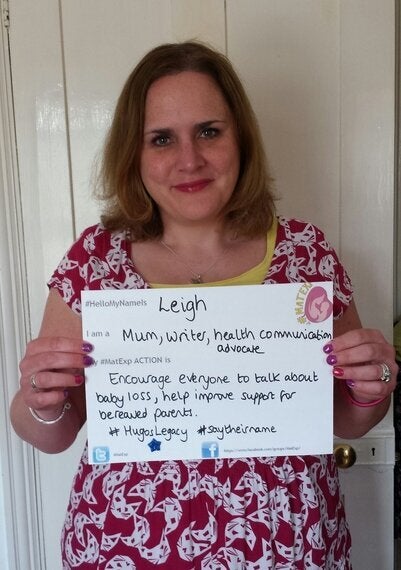 All actions big and small are welcome and very valued.
No action can be too small. Making an action that impacts on even one person is amazing, valued, and very worthwhile.
Your action could be as straightforward as telling everyone you know about #MatExp, and encouraging them to get involved.
If you're a health professional, it could be something as simple as making sure you always say #hellomynameis. Or, your action could be doing something differently based on feedback from a woman in one of the #MatExp social media channels.
It doesn't really matter what your action is. Your action should just be something that is relevant to YOU.
Your action should also be something that feels manageable and achievable. Like with any change, to be sustainable it needs to be part of your life, not in addition to it.
There is also no pressure to do, or complete an action during June; the month has been dedicated to action to maintain the brilliant momentum already achieved since its official launch at NHS Change Day in March 2015.
There are many ways to get involved, such as sharing your #FlamingJune action selfie (mine is above): visit the #MatExp website to find out more. You can also Tweet using the #MatExp hashtag. Alternatively or join or start a conversation in the #MatExp Facebook group.
Leigh Kendall is one of several volunteers proud to be helping lead the #MatExp campaign. She also blogs at Headspace Perspective.
Related