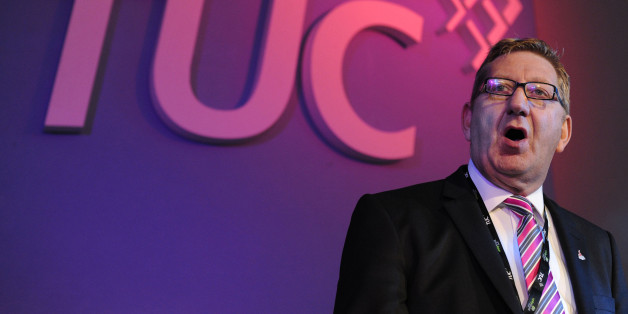 CARL COURT via Getty Images
If Brexit is the most pressing challenge working people face, it's not the only one.
Automation is also casting a long shadow. The replacement of workers by robots is an issue facing all parts of manufacturing and many service sectors but it's presently focussed on the motor industry above all.
According to a 2016 World Economic Forum survey, an estimated 1.6 million manufacturing and production jobs will be lost globally due to automation between 2015 and 2020.
One manager recently said: "Instead of five people doing these jobs, I have one guy running five robots that do tedious jobs longer without quality issues. Plus, the robot shows up for work every day and doesn't get the flu."
Of course, automation could be a good thing for industry and society, if handled in the right way - which means not seeing it as just another opportunity to cut jobs and costs and make a fatter profit.
It should instead be an opportunity for a shorter working week with no loss in pay, or the gateway to a nationwide programme of re-skilling and up-skilling existing workers, while also creating new training and apprenticeship schemes.
But that won't happen if a laissez-faire free-market approach is allowed to dominate.
That is why Unite is calling for the government to take the lead in setting up a Future of Automation Commission, involving unions, employers, researchers and academics to find workable solutions to automation, opportunity and threat as it simultaneously is.
With automation's advance we are now in the grip of a new industrial revolution. This challenge needs to be met and scaled but we will fail as a nation in this if we succumb to a `cliff-edge' Brexit that will see our economy isolated from investment and skill opportunities.
Unite's members in manufacturing are now in the eye of a brewing storm, no more so than those in the auto sector.
Brexit and automation point up the pre-existing vulnerabilities of an industry mostly controlled from abroad, dependent on investment decisions made with an eye to maximum profit in a globalised economy.
A world where our parents' hopes for a "job for life" have been replaced with the hope for work for the next six years or so, or whenever the next decision on a model falls due.
That is why I am determined that the issue of market access needs to be put front and centre in discussions about Brexit. The government itself acknowledged as much when it signed a deal with Nissan to protect the plant at Sunderland, a vital element in the whole economy of the north-east.
Unite welcomed that approach. We might welcome it even more if we knew what was in the deal.
But a case-by-case solution is not enough. Big investment decisions affecting Vauxhall, Jaguar Land Rover, BMW and more are not going to wait for a few years while the government sorts out its Brexit agreement with Europe.
80% of our vehicles are exported, and half of that is to Europe. Tariffs could add as much as £1.8billion over a model's lifecycle.
So we need to hear a good deal less speculation and waffle from ministers on this vital issue.
At least a quarter of a million jobs are at stake here - this is not a debate in the Oxford Union, it's a matter fundamental to the future of hundreds of thousands of families and communities up and down the country.
A bungled Brexit would be devastating so I have no truck with those who take a casual attitude towards it, or who write off single market access.
Such rhetoric is gambling with the futures of thousands of Unite members and workers everywhere.
Of course, I understand why so many people, including so many Unite members, voted to leave the EU. Above all, it is fears related to the free movement of labour.
That's why Unite has taken the lead in bringing forward plans to address these very real concerns while keeping open the possibility of single market access.
Our proposals are all about safeguards for workers, communities and industries, by ensuring that labour should only be recruited abroad into companies or industries that are covered by proper collective bargaining agreements.
This would cut the ground out from under the feet of bad employers who seek to import low-wage labour from abroad, and help turn Britain from a race-to-the-bottom culture into a rate-for-the-job society.
And it would be a vast and sensible step towards restoring some stability in an increasingly insecure world.
Automation's advance and resisting a bungled Brexit; these are the massive challenges ahead. Unite is stepping up - and we will make business and politicians do the same.
Len McCluskey is running to be re-elected as general secretary of Unite the union