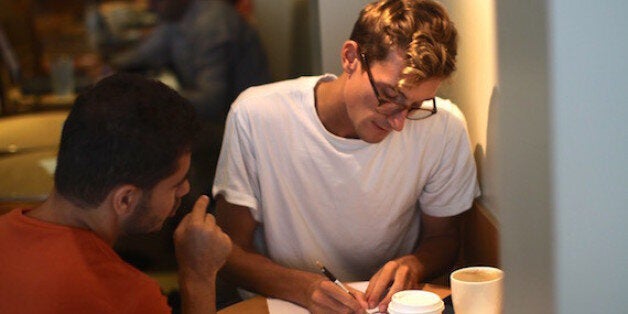 What do a dentist, a human rights lawyer and a maths teacher have in common?
Certainly, they're all qualified professionals. What you might not guess - blog title aside - is that they have all sought, and found, refuge in the UK in the last few years. They fled from Syria, Sudan and North Korea respectively. None of them have (yet) been able to practise their professions here, but that hasn't stopped them helping the Brits in need of their skills. They all now work for a new tech for good startup, through which they share their native language and culture - online and in person - with people in the UK.
The startup is called Chatterbox. By training and employing refugees ​as language tutors, the venture catalyses refugee integration into the UK labour market whilst tackling the country's language skills deficit.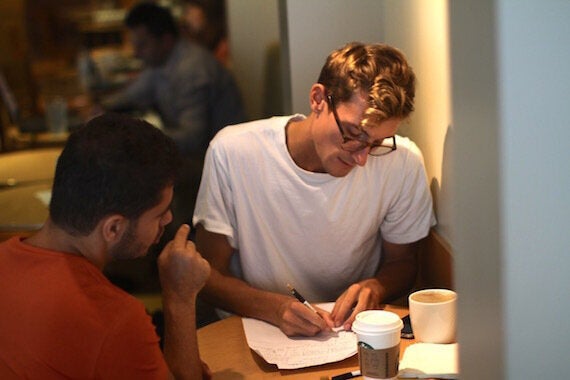 Photo: Chatterbox tutor Eiad, a Syrian dentist, giving SOAS student Francis an Arabic Lesson | L. Garrett © Chatterbox 2016
Chatterbox is the brainchild of an extraordinary twenty-something Economics grad and Year Here social enterprise fellow, Mursal Hedayat. Mursal fled Afghanistan with her family and arrived in the UK as a refugee when she was just four years old. Growing up, she witnessed her polyglot civil engineer mother's decade-long struggle to find a job in the UK, and was inspired to found Chatterbox in order to help people in her mother's situation.
There are just over 117,000 people with refugee status living in the UK. While government reports on refugee integration recognise many of them as being highly skilled and educated, English-speaking, eager and able to contribute to UK society and support themselves and their families, they are considerably more likely to be unemployed or underemployed than the population average. Lack of UK work experience is often cited by employers as a reason against hiring an otherwise qualified refugee candidate.
In parallel with the relative exclusion of refugees from the UK workforce, in 2013 it was estimated that the UK economy loses £48bn annually in missed trading opportunities due to a deficit in language skills. With recent cuts to A-Level language offerings and an increasing need to reach out to the rest of the world as Brexit looms, the shortage of competent linguists will surely remain a "top policy issue" (to quote Baroness Coussins) for the UK in the years to come.
Doing our bit to avert the needless waste of refugee talent and improve our country's ability to communicate with the rest of the world, our business model for Chatterbox matches the underuse of refugee talent with the demand for their language skills.
For us, tech is about maximising the accessibility of our service for both language learners and potential tutors. As we were piloting the project, the convenience of being able to learn from home attracted language learners from all around the UK, as well as a few living abroad. Crucially, the option of teaching online via webcam enables the refugees who found themselves 'dispersed' across the country during their asylum seeking process (in accordance with government policy) to benefit from the initiative as much as those based near us in London.
Sharing the gift of language online and in person this Christmas and all year round are two of our star Arabic tutors, Eiad and Hekma.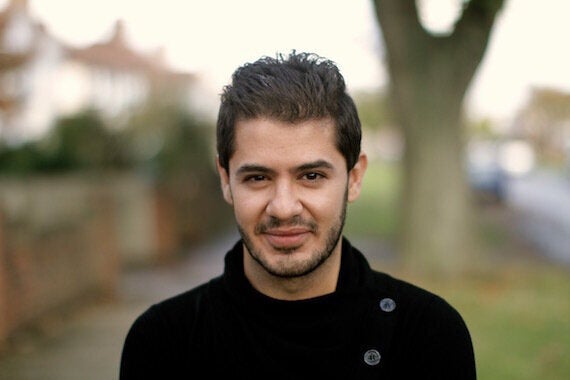 Photo: Eiad | L. Garrett © Chatterbox, 2016
I recruited Eiad over Facebook, having read an interview with him and diligently stalked him on social media.
In addition to helping the UK improve its linguistic capabilities, he's also on his way to helping Brits overcome their (perhaps unfairly awarded) reputation for having terrible teeth.
Eiad is a dentist from Damascus. A man of many talents, he also worked as a teacher before arriving in the UK almost two years ago. "I love teaching", he says, "I love sharing knowledge about my language and culture".
In addition to teaching Arabic to studious Londoners, Eiad has toured UK schools, talking to thousands of schoolchildren about the Syrian civil war.
Over the coming year he hopes to save enough money to be able to take the UK's dentistry exams. We've seen him in action as a teacher- always making his students laugh, sometimes throwing in tips about maintaining one's pearly whites. A tea fiend himself, Eiad says: you should brush your teeth within half an hour of consuming tea or coffee if you want to avoid staining.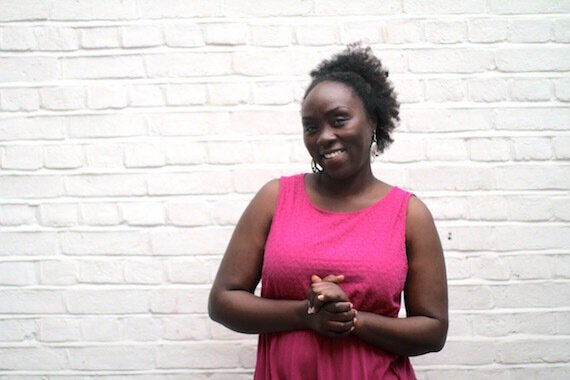 Photo: Hekma | L. Garrett © Chatterbox, 2016
​Hekma is a human rights lawyer from Sudan and a specialist in Arabic legal terminology. Her name, sometimes spelt 'Hikma', means 'wisdom' in Arabic - "my parents had high expectations when they named me", she jokingly told me and Mursal during our first meeting. As well as campaigning for women's rights and prison reform in Sudan, Hekma has also worked as a writer, human rights blogger and English-Arabic translator.
Her top tip for language learners: find music and films you love in the language. "It was Bob Marley who first got me into English", she says. She recommends Egyptian cinema as a good starting point for budding Arabists.
Hekma's advice to tutors teaching online: get the lighting right. Never underestimate how important it is for your students to see your facial expressions clearly; it helps you build a relationship and enables them to copy the shape of your mouth in order to replicate the correct pronunciation of a word.
Her career goal is to return to work in human rights.
Over the coming year, Chatterbox tutors will be delivering linguistic and cultural training to language learners across the country, starting with students from the School of Oriental and African Studies in London in early 2017.
If you are interested in finding out more about the venture and about ways to get involved, please visit our website. You can also find us on Facebook and Twitter.
Among the languages taught by Chatterbox' brilliant tutors three Arabic dialects, two Persian dialects, Swahili, Korean, French and Spanish. More coming soon.
HuffPost UK Tech is running a two-week focus on our Tech For Good campaign, which aims to highlight the technology that is driving social change and making a positive, long-lasting difference to our world. If you'd like to blog on our platform around this topic, email ukblogteam@huffingtonpost.com with a summary of who you are and what you'd like to blog about.