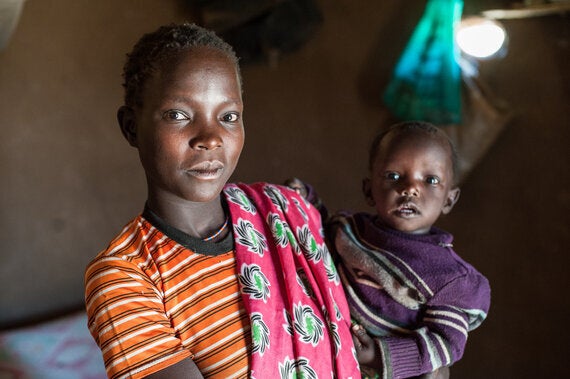 Pauline was just 10 years old when she had the cut. Otherwise known as female genital mutilation. It's common for people to feel uncomfortable and horrified when they hear about FGM. Especially when they hear further details like the fact that girls are cut one after another positioned on stones in the middle of nowhere facing to the east. Or that they are told not to cry out as it'll be disrespectful. Or that if they try to run away they will dishonour their family.
On a trip with ActionAid UK recently I met Pauline in a remote part of Kenya. She is now 15 years old with one baby daughter, Faith, and she's pregnant again. She didn't choose her husband - he was forced upon her. But she is one of the strongest most gutsy and determined women I have ever had the honour to meet.
As a former editor of youth titles and as an agony aunt of over fifteen years, I have had the opportunity to talk to and work with girls and young women from all walks of life. During this time I have been privy to some utterly terrifying stories, but I have never been as powerfully affected by the stories such as Pauline's, that I heard in Kenya. Or witnessed first-hand the strength of conviction that this unnecessary practice should be stopped. I heard direct from girls who were most at risk and women who are now advocates for ending the practice of FGM.
I interviewed girls and young women who ran through wastelands climbing trees to hide from wild animals, who survived by eating shrubs and even dirt in order to escape. But, why am I talking about this now? Well, it's what's called the 'the cutting season'. This is the time when girls and young women here in the UK are sent to countries they have often never been to in order to have this procedure that's frankly horrifying and just wrong. FGM is the partial or full cutting of a girl's clitoris and labia, for non-medical reasons, usually on minors as young as four and no older than twelve years old. The procedure can cause severe bleeding, infection, infertility and even death.
There are incredible organisations like Forward and FGM Aware amongst many others who campaign about this issue in the UK, but it also goes on in many countries that ActionAid works in globally. Which is why ActionAid, as an international charity, is putting the spotlight on this again. Because it must end - now.
In 2014 ActionAid supported 483 community-led projects to protect women and girls from harmful traditional practices such as FGM. We've also mobilised 151,000 women to challenge violence and harmful traditional practices. What does this mean? ActionAidenables women and girls to stand up for their rights by teaching about this in schools, creating women's groups where women share their experiences and watch out for each other and they learn coping mechanisms to so that they can progress with their lives as independent women.
Please help us to protect girls before they are cut and donate to our appeal http://po.st/bJYEmL