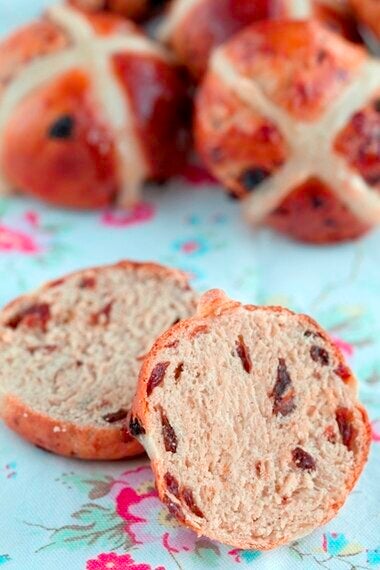 If you're in despair about the impending hot cross bun price hike, fear not. Put that bag of raisins at the back of your cupboard to good use with Lisa Roukin's handy recipe.
One of the first nursery rhymes I remember learning was Hot cross buns! Hot cross buns! One a penny, two a penny, Hot cross buns!
450g strong flour or gluten-free bread flour
7g sachet easy-blend yeast
250g dried mixed fruit or sultanas
50g slightly salted butter, cubed or coconut oil (odourless)
250ml milk or almond milk
1 large egg, lightly beaten
3 tbsp. milk, 2 tbsp. water
50g plain flour or gluten-free bread flour, mixed with 5 tbsp. cold water
Preparation time - 40 mins - rising time 1 ½ hours - cooking time - 20-25 mins
Preheat the oven to 400°F, gas mark 6, 200°C (180°C fan-assisted).
Sift the flour, salt, mixed spice, cinnamon and 60g of the sugar together in a large bowl
Stir in the yeast and the dried fruit into the flour.
In a small pan over a gentle heat, melt the butter or coconut oil, remove from the heat and add the milk, then stir into the dry ingredients with the lightly beaten egg and mix to form a soft dough
Tip the dough out on a floured work surface (you can do this in a food mixer with a dough hook) and knead for 10 mins until smooth and elastic.
Divide into 12 equal pieces and shape each into a ball, place a little way apart on an oiled baking sheet. Cover with oiled clear wrap and leave to prove in a warm place/fridge for about 1 ½ hours until doubled in size.
To make the crosses, put the plain flour in a small bowl with 5 tbsp. cold water and mix to a smooth paste, spoon into a piping bag and neatly pipe a cross over each of the buns.
Bake in the oven for 20-25 mins or until golden brown
When the buns are nearly ready, heat the remaining sugar and 3 tbsp. milk and 2 tbsp. water stirring until the sugar dissolves, boil for one minute. Remove the buns from the oven and brush twice with the glaze. Leave to cool on a wire rack
Serve warm or cold, spread with butter!
If your crosses have disappeared during the cooking process, you can make a paste with icing sugar and water and pipe again over the buns. Will keep in a airtight container for a few days; reheat in the oven for 5-10 minutes before serving. Freeze tightly wrapped buns for up to one month. Thaw one day before warming through