 I saw a man running in denim shorts yesterday. Now, I am as keen as anyone to avoid knowing shouts of 'All the gear, No idea!' but of all the possible things to wear whilst running, denim must be amongst the worst. It is heavy, for a start, and simply continues to get heavier as you sweat. (I know this, because I spent the entire last year of school desperately running in jeans to avoid being late for morning registration. No uniform seems like a great idea, but it has its downsides). Denim also has very little give, so the chafing as your thighs move must be extreme.
I have been thinking about sports kit quite a lot recently and not just because I saw that poor chap. In a bid to become more like my body idol, Gisele, I have started taking Barretoned classes. These are small group classes, led by an instructor, which use a traditional ballet bar in an untraditional manner. Overcoming my own deeply-held distrust of said ballet bar (as a child, my parents interrupted my very first ballet recital with their uncontrollable laughter), I joined one of the classes.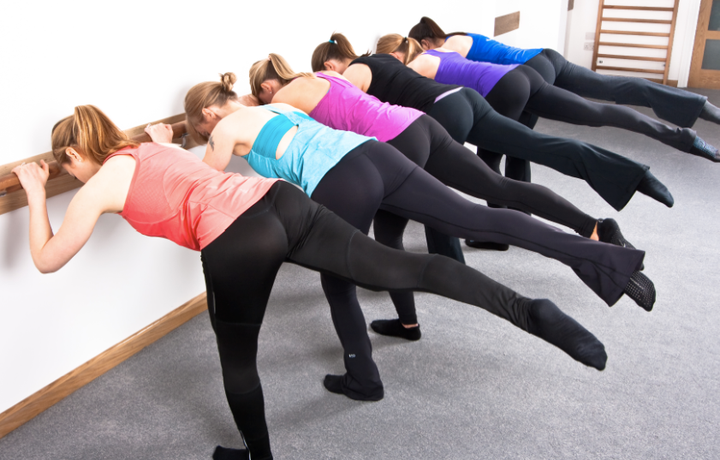 'Take 2 pairs of weights,' I was told as I entered nervously. I picked up a pair of 1 kg and 2 kg weights and nearly laughed, they looked so tiny in my hands. 'This is going to be a breeze,' I thought happily, mentally re-allocating the class from 'exercise' to 'aversion therapy'. Barretoned uses a mixture of mat and at the barre intervals, each exercise set focusing on small, controlled movements, followed by active stretching to elongate the muscle. It is one of the hardest classes I have ever taken in my life. I only managed to complete the class, legs shaking and arms burning, by looking at the women alongside me, and feverishly believing that I too, would begin to look like them.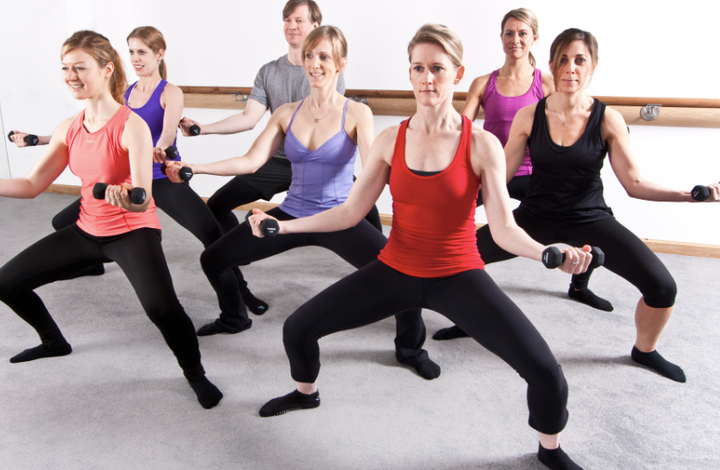 I went to a mid-morning class, and the Barretoned studio is in Notting Hill, so I think I expected everyone to have what I call 'rich hair'- the glossy, artfully tousled hair seen so prominently on Kate Middleton and Andy Murray's girlfriend. I did not, however, expect them all to have beautiful, toned, lean bodies. As it turned out, it was lucky they did, because as I gritted my teeth through the barre exercises, while the instructor passed gracefully around the room, gently adjusting poses and giving encouragement, I mentally chanted, 'body like them', and gazed about the class. (Which, because it was filled with the type of women who can get their hair done and then pop to a Barretoned class at 11am, smiled graciously back at me, rather than asking me to stop staring at them).
Barretoned classes are taken in socks, and for once I was wearing a matching pair. Less fortuitously, I was wearing a matching pair of fluorescent green socks, a purchase several years ago from an American K-Mart. The other women in the class wore beautifully cut, soft workout clothes, perfectly suited to the movements of the class. I felt more like the chap running in denim shorts than I would have liked. I resolved, therefore, to update my kit.
Everybody is talking about Lululemon, and not just because Jennifer Lawrence wore it in 'The Silver Linings Playbook'. It's great kit- attractive, comfortable, made for sport. But it also comes with a healthy price tag- and I can't quite bring myself to spend £108 on what are, essentially, tracksuit bottoms. I stumbled across Lorna Jane recently, an Australian brand who are just opening in the UK. Realising, like Lululemon, that women want sportswear that is both functional and attractive, Lorna Jane sells well-cut, well-fitting, colourful activewear- crucially, at a price point 20% lower than Lululemon.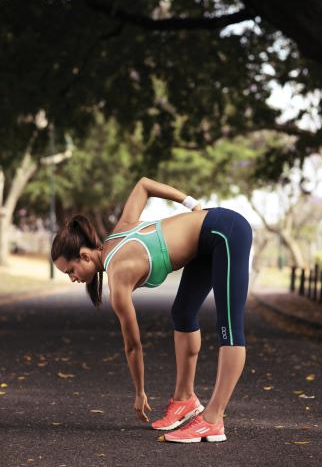 I may not yet have the 'rich hair', or the perfect body of my Barretoned classmates, but my goodness, my journey to both will be done in style. And pain. I can't forget the pain.