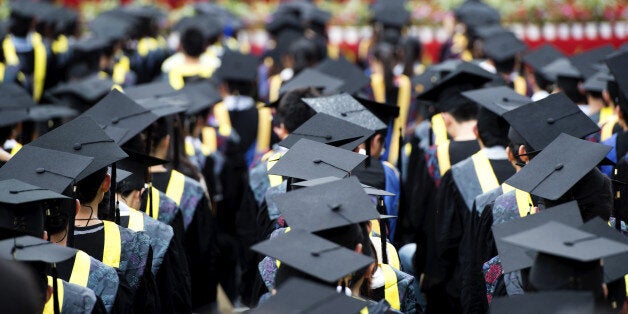 Last year, the government backtracked on its promise to increase the repayment threshold for student loans in line with inflation, instead freezing it at £21,000. This year, lower income students starting university will not receive a maintenance grant. And next year, tuition fees could rise to £9250 for all students, breaking the £9000 barrier and setting a precedent for further increases in years to come. The latter, announced today, is the latest in a series of assaults on prospective, current and former university students, together serving to commodify higher education and deliver one clear message: if you want a degree, you're going to have to pay - tens of thousands of pounds.
With my university having been named and shamed as having the second lowest proportion of state schooled students in the country (beaten only by Oxford), the subject of social mobility in higher education is one of which I am acutely aware. Indeed, it has become such a pressing issue at Bristol that two students took it upon themselves to set up a new society, the '93% Club', representing those from state schooled backgrounds and campaigning for equal access - and I can only wish I had thought of this myself.
Although the proportion of students at Bristol from such a background totals 60.1%, thankfully not a minority, this 60:40 ratio is vastly out of kilter with the 93:7 educational balance of the UK at large. Indeed, it is vastly out of kilter with the applicants - Bristol 24/7 reports that only a quarter of applications between 2010 and 2015 came from independent schools, yet well over a third of the eventual intake. And with the cost of Bristol halls of residence set to rise by 5% this year, it has been questioned whether Vice Chancellor Hugh Brady has any commitment to 'widening participation' at all.
The same could be said for the UK Government. With the cost of university ever-increasing, there is a continuing epidemic in higher education: more money buys you better books. And opportunities, and contacts, and everything else there is to be gained from uni life.
There is a well-known internet proverb, 'Check your privilege', and I am keen not to forget this. It is important to note that, whilst my education was free and my school not selective, I am not a student affected by the scrapping of maintenance grants, nor was it unusual for my relatively high-performing Wiltshire school to send pupils to Russell Group universities year on year, including a couple to Oxbridge. The label 'state school pupil' covers a wide variety of educational and socioeconomic backgrounds; we can't all be branded 'educationally disadvantaged', to use the 93% Club's phrase.
Nevertheless, the fact my comfortable upbringing ranks somewhere in the bottom half of Bristol's student body is unsettling to say the least. And it's only going to get worse.
Perhaps the most openly elitist of all the Conservative government's higher education policies is the fact universities with a higher standard of teaching will be able to charge more. This perpetuates the inequalities of the private/state school divide, making top-class teaching something you have to pay for, rather than being available to all, or at the very least earned through potential. Theresa May herself acknowledged in her first statement as Prime Minister, "If you're from an ordinary working class family, life is much harder than many people in Westminster realise." And yet her party in Westminster continues to chip away at any chances working class people might have of breaking free from this cycle, making high standards of education increasingly inaccessible.
But education is not a commodity, and it should not be something reserved for the privileged few. The Tories' endless assaults on higher education are an assault on our society at large, widening the gap between poor and privileged more than ever before. 'Social mobility' isn't just dying, it's already dead - and it's about time we started fighting to resuscitate it.