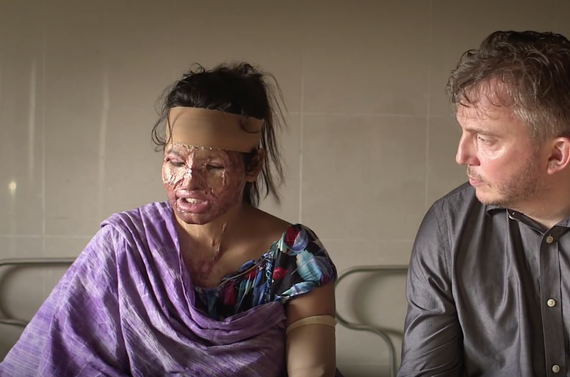 In October 2015, photojournalist Giles Duley met acid attack survivor Shumi Akhtar at a clinic in Bangladesh.
Channel 4's Unreported World episode tells the story of Shumi, 18, who was attacked by her boyfriend when she turned down his marriage proposal. She was left with severe burns to her face - leaving her permanently blind in both eyes.
Giles in The Girl Who Lost Her Face offers his own life experience as a triple amputee to support Shumi throughout her journey. "I'd visited the Acid Survivors Foundation in Dhaka, Bangladesh in 2009 and I had been so moved by the experience that I was determined to follow up on the story," he says. "I suggested the story to Unreported World and had pushed to get it made."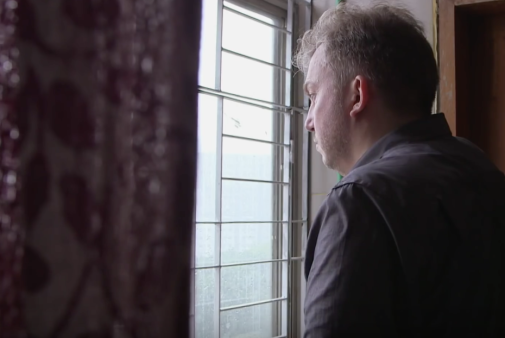 Two years after that trip, Giles lost both legs and left arm after stepping on an explosive device. After months of determination and rehabilitation, Giles returned back to work as a photographer and pursued his interest in humanitarian issues and conflict.
He believes that this life-changing experience enabled him to gain Shumi's trust. "When those with injuries or disabilities see me, they know I have an understanding of what they are going through."
I just wanted to support her
Shumi spent eight months in the clinic in Bangladesh before she ventured the outside world for the first time. "For Shumi, leaving the hospital was a huge mental hurdle," said Giles. "I just wanted to support her as a friend would."
After much persuasion and one failed attempt, he managed to share Shumi's first adventure. "I often think of those that helped me and supported me during my recovery. I hope in some small way I can do the same for others."
Blame the women
Acid attacks happen every week in Bangladesh and fewer than ten percent of them are followed by a conviction. In 2015, Bangladeshi based organisation, Acid Survivors Foundation reported 74 survivors.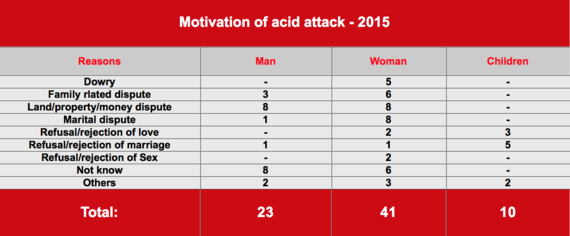 "There is a huge stigma for those with burns in Bangladesh," says Giles. "For many they feel their life is over - nobody will marry them, they will struggle to find work, are unlikely to have children. Many people shun them and many blame the women themselves for the attacks."
The main reasons victims are targeted is family related disputes, dowry or, as in Shumi's case, rejection of a marriage proposal.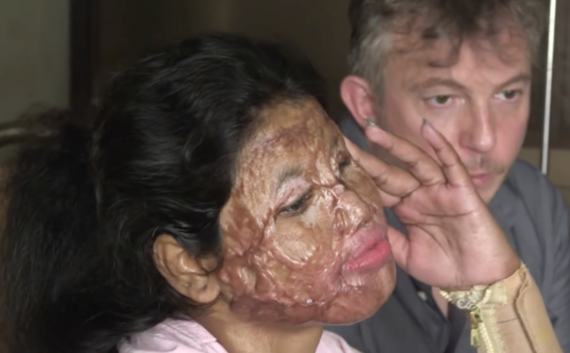 "If I walked away with anything, it was a reminder of the strength of the human spirit," says Giles. "I don't think the word survivor has greater meaning that when referring to the women I met in Dhaka - they truly are."
Shumi still continues to rebuild her life. Her ex-boyfriend and four other men have been imprisoned for their crime. "I truly believe none of us are defined by our disabilities, but how we respond to them," said Giles, "It's a life we didn't choose, that we would never have wished; but it's still our life and only we can retake control of it."
_____________
For more information about Giles, visit http://www.gilesduley.com
'The Girl Who Lost Her Face' is available on C4 demand now