Thinking back to when I did my exams, the feeling of dread and worry comes flooding back. I found them unnecessarily stressful and got really frustrated because I think that exams are such a limited viewpoint into how intelligent somebody actually is.
I was quite unhappy during that time and I was convinced that if I messed them up then that was pretty much the end of my life. I was disappointed with my results but in the end I decided to go to university to do Film Production. The course seemed very practical but with a focus on the theory as well and it was the theory side of things I was really looking to develop as I had taught myself a fair amount of the practical already.
I have to say that I felt pressured to go to uni. I felt like it was either that or settle for a second rate job and lower life goals. I know this was wrong now and that many successful people choose not to go to university.
After a year at uni it got to the point where I needed to spend more time on my YouTube channel and didn't have enough time to study and so I made the tough choice to leave. University had taught me a lot but I knew I wouldn't be happy there. I didn't feel like my specific abilities fit in well with a university system that mainly focused on making sure you get a job. It caters to the idea that you need to be employed by somebody else rather than forge your own path.
YouTube made me stand out as something unique so in the end that's why I chose it over university. Since leaving, I've been happier and doing more work towards my life goals than ever.
I'm pleased to say that leaving uni ended up being the right choice for me because I am now involved in a massively exciting project. With a friend I met at university am going to be directing a film that is an adaptation of the book 'The Drowning of Arthur Braxton'.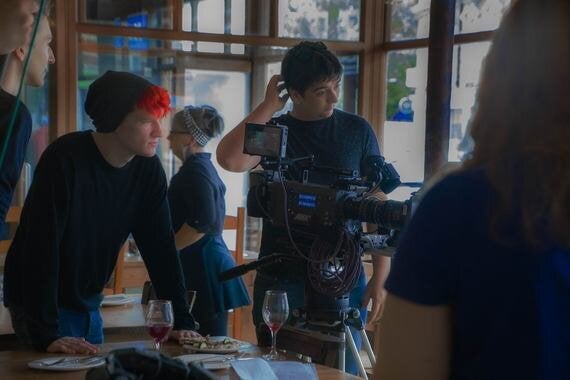 style="float: right; margin:10px"
We launched a Kickstarter Appeal on 1st August to fund the making of the feature film. The idea being that a community can come together, be a part of, and contribute to the production of this book adaptation. It will also give us the freedom to tell the story in the way it is supposed to be told.
So, I know only too well that if you don't get the grades you expected it can be terrifying especially in a world that drives all its focus on test based success. But don't panic, there are so many other routes to many of your dreams so seek advice, work hard and never become just another worker. Embrace who you are.
Luke is also supporting the Exam Results Helpline. Call 0808 100 8000 if you need any advice or support after you get your exam results.