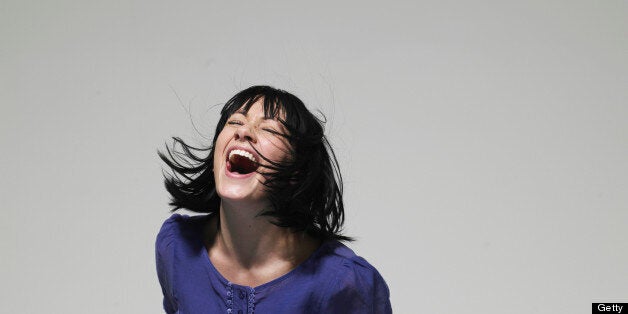 This is the question on my lips as I left the UK launch of HuffPost's 'The Third Metric' at BAFTA on Tuesday 30th July. Keynote speaker and founder of Huffington Post, Arianna Huffington, is questioning how we 'redefine success beyond money and power' by encouraging women (and men) to include well-being, wisdom and wonder in their lives.
Of course this presupposes that we all have money, power and time to make this happen and like so many of my contemporaries in the creative world of entertainment, this is almost an alien culture! Most creative people define themselves with the wonder of their own creations, quite often don't acknowledge their wisdom and take their well-being for granted.
I had set up Funny Women in 2002 running it alongside my PR and marketing business and then, five years ago, I finally committed to eschewing the trappings and schedules of a 'corporate life' to follow my dream. It was not totally intentional - that life became less important as my calling to the world of comedy, and the means by which I could facilitate this, increased. I put 30 years behind me to become a full time comedy producer.
Not foreseeing the financial havoc that the banks would wreak in 2009 creating a worldwide recession in their wake, I had already dug myself into a deep creative hole that I had no desire to get out of but, like a lot of small niche businesses, could not find a safe foothold to cling to.
Five years on and both my business, Funny Women, and I are 'in recovery' and the dream is slowly piecing itself back together again. I attend events looking for enlightenment and inspiration in the hands of people like Arianna - they feed the soul of entrepreneurs like me and provide a valuable opportunity to network with like-minded people. I do try to adhere to the principals of time and space that Arianna is prescribing although in my world there is a different mind-set.
I have chosen vocation above money and success and that, unless you have sensibly accumulated a nest egg that you then use to fulfill your dream, is where I believe there is a place beyond Arianna's Third Metric to be explored.
Women are the natural leaders of this revolution in thinking as they often don't have direct control over their destiny and need great vision to get past the barriers that constrain them, physically and financially. This is where our inherent female creativity and resilience kicks in.
The burden of vocational life is that you don't always have the weekend free to 'recharge your batteries' or 'finish work' at 5.30pm to go home, cook supper and read the children bedtime stories. Great if you can do this and I'm not knocking it but isn't there, maybe, a fourth matrix to be explored which men and women can inhabit equally together as a 'team'?
My music producer husband of 25 years and I have led our parallel creative lives in the best way we know how. We have bought up our two children (a boy and a girl, now almost grown up) to put their passion up there with ambition, giving them the belief that they can do anything they want to and we will do our very best to support them. The pay-off for us is that, honestly, neither of us is as financially successful or secure as we should be at our stage of life, and we own very little - having divested ourselves of possessions and time in the pursuance of our dreams!
The benefits to this way of life is that we both have careers that define and suit us - we do work as a team, my husband is as much a part of Funny Women as all the women who work with me and I am also part of his largely male professional world. Is this what Arianna means when she talks about 'nurturing our human capital'? Can men and women work together to pass on their talent and passion to the next generation?
So I left with this question about my working life knowing that what I do defines me: without Funny Women, who the hell is Lynne Parker? Have I got any other future beyond Funny Women? How can I make the most of this?
Arianna has reinforced my thinking about taking some of what I do creatively and instinctively with comedy and entertainment back into the corporate world. Laughter is a valuable commodity and at Funny Women we have been working on how to communicate this for some time now. We know that businesses do benefit from a bit of humour - one of our mantras is 'laughing about life to help and heal' and laughter is a very good counterbalance to the darker moments of life, personally and professionally.
Check out what we did earlier this year with Funny Women Challenge the Men - proving a point about how men can adopt a women's approach to humour and raising over £15k for charity as part of the process.
Meanwhile I won't be putting a sleep pod under my desk just yet and, although the spirit is willing, I will be opting for a good daily belly laugh with my Funny Women colleagues rather than meditating into my mobile phone! It has the same effect!
If you fancy a laugh along with the Funny Women Team please join us at the Edinburgh Fringe, the world's largest arts festival, for 11 days of brilliant female comedy at the Funny Women Pop Up Fringe, Le Monde, George Street, Edinburgh from 15th to 25th August. Tickets from £5 to £10 or get one of our day passes for £25 and see as many shows as you can at our venue in one day!