This time of year can be brilliant fun, but occasionally can also be just a little bit stressful, what with buying gifts, cooking elaborate dinners or perhaps simply being thrown together with relatives you do not see very often for long periods of time. So, fancy Laughing your way through the festive season instead this year? Then Laughtercise is the way forward!
Laughtercise uses laughter as an exercise as opposed to laughing at comedy, jokes or humour, enabling your body and mind to benefit from the endorphins and the serotonin release that you get when laughing at comedy or jokes etc. Based on the principles of laughter yoga (combining laughter with deep breathing), Grin and Tonic created Laughtercise in response to a growing need for a set of exercises that would make it is easy for people to build laughter into everyday life.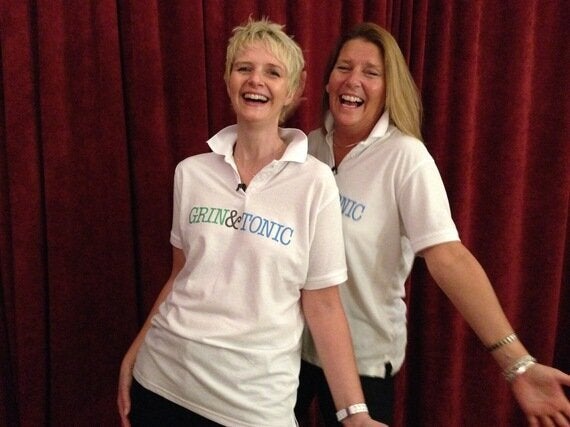 Follow these few tips and watch our slighty crazy videos and you'll be guaranteed to have a more energised and less stressful festive season this year.
1. Start every day the Grin and Tonic way with a Fun Salutation. The Yogi's amongst you will have heard of a Sun Salutation, but with our Fun Salutation, we combine Laughter with a few simple exercises that energise and revitalise you. Honestly, you have to try this!
2. Festive tunes a la Grin and Tonic - Want something a little different to your usual festive games? Take our lead and Ha Ha Hee Hee to a few tunes instead. Move over Jingle Bells. Watch and join in with our G&T 'Giggle Bells'.
3. Don't argue! Laugh argue! A study conducted a couple of years ago revealed that we have a total of five family bust-ups just on Christmas day itself, with the first starting as early as 10am when the preparations get under way. So when you sense it's all getting a bit tetchy, instead of arguing, have a Laugh Argue with your loved ones. See how it's done here....
4. Silent Laughter... This is great if you find yourself in a situation where you don't feel that being loud is appropriate, but you still want a quick boost, or to de-stress, or to give yourself a bit of confidence. All you do is give yourself a really good laugh but without any noise, maybe some shoulder shaking and a little silent clapping. Try it. It's such a useful tool!
5. Finally, work off a few calories or wake yourself up after a little snooze on the sofa with our short Ho Ho Ha Ha workout. Combining laughter and music is a powerful way of moving energy through your body. Join us in a quick workout, and afterwards find some other tunes you like and give it a good Ho Ho Ha Ha Hee Hee around the house.
Use these Laughtercises and you'll have a festive season full of even more Laughter than usual!
Want more laughter in your life in 2015? Kick off your new year by joining Steph and Mandy in a full fun fabulous Laughterclass this January in London, UK. Spaces are limited so please contact us as soon as possible to reserve your spot.
This content is owned by Grin and Tonic and originally appeared here.