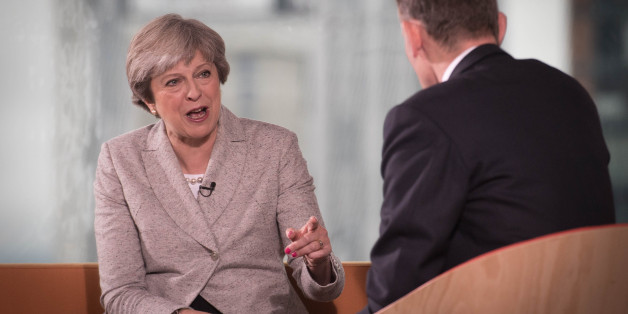 Stefan Rousseau - PA Images via Getty Images
As the Tories begin their party conference in Manchester, it is hard not to delight in their disunity. May is a walking shadow. Her cabinet strutters, fretting their final hours on their political stage. Their Brexiting message this week will be full of sound and fury. But it will signify nothing. This Tory minority Government will soon be snuffed out by the spectre of a Labour Government which haunts every aspect of their conference this week.
Laugh as they stutter out their austerity-lite policies. Even blustering Boris now insists May must lift the minimum wage and pay public sector workers more. I'd like to welcome Boris to our cause, but hardened by years of experience with him as the mayor in charge of Transport For London, whose decisions affected many thousands of TSSA members, I know Boris is not a man of his word. Worse still, he is a man of anything at any costs - so long as it doesn't cost him. This Tory strutter-in-chief abuses his party and his Foreign Secretary position as platforms from which to extend only his ego. His vaulting ambition sees him ambush the hapless May in newspaper headlines. And Brexit he treats like he's Prince Hal at Agincourt. Thankfully the patron saint of England is from Cappadocia - a pro-Europe truth which spares us Boris urging us once more unto the breach, to cry God for England and St George.
Corbyn's Labour has forced the Tories to abandon their hard austerity agenda - even getting them to set up a commission to examine slashing existing student debt. The thoughtful humility and modest stillness of Jeremy Corbyn stands in antithesis to Tory hotheads. Their conference will hit only bum notes in a nation increasingly enamoured by Labour's 2017 Manifesto, which is a song of national unity. In his conference speech, Jeremy expanded our party's vision of a Britain where no one is left behind to a Europe that should also be for the many. To rapturous applause, he made it clear that Labour believes every single migrant working and living here is welcomed.
Beyond the Brighton hall, his promise of "guaranteed, unimpeded access to the Single Market" brought sighs of relief to millions of workers whose jobs depend on our current trading relationship with Europe. And for TSSA members in Ireland those seven words brought hope that a borderless peace process will remain.
Labour gives Britain straight talking politics. It turns out May can't even talk straight to the Queen. Just as he did with austerity, Jeremy is now showing Brexit is a political choice not an economic necessity. Credit must go to Labour's team of Barry Gardiner, Emily Thornberry and Keir Starmer for charting a course for Britain out of choppy Brexit waters. Credit too to Jeremy for bringing hope where, until very recently, there was only despair. Labour is bringing a new enlightenment to our Brexit engagement with European Union partners whilst the Tories' three decade civil war over Europe now engulfs them once again.
Johnson thinks May will be gone by next year. I think they could both be gone by Christmas, and the minority Tory government is unlikely to last until the end of Brexit negotiations in early 2019. No one in Europe thinks this zombie government has a mandate to negotiate for Britain. The Tories may not have lost office when May took her election gamble but they lost their Brexit grip. Thus, on the single biggest issue facing our country since the Second World War, anything said at this Tory conference is an irrelevance.
A progressive Brexit is now the order of the day, and only Labour can deliver it. We must caution against hubris but, buoyed by a fantastic conference whose sense of both purpose and elation is like nothing experienced since the before our 1997 landslide victory, Labour is our government-in-waiting. Solutions of joining the European Economic Area and/or European Free Trade Association are now as otiose as undemocratic. Rightly described by Norway's Foreign Minister, Børge Brende, as "taxation without representation", by me as "the American revolution in reverse" and, most succinctly by Barry Gardiner, as "the vassal state" option. With Labour on the brink of power, and committed to unimpeded single market access such measures are unnecessary so too is any free trade deal which replicates the benefits of single market membership but allows us to opt-out of what we don't like. Twenty-seven other states - not to mention the European Parliament - are unlikely to be convinced Britain deserves something better than their own citizens.
Labour voted in favour of invoking Article 50. We respected the referendum will of the people, allowing Brexit negotiations to begin. When the Tories fall, Labour will take charge of delivering a Brexit for the many. TSSA will continue to lobbying for Labour to retain Article 45, which will maintain the right of EU workers and ours to live and work freely across Europe. It's what the vast majority of our 570,000 party members, who overwhelmingly voted to stay in the EU want. Most importantly, it's what the majority of our voters who brought us to the brink of power in 2017 seek. Ukip's admission this weekend it will lift its own cap on immigration means Labour now has nothing to lose by a commitment to free movement.
As Labour now considers the People's Brexit options which will allow us to meet all our manifesto and Brexit objectives, we should not rule out staying put. It's what TSSA's 2017 conference agreed almost unanimously. Negotiating for a better Britain in a reformed Europe is the most attractive and only viable option for delivering the Brexit for the many which Labour seeks. The Tories will show us this week that their Brexit was always an instrument of class war, waged by their far-right on workers' rights and regulations which protect our citizens and our environment. They don't hate the EU because it gives us migrants. They hate it because it confers rights on both migrant and British workers. Brexit is like Agincourt, in so far as it's shown two fingers at Europe. But it is not a vote that has covered Britain in glory. Labour has just had the biggest surge in it's vote since 1945. The country is once again in need of a Labour Government to build a Britain for the many in a new peace with Europe.
Manuel Cortes is the general secretary of Transport Salaried Staffs' Association (TSSA)