With the election looming this week, News Punch is back like the proverbial Renegade Master. But the ill behaviour is coming from Richard Littlejohn who announced in the most public way possible that he'd rather leave his kids with a corpse than trust Labour.
Of course it's far easier being controversial and downright rude when you don't have to stand up in front of people, like politicians do. They have to contend with all manner of backchat. with that in mind, News Punch brings you...
The News Punch Election Special Heckle Competition
The election is the Wimbledon for people who like to argue a lot. So in the spirit of Competitive Disagreeing, News Punch has ran a political heckling contest. First up, David Cameron: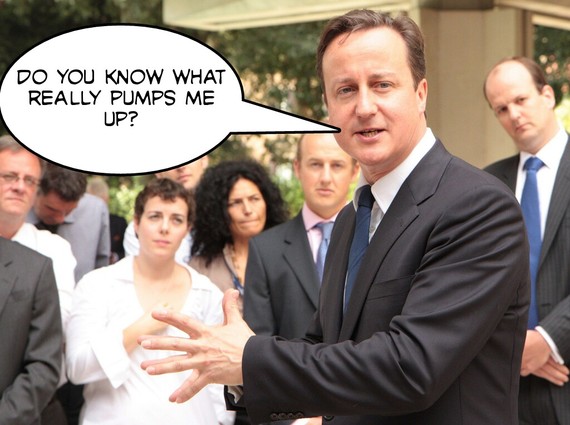 Photo credit: theglobalpanorama / Foter / CC BY-SA
And these are the responses:
Ian Duncan Smith in a mankini? @Midgetgems26
Being slapped around the buttocks with a slippery Sturgeon in 'eels?@FemmeDomestique
And the winner is: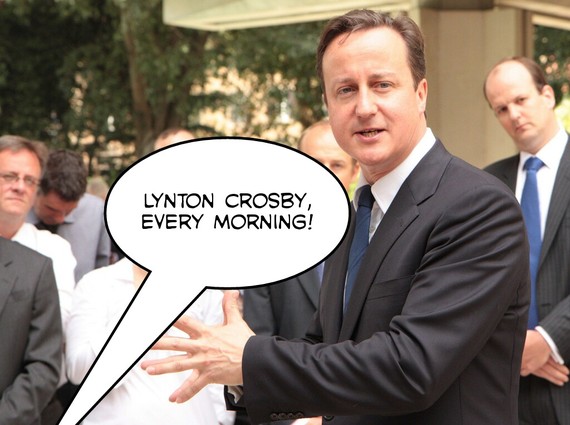 Caption by: @AndyGilder
And next, Ed Miliband: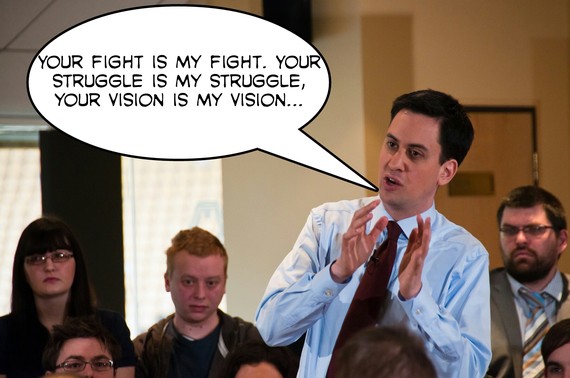 Photo credit: EdMiliband / Source / CC BY
The responses to this were brilliant:
Is that written in stone?@rickburin
DAVID MILIBAND: *sighs* Do we have to share everything?@AnneMac10
Get your own fight, struggle and vision - leave mine alone!@stairforce
My cock is Ed Balls!@FemmeDomestique
Your left leg is shorter than your right!@AndyGilder
Your money is my money. @martintagg
Your face, my arse! @NickMotown
All marvellous, but the winner is: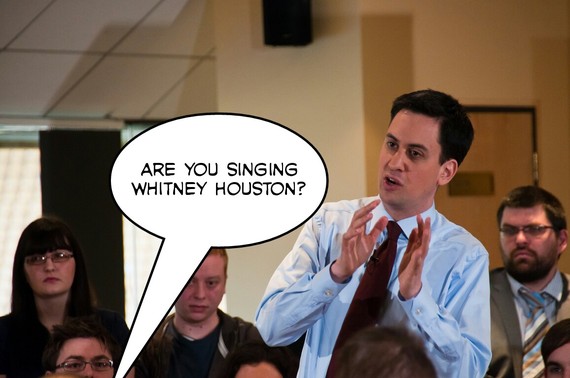 Caption by: @OliJacobsAuthor
And finally, Nigel Farage: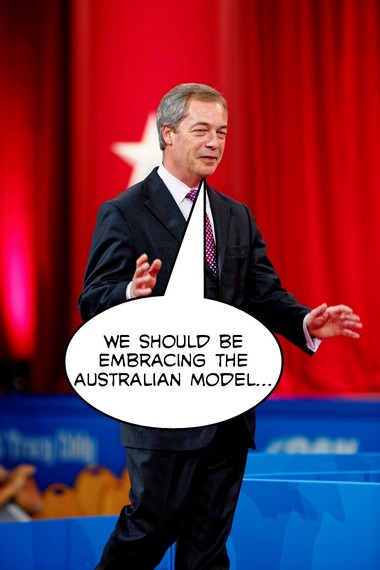 Photo credit: Michael Vadon / Source / CC BY-SA
And the responses:
Excellent! You first, Nige. Ditch your beer and go throw yourself into Jacob's Creek...@FemmeDomestique
....beer (check), sense of humour (check, and some), a nice golden tan - oh, wait, hang on.
What? Only tanned blonde women in bikinis should be allowed in our country?@midgetgems26
Elle Macpherson?@nellyweather
Like Elle? We should! @MCGibbo007
And the winner is...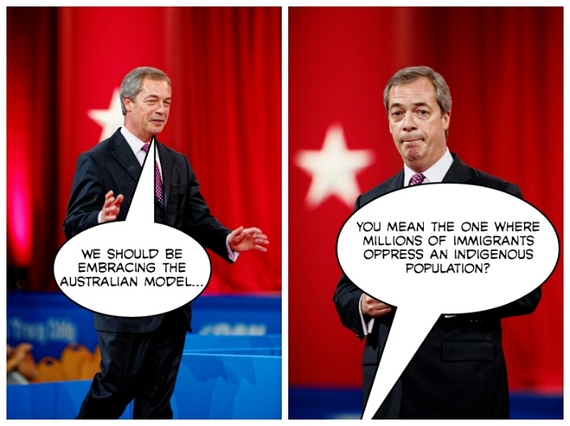 Caption by: @AndyGilder
Additional Photo credit: Michael Vadon / Foter / CC BY-SA
UKIP plans for the BBC
A leaked document from the UKIP offices has revealed what the party plan to do to the television schedule if they got into power.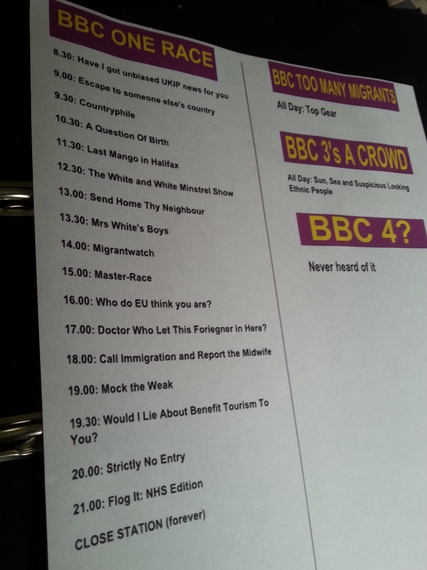 Contributors: @midgetgems26, @andriantoomey, @AndyGilder, @benjaminpmoore, @_GrahamPatrick
News Punch Election Caption Competition
And finally, the caption competition. SNP leader, Nicola Sturgeon here showing Jim Murphy how to deal with unwanted hecklers.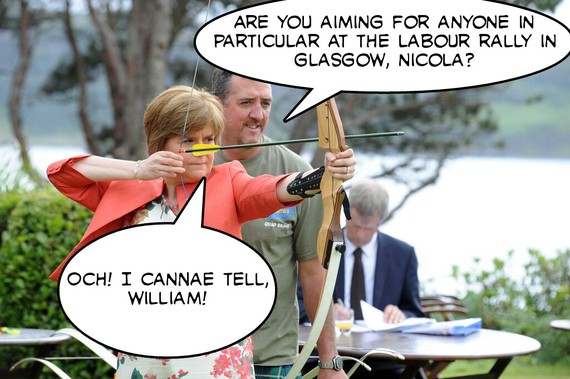 Photo credit: Scottish Government / Source / CC BY-NC
Caption by: @FemmeDomestique
AND FINALLY...
The Nick Clegg image produced such an overwhelming response that News Punch presents a montage of the best of them.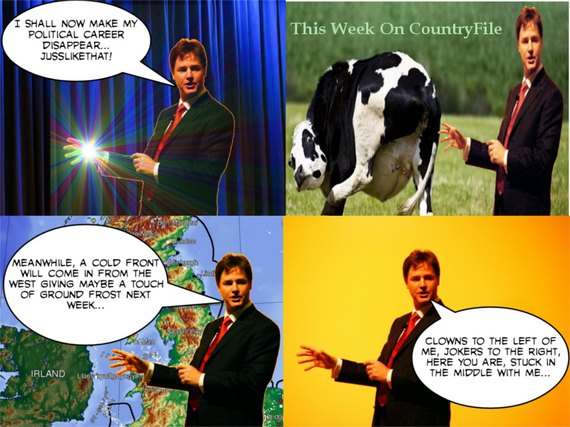 Original Photo credit: David Spender / Source / CC BY
Weather map courtesy of Wikipedia:
UK Radar1940". Licensed under CC BY-SA 3.0 via Wikimedia Commons
Contributors: Cow Photoshopping by: @QuebecTango, @hoglett1, @JayTuvz, @IanMcDougall1
Thank you everyone so much for your contributions.
*Some tweets may be edited. Original tweets can be viewed by clicking on the @ names.