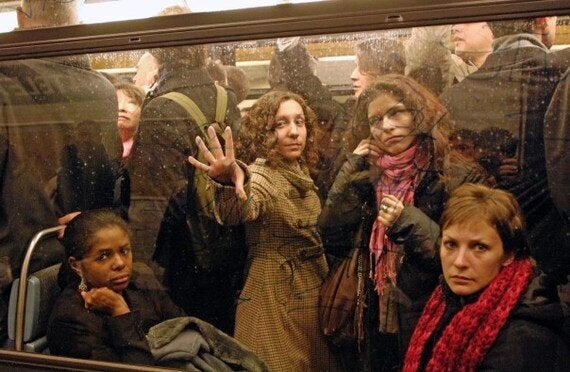 Commuters crowd into the metro at Chatelet station in Paris, on Nov. 19, 2007. REUTERS/Gonzalo Fuentes
LONDON (Thomson Reuters Foundation) - Although the world has made strides in closing the gender gap when it comes to health and education, countries need to bolster efforts to increase women's participation in politics and the workforce, the World Economic Forum (WEF) said in a report on Friday.
The report noted "definite if not universal improvements" in economic equality and political participation, but stressed that with women making up half of a nation's talent base, it is important to harness their potential in order to boost a country's economic competitiveness and overall development.
"Countries will need to start thinking of human capital very differently - including how they integrate women into leadership roles," said Klaus Schwab, founder and chairman of the World Economic Forum. "This shift in mindset and practice is not a goal for the future, it is an imperative today."
The Global Gender Gap Report report assesses a country's gender gap by looking at four main areas: education, health, political participation and economic equality of women.
Iceland tops the list for the fifth consecutive year, while Yemen comes at the bottom of the 136-country list, despite having made important progress, according to the report.
Out of the 110 countries that have been involved every year since 2006, 95 (or 86 percent) have improved their performance over the last four years, while 15 (14 percent) have shown widening gaps, the report said.
Globally, the health and education gaps are the ones where the world is making the most progress.
Ninety-six percent of the health gap has been closed in 2013, while the global gender gap in education stands at 93 percent, with 25 countries having closed it completely, the report said.
Despite sustained progress in women's global political participation over the last year, political participation and economic parity remain the hardest to achieve.
In line with previous years' trends, Nordic countries (Norway, Sweden, Finland) led the way toward gender equality, in stark contrast with other European Union members like France and Italy which appear quite far down on the list.
The adoption of progressive policies in countries like Norway - where, since 2008, publicly listed companies have been required to have 40 percent of each sex on their boards - may explain such a vast gap within Europe.
The U.S. ranked 23rd, down one place since 2012, while the UK held steady at last year's 18th place. Pakistan was second to last and India came at 101.
The Philippines topped the Asia Pacific countries' ranking - above New Zealand and Australia - and moved up three places thanks to efforts toward greater economic participation and opportunities for its women.
WOMEN IN MIDDLE EAST WORST OFF
At the regional level, North America fared best, while the Middle East and North Africa region came in last, being the only region not to have improved its overall standing in 2013.
A number of African countries like Lesotho, South Africa Burundi and Mozambique appeared in the top 30, thanks to the incremental inclusion of women in the workforce, which resulted in them gaining greater access to income and economic decision-making even though, the report warned, women still hold low-paid jobs that do not require great skills.
Four groups of countries were highlighted in the report. Nations that have invested in women's health and education and are now seeing a return in terms of economic and political participation.
Another group is countries that have invested in women's education but have not yet removed barriers to women's participation in the workforce - that is, they have an "untapped but educated talent pool and would have much to gain through women's greater participation in the workforce", the report said.
Women in nations in the third group play an important role in the work sector but still lag behind men due to significant health and education gaps, while the fourth group comprises countries where large gender gaps still exist in all aspects of life.
"Both within countries and between countries are two distinct tracks to economic gender equality, with education serving as the accelerator," said Saadia Zahidi, co-author of the report and head of the WEF's women leaders and gender parity programme. "For countries that provide this basic investment, women's integration in the workforce is the next frontier of change."
Women's rights are at the heart of the agenda at the Trust Women conference, to take place in London 3-4 December. Organised by the Thomson Reuters Foundation and the International New York Times, Trust Women will tackle issues such as slavery in the supply chain and the impact of the Arab Spring on women's rights. Don't miss a chance to be a part of this incredible conversation - register now and save up to 20% off the ticket price at www.trustwomenconf.com