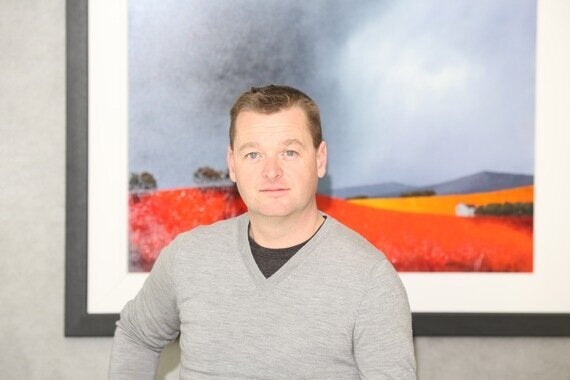 "Be brave, but courteous! Be the best you can be."
Lawrence Jones is a businessman and digital entrepreneur. He is the founder of the Top UK Hosting business UKFast. In 2001, Lawrence had a near death experience in an Alpine avalanche making him more determined than ever to achieve as much as possible in his lifetime. Since then his business has grown from strength to strength. He is listed as one of the Top UK Entrepreneurs. Jones is a genuinely pleasant person who cares a lot for his employees. The digital cloud organisation has supplied their offices with a giant chessboard, bar and recording studio where it's staff can chill and create music. Jones was recognised for his wonderful service to the digital economy by being appointed a Member of the Order of the British Empire (MBE).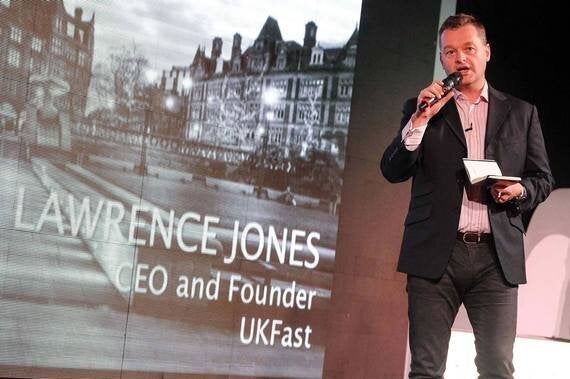 Photos of Lawrence Jones courtesy of UKFast
How did you go about setting up your business ?
I set up my first business account when I was 18. When I went to see people to sell them my services, people judged me before I even began to speak. Build a business where you don't look like the owner. Don't make yourself CEO of a business that has one or two people. Be the managing director or better still if your job and main focus is building the business, be the title, 'Sales Manager'. By doing this you automatically create gaps in your company tree that you will eventually need to fill.
It's your role to always employ people better than you in each chosen field. Look for people with more experience. You can grow and direct your business far better from a central role. I invested 12 years into UKFast and had more than a total of 25 years business experience before I felt I earned the position of CEO. When employing people look for the skills that you don't have.
Also consider that the first person you employ is literally going to double your capacity, so it's the most important person you will ever employ! I chose an organised person. Not because I am disorganised, far from it, but I know my strengths to be in building lots of connections, far too many to follow up personally. Having someone coordinating me is the difference between success and failure.
A great PA enables you to fly at speeds you never dreamt of. But a PA is not merely an admin role. They are an extension of you and a great one knows and anticipates your every move. As the founder of a fast-growing business, you will be making hundreds of decision, so find a PA that you trust implicitly, one that is smarter and knows what you are trying to achieve.
Finally, you are going to make lots of mistakes! This is only a problem if: a) you don't learn from them and b) you bet everything on one throw of the dice. You hear stories of people getting lucky and betting, but I've never met one. In reality, successful entrepreneurs work incredibly hard and the great ones give credit to others when things go well so don't be fooled! If you want to be a Larry Page, a Richard Branson, prepare for a rollercoaster of a ride and prepare for a marathon that never ends. You have to live, eat and sleep your business, sacrificing a huge chunk of your life.
This is our vocation, I wouldn't wish it on the wrong person, but if it's your destiny, you will just be able to handle it. Like holding on to a raging bull with one hand. It's exhilarating, dangerous, awe inspiring, terrifying, fantastic all rolled into one.
How do you go about marketing your business?
Nowadays we have spread out net much wider and we work hard to build a community. Word of mouth figures very highly in our priorities and we have almost reverted back to, dare I say it, a more traditional approach. Building our reputation through events, round tables, white papers and social media. There is no one thing that works alone. Building a long-term relationship with new clients takes time and I am a great believer in trying lots of new avenues, always searching for the next tipping point.
What has been your most successful form of marketing?
There was an era, when Google Adwords was so effective we literally struggled to keep up with the demand. Everyone had taken to the internet to research their suppliers and look for savings and they were the internets best kept secret.
But not everything lasts forever and now Google are a victim of their own success, or rather we are. Two things have happened to impact on that brilliant era.
- People are using the internet very differently these days. There are comparison sites and also people use Google less as they know where they are going. Apps also have created easy ways to obtain information and have also steered a huge amount of traffic away from the internet giant.
- At the same time, more and more businesses are paying for the same key words. Essentially it's impossible to keep everyone happy. Google took their eye of their cash flow. Nowadays, Google is a shadow of its former self.
Excluding yours, what company or business do you admire the most?
This is a hard one and however hard I look, there is no one business that has it all. There are some that treat people well but then don't pay their taxes, there are others who pay their taxes, but don't treat people well. I suppose, I like Red Bull for their daring approach and top trumping the master Richard Branson with Felix Baumgartner throwing himself from the edges of the earth's atmosphere. They have taken adrenalin and sport and attached it to an unhealthy sugary drink with artificial stimulants. Genius. There's no one brand that had it all and no entrepreneur with all the answers. That's what I love about business. It's the ultimate challenge. I'd love to think we've taken the best from everyone that's impressed us and genuinely created something unique, special and hopefully lasting too.
What has been your most satisfying moment in business?
You can only feel the ups if you experience the downs. My most satisfying moment came after my lowest point in my career. I was driving home after a great day at work in my Ferrari when I got a call from my data centre supplier. I pulled over and put my head on the steering wheel whilst I listened in disbelief.
'We are unable to accept the 15% increase for the suite you proposed that's up for renewal tomorrow. The board has decided that we need to increase your price by 320% unless you sign by the close our business we will be forced to power down your suite at midnight'.
I felt sick and couldn't face to go home and tell my wife who was pregnant and I knew how upset she would have been. I signed the deal under duress. We had 500 servers in there and an outage would have impacted on tens of thousands of websites and businesses. This was my lowest point in business. What our supplier, Telecity, didn't realise was we had acquired land and a building with a huge amount of power in Trafford Park a year earlier and we were near completion. Anticipating their next move, I wrote to and called every customer in the next suite up for renewal. Like clockwork the day before the contract renewal, I revived the phone call, this time they wanted 480% increase, once again with the threat of a 'power down' on your suite.
There were over 600 servers in there, but we were ready. We had designed flight cases that reclaimed the heat of the servers and had written software to track all servers and we had a team trained with military precession.
I arranged to meet their sales director at the data centre the next morning where he expected me to resign. We worked through the night, even my pregnant wife did a shift until 4am.
The next morning we scrubbed and cleaned the suite before I sent everyone home. The sales director arrived and I was sweeping the suite with a brush. 'Isn't this your suite? Where are all the servers?'. I handed him a brush and said, 'You can power this one down now!'.
Over the next 12 months, we moved 11,000 servers, firewalls, routers and switches. Ironically, Richard assumed we'd moved to a rival of theirs. 'Wherever you go Lawrence, you will still end up as our customer!'.
They bought the supplier as predicated and on the day of the deal we issued notice to them for around 6000 devices. When we'd set UKFast up, we always had to settle for a level of customer service below that which we offered our clients. When you build a business from £5000 it's hard to imagine a day when we'd have a £22m facility to house our valued clients but we did it. The team who designed it, created it and took the care and attention with the migration are all still with me today.
We didn't just save a huge amount of money. We also took control of our destiny and raised our customer service levels but, most importantly, we became a competitor of Telecity and a home for anyone needing a supplier that worked to build a long-term partnership. Richard later confessed that UKFast was the largest single loss Telecity ever sustained.
What advice would you give to young entrepreneurs ?
If you are a young entrepreneur, you have to seize the moment. Time is the key to success. It's not how much money you make, it's how you spend your time.
Too many people squander it and the successful ones amongst us essentially live the experiences of 100s of lifetimes in the short time we are on this planet. Don't try to be the richest, be the best at what you do and always be true to your word. Never cut corners and ask for help. Don't over polish your product. Get out and feel it. If you struggle along the way, drop me or other entrepreneurs a line, entrepreneurs are sharing people and we will always help. See you are the top.