I have just completed a mission to Homs where I stayed for one month as part of a mission to assess the humanitarian situation in the governorate, review our programmes and to strengthen and build our relationship with local partners.
Almost one in three persons in Homs is a displaced person, our partners on the ground tell us, and according to them, two thirds of the displaced population are children. Explosions, the sound of shells landing and the crack of gunfire are all part of the day-to-day life here.
Less than a kilometre from the hotel where I was staying, fighting raged on with a ferocity that shakes the city. Even after 20 years of doing this type of work in some very dangerous areas of the world, every explosion still made me worry. Amid this, we as a humanitarian team had to keep focused on how to improve the lives of those affected by this two-year long crisis.
I walked around to see how children in Homs are living. In a convent that works with children, situated at the end of a line of fully standing buildings and right before the destruction and rubble begins, I was amazed to find children reading books, listening to teachers, drawing pictures and playing games. The drawings on the walls spoke of smiling faces, waving hands, laughter and messages about the need to forgive. A total contrast to the rubble outside that represents so many battered lives.
I also went to what is called the "towers" which are unfinished blocks of apartments turned into collective shelters for displaced families. There, I met a 14-year-old girl and her younger brother who have literally opened a classroom on their own for themselves and their peers. The two siblings, whose schooling was disrupted because of the conflict, have transformed their shelter into a learning space where children come to study text books together.
The common message I got from parents and all education practitioners I met was the need to make sure that children can continue their schooling. A significant part of the education infrastructure in Homs has been severely affected by the conflict, with many schools either damaged, or turned into shelters for displaced families.
Naturally, this is putting enormous pressure on classrooms that are still functioning and on teachers who are challenged to do more than their best to teach double and triple the size of their normal class.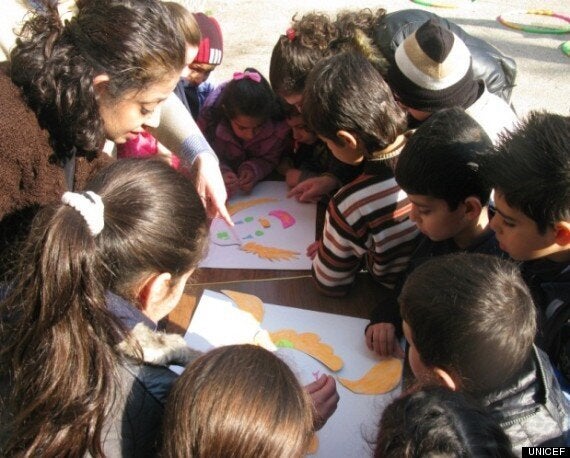 Unicef is working with partners to provide remedial learning programmes to help more children continue their education. About 6,500 children benefited from this programme in Homs so far and we are working to reach more children in the coming weeks. We will also soon be providing formal schools in Homs with essential school supplies to allow more children to enrol and improve the quality of education.
In Homs, I saw and heard about much suffering and desperation, but I also encountered amazing stories of people who, in the midst of all this, are doing everything they can to cope with their circumstances and create pockets of hope in a world of chaos.
Our partner in Talbiseh town, in Homs Governorate, told us how women are coping with the shortage of clothes, in this harsh winter, by turning blankets donated to them into clothes.
We are providing winter supplies and non-food items for affected families, including packages of children's winter clothes. Unfortunately, because of the ever growing scale of the crisis, there's not enough to go around for every child.
Our partner in Talbiseh described how they will unpack the content of the boxes of children's clothes that they receive from Unicef and distribute to mothers and children piece by piece, according to the need. "So for instance, we will give shoes to a child who needs them and give pyjamas to another child who has shoes but no clothes."
During the last two weeks, Unicef relief supplies -- which include family hygiene kits, blankets, quilts, food kits and high-energy biscuits for children -- reached more than 67,200 people in Homs.
I cannot imagine the fear a little child experiences with each shattering blast that rocks the city. Most children I saw were showing some signs of distress. This is why it is extremely important that we set up child friendly spaces and provide psychosocial support for as many children as possible.
We met with some local organisations working on psychosocial projects to discuss how we can work together. They are groups of energetic young people who have never imagined that one day they would need to do such work in their own city. Given my experience as a counsellor, I was asked to help them set up a focus group of practitioners to help address the problem.
If we had more resources, and strong partnerships, there is so much more that we could do. I realize more and more the fear that has crept into communities, and into children's lives. Our work in the area of psychosocial support will be extremely important to make sure that children can regain connection with their childhood, and grow up to become healthy members of their society.
Popular in the Community