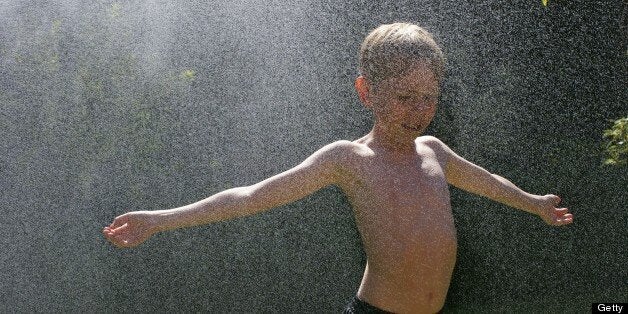 This weekend the UK was so hot, the roads began to melt. Yes, that's right - traffic came to a stand-still on the M6 when the asphalt on the motorways began to disintegrate.
The UK reached a whopping 32 degrees centigrade on the thermometer making it one of the hottest days of the year since 2006 - and apparently this isn't the end, we get approximately six more days of heat. Six whole days! What does this mean? Stay hydrated, drink plenty of water and buy sun cream. If you don't do the necessary tasks listed above, well unfortunately the number to 999 is busy, as they have received more phone calls this weekend than any weekend of the year.
On a more positive note - there's no better time to BBQ, but head to the shops fast because according to Guardian, more than 9million sausages were sold at Tesco this weekend alone (here's hoping they were pork sausages and not beef, just to make matters worse).
Not only are sausages on the low, it seems cucumbers are too - so take your car and do stock up. Oh wait, the road's seem to have melted. Better luck next time.
What's the moral of this story? The UK loves a good panic. More than that, they love a good panic over weather. Nothing is more headline grabbing than "Met Office puts UK on heat wave alert as temperatures soar to 32C." Alert? What is so alerting about a few nice days of sunshine? Coming from an area of a country that basks in 35 degree heat from May through to September, this heat seems pretty normal to me.
I overheard someone talking just the other day saying, "the weather is nice mum, but I'll tell you what the commute is miserable. I don't know that I can take it much longer - this country just isn't prepared for it."
Prepared? How about we throw the unprepared people to a few far-flung destinations where the weather hovers around 35 degrees all year long, where air-conditioning ceases to exist and the fresh water supply is kept to a minimum. Where sausages are a luxury and sun-cream is unheard of. These people are laughing at the sight of us.
The sun will always make me a happier little person and I must admit, I will be sad when this 'heat wave' comes to an end. Which it inevitably will.
However, just to make the news a little more interesting, maybe we should bring back the rain. British people will start to feel more normal and the country can sigh a heavy sigh of relief. Plus, I'm sure there are more important things going on in the world than the grocery store being all out of ice lollies.
Related