In July 2015, US President Barack Obama became the first sitting President to visit the Horn of Africa, as well as Kenya, his father's place of birth. Obama was also the first US President to speak to the African Union at its headquarters in Addis Ababa, Ethiopia. During his visit to Africa, the President met with head of states, hosted the entrepreneur's global summit, addressed the African Union, visited US Embassy personnel and, most importantly- engaged with young African leaders.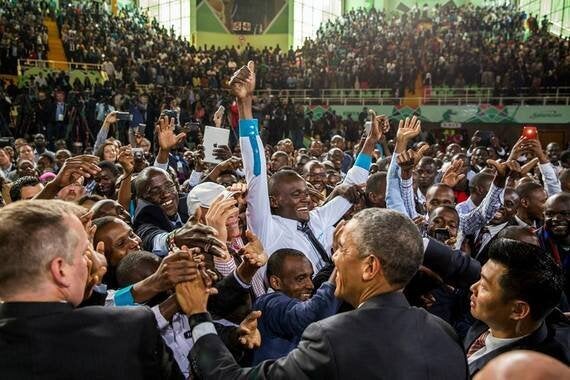 President Obama greeting youth audience members following his remarks. Source- The White House
Following on from this historic visit, President Obama initiated a three day summit, starting on 3rd August, with 500 young African leaders in Washington DC. During his opening statement, President Obama told the delegates that the summit will provide them with opportunities to create stronger networks and a platform to become global leaders. The aim of the Young African Leaders Initiative (YALI) is to offer young Africans a chance to further educate themselves in the hope that, one day, they will be the future generation of African leaders.
Obama's visit to Africa has come at a very crucial time. Many African countries are experiencing fast economic growth and, as a result, there are many opportunities for international investors. The population of Africa is also increasing quickly and there has been a huge increase in middle class spending across the continent. Nonetheless, many African leaders are still using political power to further their personal interests.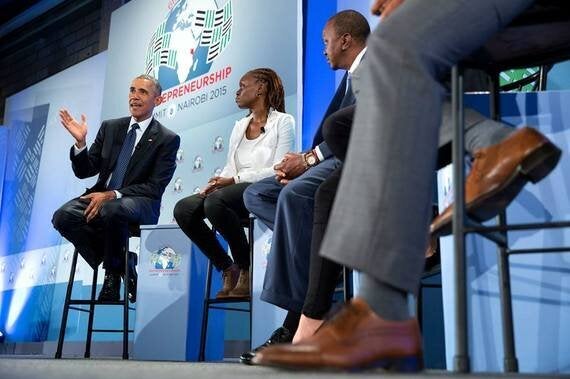 Obama on stage at the Global Entrepreneurship Summit with panelists. Source- The White House
In the 1960s, African countries started to gain independence, however, over the past 50 years Africa has seen little progress in eradicating poverty and encouraging democratic processes. At the gathering of Africa's future leaders in Kenya, Obama gave his views on, what he calls, the Pillars of Progress:
1. Democracy - which starts with a peacefully elected government.
2. Development - the encouragement of economic opportunity and dignity for all.
3. Choosing a future of peace and reconciliation.
During the AU address, Obama said the most important aim is to create opportunities for the next generation and to generate millions of jobs. Obama warned that Sub-Saharan Africa is likely to see Arab Spring style uprisings if future generations are not cared for. The president also discussed female empowerment, national and regional security, food security, renewable power enrichment, ending corruption and tribal ethnicity, and trade.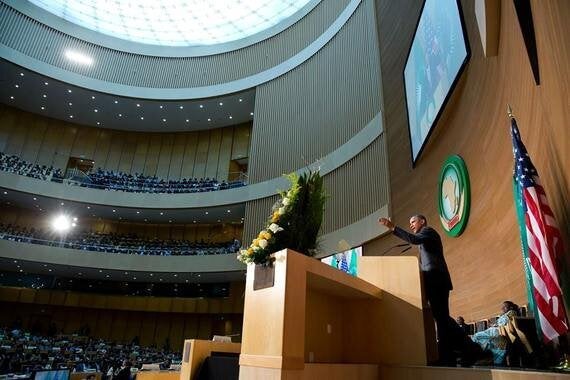 Obama delivering remarks in Nelson Mandela Plenary Hall at the African Union. Source- The White House
On governance, the president strongly stated that Africa does not need strong men and that no head of state should run for a third term in office. Obama believes that Africa's progress depends greatly on democracy. He also explained that as Africa changes, the world needs to change its approach too. Africa wants trade over aid. Africa wants partners not patrons, who will help them build. African people want to make their own choices, instead of the indignity of dependence.
Obama's visit offered many highlights and motivation to strive for change. However, it is, ultimately, up to the African heads of state to fundamentally change African politics and to show themselves to be good examples for the younger generations. Finally, it is also important that the youth of Africa help to build their nations and become productive and engaged citizens.