The music of Gary Numan holds a special place in my heart. It was the sound track of my teenage years, saw me through my spinal injury and made me want to set off on the path to becoming a musician myself. It has been a constant in my life that has seen me through the best and worst of times ever since. All over the world there are many people who feel the same as I do, and now there is a documentary that will allow all of us a window into the life of Gary and his family like no other, Android in La La Land.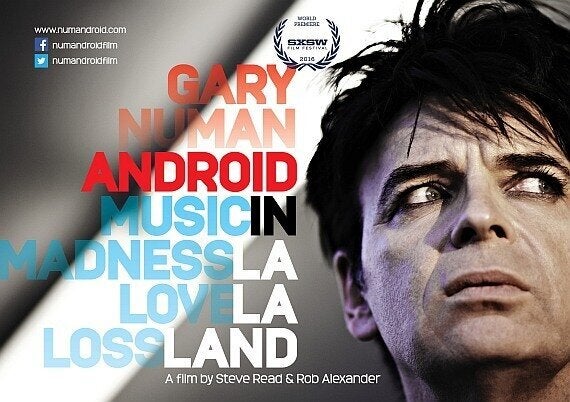 One of the things that drew disaffected youths like me to Gary Numan was his alienesque robot-like image when he first hit the music big time back in 1979. Appearing like he had been dropped on Earth and hadn't really got the hang on what it meant to be human yet, he allowed a whole generation of shy awkward teenagers to find a style that made them finally cool. For three years his music filled the charts and his posters covered bedrooms walls, but he was always a target for the music press. As a fan I never understood why almost every part of the music media was so anti-Numan, and I still don't. For a lucky few of us fans, we got to meet our hero. I was doubly lucky, as a band I fronted got booked to support Gary on a UK tour back in 1991, so I got to spend serious time with the main man. He was a gentle, generous, funny guy who seemed a little lost. His career had lost it's initial rollercoaster success and his personal life was equally unhappy, but he still blew audiences away once he strode on stage.
Fast forward 25 years, and Gary Numan is back on top. Maybe not with chart success but he is now acclaimed as being a key influence on the music of the late 20th, early 21st century and is now going through a creative zenith to rival his original peak in the early 80's. Alongside this professional success he is happily married and father to three daughters. Gary Numan is happy. This is the Gary that Android in La La Land captures, as we follow the Numan clan in their move to the USA. With so many of the music industry supporters who decry the influence Numan had on their music being based in America, acts such as Trent Reznor of Nine Inch Nails, Marilyn Manson and Dave Grohl of Foo Fighters, this seems an obvious decision but the film allows the viewer a deeper understanding of the pull of the USA for the Numan Family. In fact it gives a real insight into the man and what makes him tick unlike any before.
What is of most interest to someone like me, who found the image of being an Numan fan so helpful as I learned to love being disabled, is that it charts Gary's diagnosis of Aspergers Syndrome, which obviously influenced his image and attitude through out his career, and his battles with depression and anxiety as he struggled to rebuild his career. To see someone being so open about subjects that are still taboo within the image obsessed music industry is a true breath of fresh air. Alongside proving what people who are on the neurodiverse spectrum can achieve, the film shows Gary open his heart about falling for his now wife Gemma. He actually met Gemma on the tour I was support for, and it has been amazing for a fan to see him blossom once she entered in his life. Gary is the perfect antidote to the stereotype of someone with both a learning difficulty and mental health issues, blowing them apart in the same way he did the charts back in the late 70's.
The film, directed by Steve Read, who previously directed Channel Four's Knockout Scousers, and produced by Rob Alexander, who in another small world moment I have just worked with on a short film directed by Toby Amies (can't say anymore, all very hush hush), premieres at the SWSX festival in Austin Texas before going on to wider release. Not only it is a must see for any Numan fans out there, but also for anyone interested in how to achieve a long lasting career in the cut throat music world. In truth it comes across as a warm document of a man whose music is still current today, as he rediscovers his love for music, for himself and for life.
Related