Innovate. Collaborate. Replicate. These buzzwords have saturated the tech response to the refugee crisis over the past nine months. And yet, there's another word that is increasingly "buzzing": Duplicate.
How can we foster innovation without knowing what technology tools have already been developed? How can we build on existing apps created in response to the refugee crisis, disaster relief, or other social good initiatives?
This is the driving question behind Refugee Projects, a big picture approach to collaboration and innovation for the refugee crisis. Our goal is to provide a central, searchable database for all refugee initiatives throughout Europe and the Middle East.
Design based on experience in the field
I first began to explore technology apps for the refugee crisis after co-founding a local solidarity group in South West France over nine months ago. We were supporting a group of almost forty Syrian refugees squatting in a nearby city and I was overwhelmed by how difficult it was to track and update donations of material items.
One family needed a fridge, another needed size four diapers, another little boy had no sandals, and everyone could use regular food deliveries. The needs changed week to week, day to day. People wanted to help, they just didn't know how.
The challenge of finding online tools for social good
I've run a US based business from the vineyards of France for a few years now. I'm in the habit of using online tools to help me work more efficiently and quickly turned to the internet to figure out how to manage these communication needs. I came up empty. I then turned to other local solidarity groups, but there was no easy way to see what tools they were using or even who they were.
Beginning back in October there was buzz about all the apps that had been developed in response to the refugee crisis, but the ones I found were targeting refugees as end-users. I couldn't find anything geared towards people like me, volunteer coordinators on the ground. And bewilderingly, I couldn't find a centralised list of all these apps. I began to feel increasingly frustrated by the multiple tech initiatives that seemed disengaged from end-users - full of well meaning developers starting from scratch on projects that had already been launched in other cities.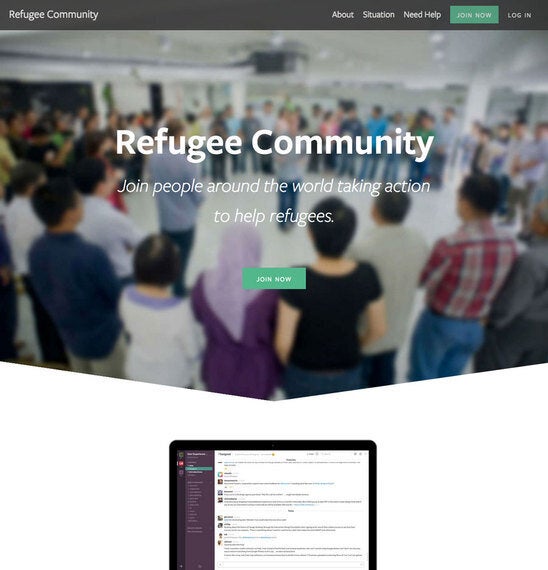 Joining Prosper Community
As part of this research I found John Ellison, the founder of Prosper. Prosper is a global community of skilled digital workers united by a single belief: when refugees prosper, we all prosper.
John and I connected immediately, and along with the rest of the team, we began to discuss how to best use our skills. We agreed that to avoid reinventing the wheel, we needed to understand the technical solutions that had already been built in response to the crisis. This was an essential first step to understanding where to best invest our resources. We designed Refugee Projects to provide a central repository of initiatives to fill this gap in knowledge.
Two months later, we launched our proof of concept which now has over 2,000 projects listed. It includes everything from mobile apps for refugees to "Tea for Solidarity" to rehabbed school busses offering mobile education. Our proof of concept is still slow and clunky and runs off of Google sheets, but as far as we know it's the most comprehensive database out there.
More than a database - an entry point to action
We're talking about a crisis on an epic scale here. We all need to step in and do what we can. I know that not everyone can take off time to spend a few weeks in Greece or donate 1,000 euros, but I also know everyone can do something.
There's a need for translators, programmers, funders, organizers, writers, but most of all, there's a dire need for tools to maximize resources and to pool knowledge and expertise.
There's so much we've already done using simple tech like a Google sheet. Imagine what you can do, what we can all do, if we work together. Only through innovation, coordination, and collaboration can we dictate an alternate ending to this story.
Do you have a project related to the refugee crisis that you'd like to list or are you a digital worker interested in joining the Prosper Community? Please check us out and follow us on Facebook and Twitter.
HuffPost UK Tech is running a two-week focus on our Tech For Good campaign, which aims to highlight the technology that is driving social change and making a positive, long-lasting difference to our world. If you'd like to blog on our platform around this topic, email ukblogteam@huffingtonpost.com with a summary of who you are and what you'd like to blog about.