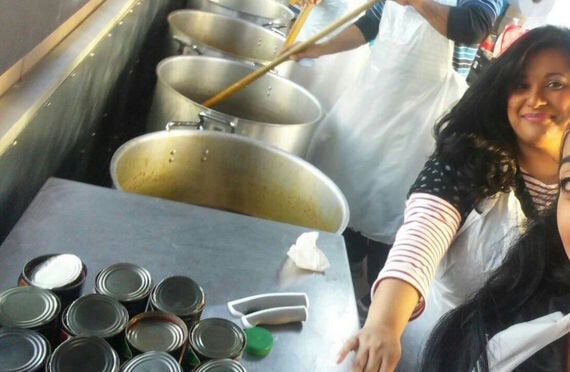 A few months ago, another volunteer told me "We're all a little bit of the best kind of crazy." She was right of course; it takes a certain lack of conventionality to act in the face of the largest humanitarian crisis since World War II. It's this kind of vision that motivated Ruhi to want to feed lamb biriyani to the entire Dunkirk refugee camp. She said, "It seemed like a logistical nightmare. They don't usually cook meat in camp but I wanted to make it special and I wanted to make sure that nobody went without."
Ruhi put a call out and soon had over 200 volunteers from all over the UK and Europe planning the potluck of all potlucks. A team from Huddersfield brought drinks, the London group proposed bananas for dessert, and the collective fundraised for local halal French meat. "The appeal grew momentum and we even had people from France, Belgium and Switzerland helping to cook all weekend. We made lamb biriyani for 2,500 people ourselves in a mobile-bus kitchen."
After their return to the UK in January, Ruhi and her cohort launched a Facebook page called, Refugee Biriyani & Bananas. She explains, "We wanted a quirky unique name and something with meaning for us. We're all from different backgrounds and we have no hierarchies. We're all inclusive and we all just want to help those in need." Six months later, Ruhi continues not only to work with many of these volunteers, she found herself cooking in the very same mobile bus kitchen at a camp in Greece.
A Story a Day for Ramadan
Beyond her extraordinary event planning skills, fundraising, and providing medical aid, Ruhi is a gifted storyteller. She has launched a "story a day" series to run throughout the course of Ramadan explaining, "I want people to know and understand about the PEOPLE in the refugee crisis not just the refugees in the refugee crisis." Her posts are raw, from the heart.
She writes of visiting the tent of Anwar in Greece, "There was a mum, dad and ten children ranging from one to eighteen years old. They were all eating rice and chicken from one bowl on the ground in a confined, small space. The father told me in broken English how they had lost all their belongings and papers on the boat journey to Lesvos. They invited me to have food with them and my heart melted."
After hearing about the journey Anwar took to Greece, Ruhi writes,
"They broke the ocean in half to be here only to find that nobody wanted them...."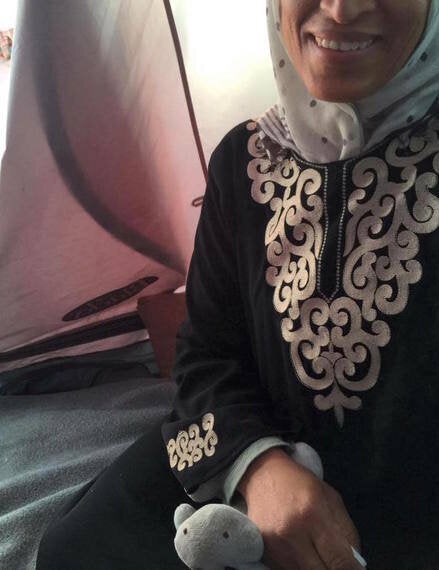 The previous day I read about Fadwa from Syria, currently stranded in a Greek Military Refugee camp with her husband and three daughters under five. Fadwa is an educated Arabic teacher. Her husband is so proud he posts photos of her thesis on his social media profiles. Now these photos are all they have of her of her life "before."
And yesterday I read Ruhi's account of meeting a young photographer and civil activist from Aleppo, Guevara. Guevara filmed the devastation and also worked as a trainer for the advocacy campaigns in Syria. He did not want to leave, but was pursued by the Assadi system, Daesh, Al Nusra Front and other organisations. In the end he had to flee with his mother, sister, brother-in-law, four nieces and a nephew to Turkey where he founded the Syrian branch of Transparency. Shortly after they embarked on the dangerous boat journey to Chios, eventually settling in Idomeni refugee camp, on the Greek-Macedonia border where he continues his activist work, hoping to return to Syria.
Guevara and Ruhi both speak out in very different contexts and utilise diverse gifts to defend the rights of displaced peoples. Some volunteers may not be able to cook a meal for 2,500, but Ruhi suggests alternatives --- fundraise, pack boxes of aid, write letters to representatives, tell our truth.
We'll continue to share more stories about volunteer efforts this week and next, inspired by how these brave individuals pursue a dream, even if it seems "bananas".
This article was originally published on the Prosper blog, "When refugees prosper, we all prosper."
Popular in the Community