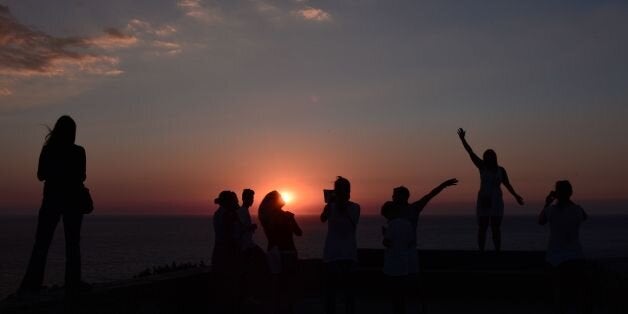 Such is the self-absorption of Britain with things that affect Britain, you could almost be forgiven for thinking the world's refugee crisis is largely about who comes to this country. It's all about Calais, isn't it? The squalor of the shanty town-like "Jungle". Or people crammed into the backs of lorries or even clinging perilously to the underside of moving vehicles on the M25. Or the much-publicised scheme to bring Syrians to this country.
Er, not really. These are all real. They're enormously important for the often desperate people involved - and in particular the much-discussed plight of children in the camps in northern France is a major disgrace (which may finally be inching toward a resolution). But overall the UK is just a big player in the global drama - the tragedy - which has seen tens of millions of people forced out of their homes because of war and repression.
Take for example Iraq. Not commonly mentioned in this context, it's nevertheless true that the twin menace of Islamic State atrocities and Shia militia violence have uprooted a staggering four million people. Here's what a new report from Amnesty says about their plight:
"Many have fled with little more than the clothes on their backs, setting off at night to avoid detection and walking for hours along treacherous paths. Not all those escaping have made it to safety. Fleeing civilians have been shot at by ISIS fighters, while others have stepped on mines or other unexploded remnants of war."
Something of the desperate sadness of present-day Iraq is surely summed up in this chillingly matter-of-fact passage. And with the much-heralded "battle for Mosul" now underway, there's every reason to fear that Sunnis in the city could face a dreadful wave of reprisal attacks from vengeful Shia militias who already have a bloody record of acting as anti-Sunni death squads.
But depressingly enough, there are similarly massive population displacements (some even bigger) in other places. Unsurprisingly, the scale of uprooting in Syria is huge (nearly five million who've fled the country, six million who've been forced to leave their homes but are still in Syria). But there are other cataclysmic events we hardly even hear about. More than two million people forced out of their villages and towns in Nigeria. Even more - about 2.5m - in the same position in Yemen (where, of course, UK-supplied weapons are part of the armoury of a Saudi Arabia-led military coalition which has repeatedly bombed homes, mosques, funeral halls and hospitals).
Meanwhile, there are vast numbers of refugees in Kenya, Uganda and Ethiopia. When did you last hear about how these - not especially rich or completely stable - countries were coping with their new populations? Or what about Mexico, what about all the refugees who've fled there?
Yes, fled to Mexico. As AA Gill has pointed out, despite the US political rhetoric about vast numbers of Mexicans supposedly decamping to Texas or Arizona, Mexico is a net recipient of migrants, including people fleeing murderous organised gangs in El Salvador, Guatemala and Honduras. (Gill's very vivid account of the precarious lives of those who've crossed into Mexico is here [£]).
To listen to politicians like Donald Trump you'd think the refugee crisis in the wider Americas was all about the US-Mexico border. This, you'll recall is what Trump said about building a wall on the border:
"We will build a great wall along the southern border ... On day one, we will begin working on an impenetrable, physical, tall, powerful, beautiful southern border wall."
Tall, powerful and beautiful. It's as if Trump is really describing something like his vainglorious Trump Tower in New York. Or ... himself. This is the politics of self-projection, the Trump campaign's essential component. As with Nigel Farage in the UK, via a politician who seems to reflect back values of individualism and heroic selfhood, people are being prompted to think that their way of life is under threat. Not the lives of people in Syria, in Afghanistan, Iraq, Eritrea or El Salvador. Us, us, us. Me, me, me. It's the ultimate political narcissism.
Popular in the Community