This is written just in the wake of United's extremely satisfying smash-and-grab victory against Southampton. With all due respect, who knew a game against them, not even half-way through the season, could be that important, and pleasant to win? However, despite five wins on the trot, United need to sort out the formation matter.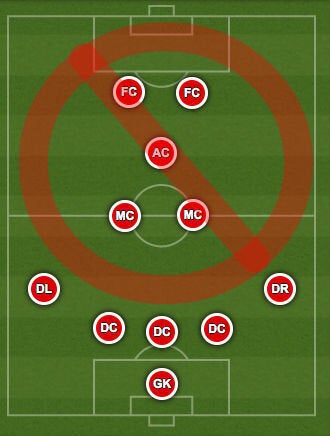 The showdown against Saints recorded a bottom low three shots overall for United, the lowest amount (for United) on Opta's books since they started to measure statistics back in August 2003. The only reason United were able to get all the three points was a certain Dutchman, and he's not named Louis van Gaal.
The latter made this game unnecessary tricky by playing a counter-attacking formation without any pace up-front. During this calendar year, both Liverpool and the Netherlands have used the 5-2-1-2 as a path to (relative) success, with the Scousers being pipped of the league title by City and Netherlands narrowly edged out against Germany in a penalty shoot-out. However, these sides have played a counter-attacking game and they've offered pace up-front. Players like Luis Suárez, Daniel Sturridge and Arjen Robben are able to be a threat against basically anyone if handed a ball and some space to run into.
When you look at United's trio up-front against Southampton, you find Van Persie, Rooney and Mata; all three of them blatantly lacking pace. The vulnerability becomes even more blatant through the lack of wingers, and particularly as the wing-backs Ashley Young and Antonio Valencia offer next to nothing in attack. In other words, breaking through the opposing defence becomes a way trickier task than it shoud be. As it wasn't already tricky enough to break through Southampton, who only conceded ten goals in the opening fourteen games.
However, this isn't anything very recent, it has been a problem all season. Thankfully, United are individually superior to most sides, at least in attack, and will have the upper hand in most games anyway. But in the close combats with narrow margins deciding the outcome, playing the 5-2-1-2 might be the kiss of death for our hope for three points. And don't even dare mentioning the Arsenal game as a counter-argument; Arsenal could've, or maybe even should've, been 3-0 up at half time. They weren't, thanks to a magnificent Spaniard in net and some insufficient finishing.
The counter-attacking mismatch
In other words, the 5-2-1-2 is a counter-attacking system, suited for a side sitting back and waiting for a rapid, venomous strike catching the opposition off guard. Both Mata, Rooney and Van Persie are constantly seeking possession, rarely running into space, which is key for this system to work optimally. It's actually quite dull to watch a certain Japanese struggle in the bottom of the Bundesliga, when he would've suited this system way better than his Spanish equivalent. After all, Shinji Kagawa is way quicker, more of a counter-attacking kind of player, better at retaining possession and has a more direct approach to the game than the no-matter-how-handsome Juan Mata.
And despite he's yet to blossom at Arsenal, a player like Danny Welbeck (not necessarily actually Danny Welbeck, mind) would've suited 5-2-1-2 way better than Rooney and Van Persie, with his contant quest for space to run into, leaving defenders behind. Fortunately, Rooney is extremely consistent in terms of picking up goal points nonetheless, and Van Persie remembered to wear his scoring boots at St. Mary's.
In the end of the day, United can't build the game on a 67% goals/shots ratio for obvious reasons, nor can we be so dependant on set-pieces or hoping for the occasional defensive howler if we want to achieve things. In the long run, we need to have our own game plan, matching our players' abilities, because momentum doesn't last forever.
If you look at the top sides around, all of them offer pace somewhere in the attacking line. Barcelona have Messi, Suárez and Neymar, Real Madrid have Bale and Ronaldo, City have Agüero, Navas and Silva, Chelsea have Willian and Hazard, Bayern Munich have Ribery, Robben and Lewandowski. Offering pace - either wide or in the middle - is crucial for breaking down defences. That's the major flaw of United in 5-2-1-2, there isn't any pace around. Not wide and not in the middle, and it's blatantly handicapping our game.
Related