There was much excitement recently about the news of a scientific study that found regular walking - even just a mile a day - can cut your risk of dying of cancer by 40%. Earlier the same month a study of post-menopausal women found that women who walked for a few hours a week were at lower risk of developing breast cancer compared with women who had not done so.
Forgive me, I had to smile when I read the headlines, because to us at Walk the Walk it's no surprise. True to our name, we've been spreading the message about walking for years.
We have always known walking saves lives - and not just because our MoonWalks have raised nearly £100m for breast cancer causes over the past 16 years. Walking is a sociable activity and so I've pounded the pavements with hundreds of different women since setting the charity up, and every time they tell me about the difference walking makes to their lives.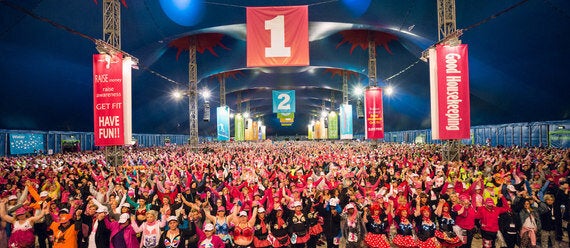 Quite often people sign up thinking "how hard can it be?" but when they start training they slowly realise the impact it can have. They lose weight, their tummy gets flatter, their butt cheeks tighten but best of all, they feel fantastic. "I feel I can do anything now" is something we hear a lot on our Facebook and Twitter feeds - and when we're handing out the medals at the finishing line.
Some of the runners among you will be smiling now and saying: "Ah yes, but it's only walking isn't it?" But, mile for mile, a power walker walking at 4.5-5mph will burn the same calories as a runner, without the high impact and higher injury risk.
I can guarantee that, if you start Power Walking three times a week, you'll start to feel a difference within a fortnight. You'll see a difference in how far you can go, in your speed and then the other changes will kick in too. From helping with PMS to improving sex drive, to heart health and diabetes.
A couple of years ago a girl wrote to me about how she'd been suffering from low bone density. She'd bought my book, followed the training plan and found that her bone density had improved - she even passed the book on to her doctor! I love stories like that, love to hear how walking can make a difference even when you're not raising money.
The research wasn't really around when I started - I just did it because I didn't like running, and because it felt good. It's aerobic, it gets you outdoors in the fresh air, you don't need any special equipment - you don't need anything, although some people find a good playlist on their phone helps!
To me it was instinctive, it made sense. In the same way as the recent reports about stand-up desks being better for you than sitting in an office chair all day. Our bodies are designed to be up and moving - it's the way we're built.
And for those of us who have come through cancer, walking can be all the more beneficial. When you're in the thick of it, you're having treatment and you don't know what the outcome is going to be, it can be a very dark place. Nobody can tell you what will happen, but all I understood was health, fitness and eating well so I just threw myself into that. It gave me something tangible to focus on.
I would do a lot of meditation and repeating mantras as I walked: "every day I feel better, every day I walk faster, every day I feel fitter." You know the old adage: If you say something enough times you begin to believe them. It certainly helped me.
So if you want to do one good thing for yourself, start walking. If you're extremely inactive just walk to the bottom of the road. If you're more active, try and walk a bit further next time - push a one mile walk into two - or sign up to walk one of our marathons in London, Edinburgh, Iceland or New York! All you need to do to feel better is get some good shoes and start putting one foot in front of the other. It's time to go out and do something.
It's time to start Walking the Walk.