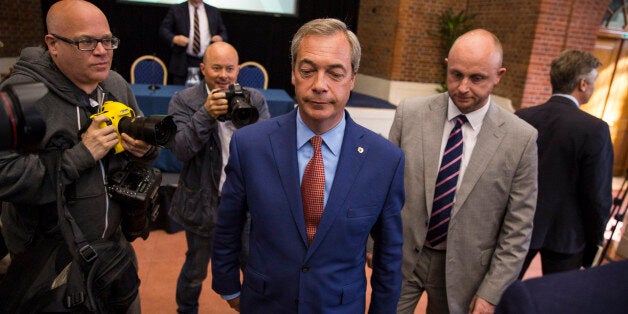 At 7.45am, Ukip officials were finally told why they had been asked to book a room in the Emmanuel Centre in Westminster: Nigel Farage was going to resign.
A note had been sent to journalists last week saying the Ukip leader was going to give a speech at 10am on Monday - but at the time it wasn't known whether that would be on Farage's future or the party's future.
Indeed, not even Farage was sure.
Since the EU referendum win, and after the hangovers had eased away, Farage and others at the top of Ukip - including donor Arron Banks - have been mulling over what to do next.
Throughout last week, meetings took place involving Farage and his close confidents to discuss how Ukip should go forward, and what part the MEP should play in it.
There were two main strands of discussion - how to make sure Brexit actually meant Brexit, and how to capitalise on Ukip's growing strength in the north of England.
After trying to straddle both goals for a number of years, Farage plumped for the first option - but was told to sleep on it over the weekend. He had already resigned once on a wave of emotion, his colleagues were keen for him not to make the same mistake again.
Ahead of this morning's speech, he revealed his decision to a select few in the party. Not even Ukip MEPs, who had travelled down to London for the speech before heading to Strasbourg, knew what was about to happen when they took to their seats just before 10am.
Party chairman Steve Crowther - a constant supporter of Farage over the years - introduced the Ukip leader, who arrived at the podium with something very rare in his hands: a written speech.
Farage rarely reads from a prepared script as he finds it too restrictive. One of the few times he read from a written speech was at the party conference in 2013 - an experience he didn't enjoy.
This resignation was a thought-out, prepared and considered move. A marked contrast to last May, when Farage quit as Ukip leader after failing to win the seat of Thanet South in the 2015 General Election.
He had vowed - stupidly, he now concedes - to stand down as party leader if he didn't win a seat in Westminster.
Three days later he was back, claiming Ukip's governing committee had begged him to stay after being inundated with emails from rank-and-file members who did not want to lose their talisman.
He didn't take much persuading, and 'unresigned'.
It led to much mockery, triggered a Ukip civil war and enabled Farage's critics to say he had become just like any other promise-breaking politician.
He didn't care. His eyes were set on two goals - winning the EU referendum for the Brexiters, and establishing Ukip as functioning party.
On 23 June, Farage achieved his first, and primary goal, and while Boris Johnson, Michael Gove and others took to ground to plan their next moves, the Ukip leader made sure his face was everywhere as he swept up the accolades.
Cynics are already suggesting Farage may return as leader before the next General Election, indeed one Ukip insider quipped to me: "Will it be for longer than 24 hours this time?"
I wouldn't rule it out, and it depends on how well Ukip manages to capitalise on the existential crisis gripping the Labour Party.
The most likely successor to Farage, Paul Nuttall, is an authentic voice who can appeal to Labour's northern heartlands.
Some in the party feel Ukip has failed to capitalise on its growth in working class areas in the past 12 months, pointing to by-election results in Sheffield Brightside and Oldham West.
Labour increased its majority on both occasions, leaving Ukip a distant second-place in each contest.
As for Farage, he will now be unshackled from the constraints of leading a party to fully focus on the Brexit negotiation. He is staying as Ukip's leader in the European Parliament, where he will continue to raise eyebrows with his close-to-the-knuckle speeches.