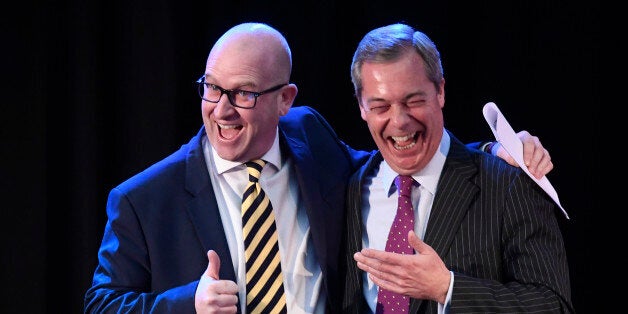 Ukip are a strange party - and perhaps the only one who can have two leadership contests in the space of three months and emerge stronger for doing so.
Today, Paul Nuttall was overwhelmingly elected leader, and his victory symbolises and end to the internal - and at times, actual - fights which have dogged the party since long before the referendum.
The Bootle-born MEP has two battles to win if Ukip is going to continue to be a major player on the UK political stage: unifying the party, and winning seats in Parliament.
Heading into the referendum, Ukip appeared to be split into two broad camps: those in favour of Nigel Farage's relentless, and at times, controversial focus on immigration; and those more sympathetic to Douglas Carswell's appeal for a positive vision of life outside the EU based on democracy and sovereignty.
Even after the Brexit vote, there seemed to be no sign that these divisions would heal. Indeed, Ukip's first leadership election this year suffered from the fact that Suzanne Evans - who is very much in the Carswell camp - was barred from standing, thus depriving the party of having a clear-the-air contest involving representatives from both camps.
However, Evans was able to stand in the second election, meaning once and for all members could have their say on the two different visions of the party.
Nuttall's margin of victory shows the party membership overwhelmingly prefer his form of working-class, patriotic, spit and sawdust politics to Evans' TV sofa chatting demeanour. Indeed, Evans lost her £5,000 deposit as she polled below 20%.
It seems the battle for the future direction of the party has been won.
But Nuttall is no fool, and he knows that using his huge mandate to launch a purge of people from the other wing of the party would simply force open the wounds that nearly killed Ukip earlier this year.
Indeed, in Nuttall's last speech as deputy leader at Ukip's conference in September, just hours before Diane James was revealed as Farage's successor, the North West MEP made the following plea:
"The new leader must be a unifier, not a divider; seek compromise; bring people together; because, as Winston Churchill once said, jaw-jaw is always preferable to war-war. They must not lead what the Westminster journalists call a Faragista Ukip or a Carswellite Ukip - they must lead Ukip, a Ukip for everyone."
Having talked the talk, he is already walking the walk, as seen from his early appointments. Former London Mayoral candidate Peter Whittle has been chosen as deputy leader. While he is not a figure known by many outside - or, let's be honest, inside - the capital, he is popular with party activists, particularly those who undertake the hard graft of knocking on doors. A former journalist who founded a cultural think-tank, Whittle's background has more in common with Evans than Nuttall.
Likewise Patrick O'Flynn, the former political editor of the Daily Express turned Ukip MEP, who is now Nuttall's senior political advisor. While O'Flynn would enthusiastically dispute any claim he is part of the "liberal media elite", he understands how journalists operate and still has close ties in Westminster. O'Flynn was also one of those to be purged from Ukip's top table by Farage after the 2015 General Election, following an interview in which the former journalist claimed the then Ukip leader appeared "thin-skinned" and "snarling" because of advice from "wrong 'uns" close to him at the time.
Nuttall has also confirmed that Paul Oakden will stay on as party chairman. Like Whittle, Oakden is popular with activists, and has taken a hands-on approach in numerous by-elections in the north. One of these was the Oldham West and Royton by-election in December last year, which saw Ukip finish a distant second to Labour. The party was expected to do well in the seat, as a year before Ukip had come within 600 votes of winning the next-door constituency of Heywood and Middleton in another by-election. However, Labour scored an impressive victory in Oldham West (17,209 votes compared to Ukip's 6,487) because the party focused on the popularity of its candidate - local councillor Jim McMahon, a working-class man from the area. Ukip's candidate, John Bickley, was deemed to be "bussed in" and came out against a proposed cinema complex in the constituency that would have created jobs and fired a shot in the arm of the economy. It was a local election, focused on local issues, won by a local candidate.
The failure of Ukip in that by-election should not be misinterpreted as a sign of the party falling away in Labour areas and it now has precisely the right leader to take them on in these seats. Nuttall speaks the language of the ordinary man, and does so with a smile on his face. Many in the media may mock him for his resemblance to Eddie from Bottom and other comedic figures, but this simply plays into Ukip's hands. Indeed, it is this behaviour which strengthens the party's "us vs them" mentality which clearly resonates with so many people outside of London. This will only help Nuttall in his second task: getting Ukip MPs elected to Parliament.
Labour is obviously rattled by Nuttall's victory - as evidenced by the mass tweeting from MPs today of an old clip of the Ukip leader calling for greater privatisation in the NHS. That kind of treatment is only reserved for someone you consider a threat.
And he is a threat. Nuttall's Ukip offers voters something that Corbyn's Labour does not: a patriotic party focused on reducing immigration and fanning the flames of an English identity.
Labour either needs to co-opt some of those messages, or roundly defeat them. Mocking or dismissing Nuttall will only lead to electoral success for Ukip, most likely at the expense of Labour.
Let's not forget, if Andy Burnham is elected Mayor of Greater Manchester and Steve Rotheram win's the Liverpool mayoralty next May, Labour will have two Northern seats to defend in their heartlands as the pair resign from the Commons.
One of those seats could well turn from red to purple.