As a charity man, I should have felt the odd man out among the starry 'Fiterati' at this weekend's BT Sports Industry Awards, where Prostate Cancer UK was nominated as best sponsor of a team or individual. But the truth is, I was among friends (congratulations to O2 for the win by the way). Prostate Cancer UK, and our campaign Men United, are now deeply embedded across a range of sports and the turf felt surprisingly familiar.
Sport brings people together, we all know that. You just have to sit through the opening hours of a football/ rugby/cricket (delete as appropriate) World Cup build up on TV to see advert after advert extolling the unifying properties of sport. Strangers hugging in the street? Tick. Neighbours bunched up on a sofa round a TV? Tick. A team heading balls into a bin? Err, cross.
Funny thing is, it's actually more than just marketing rubbish. It's true.
At Prostate Cancer UK, we recognised a while ago that sport is a great avenue for bringing men together and talking with them about prostate cancer, not just preaching to them from the side lines. So we set out to build the relationships and partnerships we needed to get our voice and our message out to as many sports fans as possible in a space they feel comfortable with. It's not the usual charity approach, but as an organisation we've always been more interested in the road less travelled. As a tactic, going where men spend time and feel comfortable seems to be working: over 220,000 people have signed up to Men United in the last year.
What's unusual about these sport partnerships - and a lesson to those who think working with charities is just some corporate responsibility tick box exercise - is the value that both parties get from working together. Take Luton Town FC. In March, Luton's Kenilworth Road ground became The Men United Stadium for one night. We got to take over the ground, raise awareness of prostate cancer and the risk factors for this disease - age, ethnicity, family history - with Luton and Wycombe Wanderers fans. Luton saw a spike in their coverage in regional, national, and international media, they trended on twitter, and had over 204,000 people watching the game on Sky Sports (who even changed their match day graphics) alone. Everyone's a winner.
We're now finishing our second year of three in partnership with The Football League. With their help we've been to football grounds up and down the country, raising awareness, and bringing in the money to fund more research. Our Man-of-Men logo adorns the back of every player in England's Football League, and the Football League Managers' Association are our ambassadors on the pitch, in the dugout, and in the studio. If you're watched football this year, either in the flesh or on TV, you'll have heard of prostate cancer and Prostate Cancer UK. These partnerships are our billboards.
In Rugby League we've been adopted by Widnes Vikings as their official charity partner for 2015, and worked extensively with pundits like Sky Sports anchors Bill Arthur and Eddie Hemmings (both of whom have survived prostate cancer). We're now team-mates with Rugby League Cares, and have the backing of all 12 Super League Clubs. This May, we'll be front and centre at rugby's now legendary Magic Weekend in Newcastle too.
But back to football, and to a team that's gone above and beyond to help promote our work. Our partnership throughout the 2013/14 season is the reason we were at the BT Sports Industry Awards last night. I think it's fair to say that the other contenders for this award - Jaguar, Mars, O2 and Umbro - probably paid a little bit more than the £1 we gave up to be headline sponsor of this Championship team. Now everybody loves them, and know they care. I am, of course, talking about Millwall.
Surprised? You're not the first. Millwall's reputation as the tough guys in the league has dogged them for decades, but having worked with them for a number of years, I can tell you that beneath the snarl and bite, these lions have heart and are loyal as hell. Don't believe it? Meet Brian.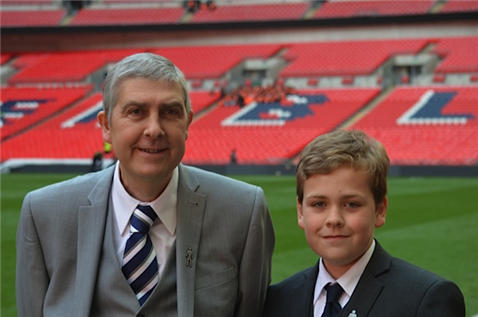 Brian Kilgannon, is a lifelong Millwall supporter who has advanced prostate cancer. Brian and his family have helped us raise awareness of a disease that kills 10,000 men every year in the UK, and Millwall have had the Kilgannons' back every step of the way of his treatment and care. From Brian's powerful letter, read out at Millwall's stadium, to his 12 year old son William's match reports and fundraising, the Kilgannon family and everyone at Millwall - players, coaches, fans - have united to help fight this disease head on. Whatever league Millwall are in, they'll always have our support for this alone, and I think our partnership has opened the eyes of many to the team Millwall really are.
Prostate cancer affects one in eight men in the UK - a staggering one in four men if you're black - which aren't good odds to play. Prostate cancer is also set to be the most common cancer in the UK by 2030, so we can't afford - and neither can the NHS - for this disease to continue building quietly in the background, picking off men on a daily basis. We need everyone to follow in the steps of Millwall, Widnes, Luton and all the other teams that support our cause, and come together this summer as Men United to help stop more men like Brian and his family from suffering the consequences of this horrible disease.