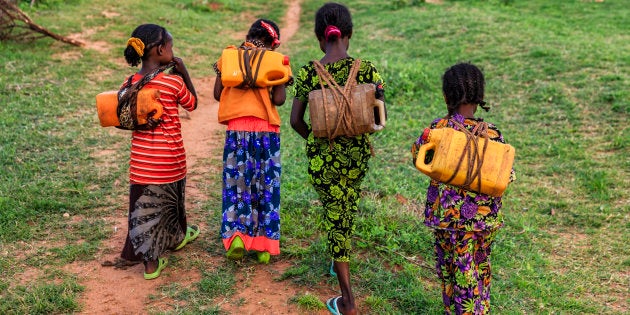 What thoughts come to mind when you're thinking of Valentine's Day? Your partner's affection? Chocolate and champagne? The heartwarming feeling of knowing that your child is secretly crafting you a card?
Perhaps you choose not to celebrate Valentine's Day, and that is all right. It is our human right – freedom of thought and expression.
Imagine yourself forced into marrying a stranger, brutally removed from your home with no right to further your studies or earn money, forced into home labour, having children and being beaten up for the smallest mistakes – even forced into prostitution. Unable to voice your pain, having no one to listen to you.
Millions of children around the world are forced into such a marriage, against their will and without the slightest knowledge of how it will shape their future – how their lives, their physical and emotional wellbeing will be affected.
Child marriage is a human rights violation. Although the law is against it, this practice – often seen as a tradition – is widespread in rural and impoverished communities, where gender inequality is prevalent. In developing countries, one in nine girls is married under the age of 15. Unfortunate families and their children become locked in a vicious cycle of poverty that will engulf future generations.
By ending child marriage, these girls will be able to finish school, delay motherhood, find decent jobs, be able to provide for their families, live fulfilled lives and be removed from the cycle of generational poverty – as well as improve the economy.
Ukuthwala is a traditional practice that takes place in South Africa – the practice of abducting young girls and forcing them into marriage, often with the consent of their parents. It occurs mainly in rural parts of South Africa – in particular, Eastern Cape and KwaZulu-Natal. The girls who are involved in this practice are frequently underaged, including some as young as eight.
"If a family has six children and there is a daughter the family cannot support, it is a way of getting rid of her," said professor Deidre Byrne, chairperson of the Unisa-Africa Development Programme set up to promote girls' rights.
Although originally this practice was not intended to be an abuse of human rights, throughout the years and perhaps due to poverty, the practice has changed, and girls are no longer given a choice. Financial reasons can force the girl's parents to accept the marriage; on the other side, the girl is often rejected by her own family if she tries to escape.
More than 91,000 South African girls between the ages of 12 and 17 are reportedly married, divorced, separated, widowed or living with a partner as husband and wife, with the latter forming the majority of the group.(Statistics SA)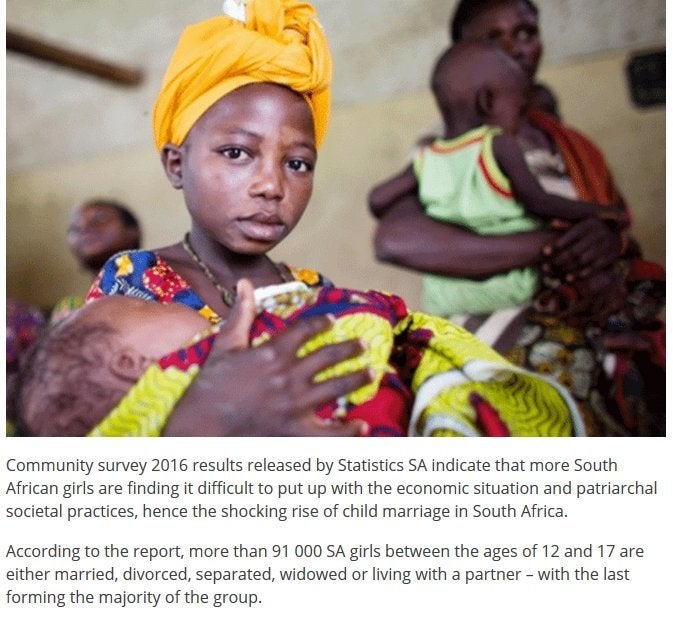 A social worker with the Open Door Crisis Centre in Pinetown said that the price for a child bride can be R4,000, which "is a lot of money (if you have nothing)".
Five little known facts about child marriage
1. Child marriage happens all over the world.
More than 700-million women and girls alive today were married before they turned 18. Although child marriage happens in the U.S. and the U.K. as well, it is most prevalent in developing countries, as one of the main driving forces is poverty.
2. Both boys and girls are married off by their parents, but girls are in much higher demand.
Marrying at such an early age forces both boys and girls into adult responsibilities. They have to drop out of school or are interdicted to attend school. Reaching adulthood, these people will lack the education required to campaign for themselves, being vulnerable to exploitation and abuse. The vicious circle of poverty stretches over yet another generation.
Girls forced into child marriage are at high risk of violence from their spouses, in-laws and even their own family, should they try to run away from an abusive relationship and return home.
3. Child marriage is almost universally banned.
4. Child marriage and teen pregnancy are dangerously linked.
Globally, complications from pregnancy and childbirth are the leading cause of death among adolescent girls. Child brides are at very high risk of complications during pregnancy and birth, as their bodies are not mature enough. They often have limited access to medical help. An early pregnancy, often the result of a rape, puts girls at risk of being married off to the father of their baby, whoever he may be.
5. There is a critical need for laws prohibiting child marriage and marital rape, for laws on birth and marriage registration.
Mandatory schooling and gender equality can definitely empower girls. By considering girls equal to boys there will be less motivation to engage in child marriage. Both girls and boys must be educated with regards to their sexual and reproductive health and their human rights. When girls are empowered and can stand up for themselves, they even become advocates in their community.
Since 2015, UNFPA (United Nations Population Fund) has worked to improve global awareness of child marriage, as well as taking action to end child marriage through the #IDONT international campaign on Valentine's Day.
Join in and say #IDONT to show your support towards the estimated 70-million girls who will be married as children over the next five years, forced to say "I do" and having their human rights violated.