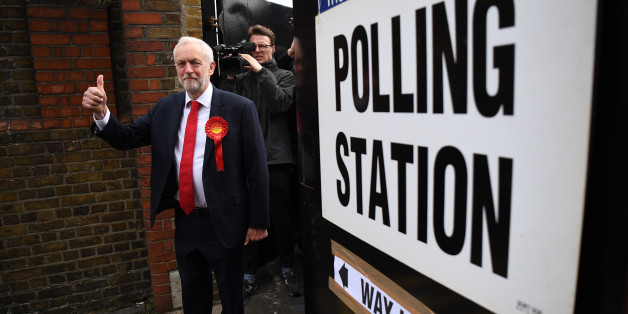 Leon Neal via Getty Images
The Tories were supposed to win by a landslide. But since she called the election, Theresa May's lead over Labour has tumbled. Some pollsters put her lead at just four points. Though a healthy Tory majority is still on the cards, Labour look set to win more of the vote than they did under Ed Miliband in 2015. And that's bad, but not for the reason you might think.
I love the Labour Party, and I've been a member for 25 years. And I sincerely hope, with all my heart, not only that we lose today, but that we lose catastrophically. I say this because I worry a close defeat will leave Jeremy Corbyn and his baying Corbynistas in control of my beloved party. Corbyn, who won leadership by a huge mandate in 2015, has already weathered centrist opposition and said that he won't step down after the election no matter what happens. A narrow defeat will only embolden him, and prove in his idealistic, unrealistic eyes that he's the right man to take Labour forward. But if Labour lose catastrophically--not just badly, but to the point that it damages the party in its current form--there's a chance of Corbyn walking.
But what's a "catastrophic" loss? Michael Foot, Gordon Brown and Ed Miliband all stepped down after their losses, though Neil Kinnock hung in for two defeats before finally handing over the reins. The majority of the Labour Party membership also say they want Corbyn to stand down, but does that mean he will? After all, he doesn't seem to care that he's received the worst leader approval ratings for 60 years or that historically the more Labour have moved to the left, the less electable they've become. He doesn't seem to care that the old-school socialism he preaches has reduced his party--my party--to political impotence, or see anything wrong with taking money from Iranian state TV or making common cause with the most violent, extreme nationalists in Ireland.
Meanwhile his supporters attack anyone who doesn't agree with him as a "Red Tory" or a Blairite--probably a worse insult in their eyes since unelectability seems to be part of Corbyn's appeal and Blair had a habit of winning elections. After the embarrassing Copeland by-election loss, a Labour frontbencher put it like this: "The Labour Party should not be losing seats like Copeland, but there is nowhere to go and nothing to be done. The party is controlled by a membership that believes our leaders can do no wrong."
Only once we get rid of these people can we then start back on the road to electability and once more have a Labour government. It's long overdue: some of the more controversial proposals in the Tory manifesto include capping immigration and factoring in property value in the means test for receiving free care in your own home. Sir Andrew Dilnot, who produced a report on the social care system for the Coalition government in 2011, told BBC Radio 4's Today programme that "people will be left helpless, knowing that what will happen if they are unlucky enough to suffer the need for care costs is that they will be entirely on their own until they are down to their last £100,000 of all their wealth, including their house." It's interesting that Sir Andrew uses the word "will". Maybe he knows--as I and many, many Labour supporters do--that no Labour Party under Jeremy Corbyn will ever be electable enough to help those in society who need it the most.
In the country and on the continent, there's a slow creep to the far right. Under the next Tory government, we can expect at least five more years of austerity and a serious risk to public services. The British Chamber of Commerce called the manifesto "not pro-business". The Institute of Fiscal Studies said it "failed to address the long-term challenges we face." And at the helm of Labour, vying to lead us through this storm is an uninspiring, unrealistic, unelectable leftie demagogue. Let's hope the cult of Corbyn is destroyed before he takes the great Labour Party with him.