It's happened! I've been recognised in the street by adoring fans! Well, not really fans, but people have been stopping me to ask if I'm the chap in the advert for the charity Guide Dogs. In my very first blog in October last year, I said there would be very little chance of finding me out in the street at all, because I never went anywhere on my own. I used to be one of the 180,000 people with sight loss in the UK who rarely or never leave their home on their own.
But now I've been partnered with my guide dog, Oscar, I've been able to go out without my wife Elaine for the first time since I went blind eight years ago. In the last few weeks, several people have stopped me to chat, including one man who runs a local glossy magazine and who'd like to write a piece about me. It's a huge contrast to before, when people would pretty much ignore me when I was out with Elaine and talk to her instead, like I didn't exist.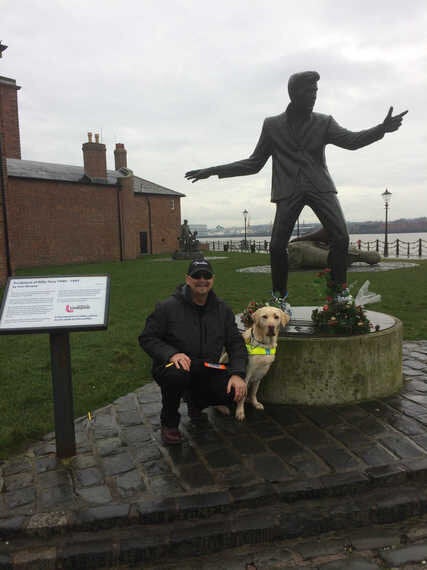 Elaine and I have taken Oscar to all sorts of places. We had our photo taken with the statue of Billy Fury at Albert Dock in Liverpool, and we've had a day out to Llandudno. One of Oscar's favourite places is Thurstaston Common, where I can let him off the lead for what we guide dog owners call a 'free run' - that's a walk to everyone else. I unhook his lead but he doesn't run straight off, he waits until I say 'run free, Oscar' before he gallops away. He's such a good boy! I say gallop because that's exactly what it sounds like. I can't see him running past but I can definitely hear him - he weighs 35 kilograms (that's five-and-half stone in old money)!
Oscar's also had his first visit to the vet. Like all guide dog owners, I groom my guide dog every day and check his paws, and one morning I noticed his claws felt like they needed a clip. He was so well behaved and the vet thought he was great - he called Oscar a very handsome dog.
Oscar made us chuckle on Valentine's Day. Our daughter Helen has a soft toy dog that's nearly as big as Oscar, so we sat them opposite each other at a low table and scattered some rose petals over it. As you'll (hopefully be able to) see, the resulting photo is very cute, with Oscar and his date staring into each other's eyes.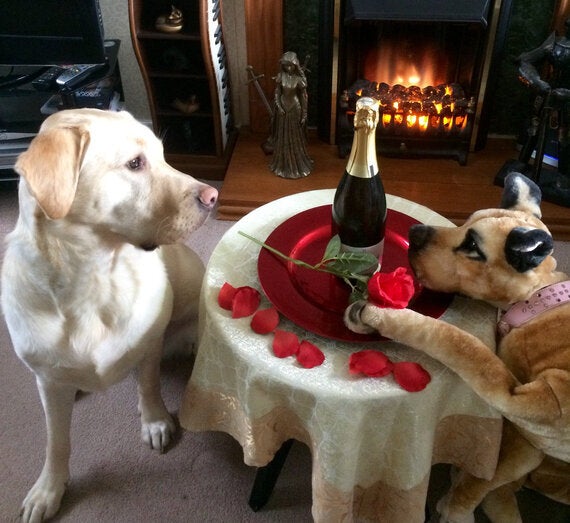 I've also taken Oscar to visit the statue of a guide dog in Wallasey, where the UK's first guide dogs were trained. This trip was especially poignant because it was at that spot in November 2015 where Elaine and I wondered if having a guide dog could help me. Little did I know then that the next time I was there, I'd have a guide dog of my very own!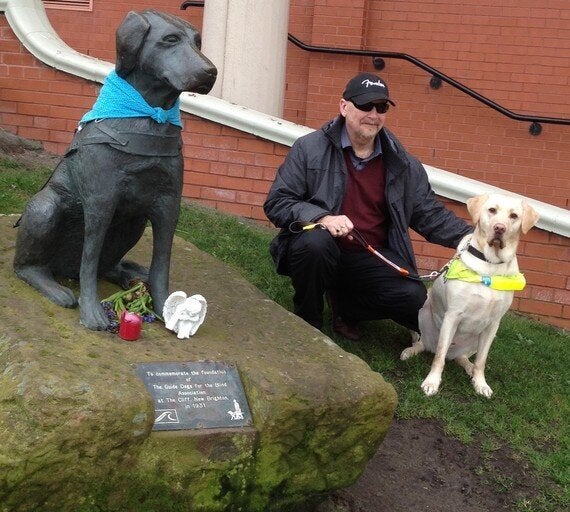 In fact Guide Dogs is having an effect on my whole family. My son, Christian, has been so impressed by Oscar that he's decided to do the Great Manchester Run 10k for Guide Dogs. He's hoping to raise £150, and Elaine and I couldn't be more proud.
When I went blind, I really did think that my life was over because it cost me my business, my home and my freedom. It put me in such a bad place, mentally. Now, thanks to Oscar and Guide Dogs, I'm planning for the future again and I'm gradually getting back to the old me.