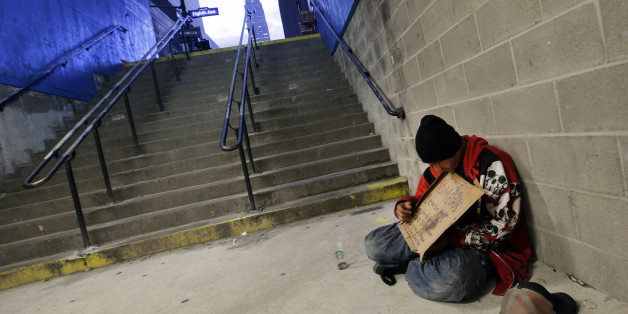 ASSOCIATED PRESS
Ask someone how they would solve youth homelessness and they will tell you to put a roof over a young person's head. They would only be half right. Having that safe haven is absolutely critical, it's the most important first step for a vulnerable young person, but it isn't the same as having a place in the world. To fulfil their potential, to blaze a trail, to become independent, it's also crucial we support homeless young people to gain new skills and find sustainable work.
But without the family support and the financial means of their non-homeless peers, this can be anything but straightforward. How many of us understand this? Too few.
That is why when we launched the first ever Centrepoint Youth Spotlight this week, the largest survey of homeless young people ever undertaken, we chose to focus on education and employment.
Our research found that discrepancies started before young people face homelessness, during their secondary school education. Many also told us they had frequently had to change schools, which meant they never felt settled. 51% of those young people surveyed, who went on to need the support of Centrepoint or our partner charities across the country, said they faced issues at home and those issues prevented them from completing their exams or coursework.
The single biggest cause of youth homelessness for young people at Centrepoint is family breakdown, something which can mean not only a young person has no roof over their head but also that they have no-one to fall back on for practical help, financial support or even encouragement. Of the homeless young people surveyed, 42% said they were given no support from their family to prepare to get a job as opposed to just 15% of non-homeless young people.
But of course young people are not just battling their own personal circumstances; they are faced with an external environment that remains extremely challenging for those furthest from the labour market. Because homeless young people often lack work experience, as well as higher levels of qualifications, if they can find work it is often low-paid and insecure. Our survey found 44% of homeless young people can only find work of this type compared to 24% of their peers.
Young people have spent the decade since the economic crash struggling under its shadow, attempting to break into a world of work that looks very different to the one previous generations faced. In the face of tough economic times young people have shown resilience, and as a country we should respond in kind.
Successive governments have invested in training, including through the creation of the apprenticeship levy, however ministers can and must go further.
The cost of travel to college is a barrier to many young people accessing training. Every year thanks to the public's generosity, Centrepoint's Bursary Scheme helps homeless young people leap some of those barriers, funding the cost of courses, equipment and helping pave the way to university, college and work. But there is more that can be done.
The government must follow through on its election pledge to provide discounted travel for apprentices. There is a strong case to review the level of wages for apprentices, something which the low pay commission must work with employers to assess. And post-Brexit, we also need to ensure that the loss of grants from the European Social Fund - such as the £170million Youth Employment Initiative which enables Centrepoint and others to train homeless young people - is offset by the UK government.
After 10 years of young people footing the bill, it is time for our country as a whole to guarantee the future they deserve and our economy demands.
See below for an infographic further explaining the results of Centrepoint's Youth Spotlight Survey: