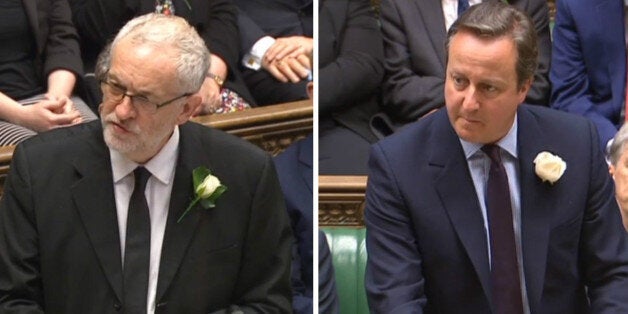 It was during Jeremy Corbyn's sombre tribute to Jo Cox that we first heard the voice of her three year-old daughter, Lejla. Like any toddler, Lejla made herself heard, pointing at her strange surroundings and the sad-looking people below, as her dad Brendan whispered gently to her on his knee.
Her brother, Cuillin, five, was also in the gallery, cuddling up to his grandmother, Jo's mother Jean. At one point in the hour-long, special session - in a Parliament recalled specially to mark the passing of the young Labour MP - his natural fidgetiness was pacified by a favourite book.
'You Choose' is a picture-book stuffed full of the endless possibilities that children love, ranging from what job they want to do to who they would most want as a friend. As a parent who has spent many an hour reading that book to my own offspring, the very sight of it made me smile. And then weep.
Brendan himself showed enormous strength through the hour of heartfelt tributes, ensuring their children could one day look back on this and know they were there. Only once or twice did he have to wipe a tear away, before focusing once more on the kids.
Down in the Commons chamber, MPs couldn't help direct their sympathy and love up towards that small family grouping in the corner of the gallery. Nearly all MPs on all sides wore the white rose of Yorkshire as a mark of respect for the local lass, and some wore purple and green colours of the Suffragette movement, as Brendan and Jo had at their own wedding.
Jeremy Corbyn was at his most human, winning the first murmured 'hear, hears' as he praised Bernard Kenny, the 77-year-old former miner who was stabbed as he tried to save Jo. David Cameron was as Prime Ministerial as ever, mixing sympathy for the family with a recognition of the late MP's passionate work around the globe.
But it was her fellow young Labour MPs, many from the 2010 or 2015 general election intakes, who had the most moving and personal tributes. Rachel Reeves, herself the mother of young children, held it together right until her final line that Batley and Spen will go on to elect another MP, "but no one can replace a mother".
There were few dry eyes in The House at that, and Stephen Kinnock, who had known Jo for 20 years, had broken down even before he spoke. But it was Kinnock who couldn't hide his anger, as well as his grief, as he became the first to lash out at the UKIP immigration poster that had been launched hours before Jo's murder.
Corbyn had referred to "an act of extreme political violence". But Kinnock went further, saying she was "assassinated because of what she was, because of what she stood for". Referring to the Farage poster, he said Jo "would have responded with outrage, and with a robust rejection of the calculated narrative of cynicism, division and despair that it represents, because Jo understood that rhetoric has consequences".
Other MPs felt the sharp change in the mood, as he added: "When insecurity, fear and anger are used to light a fuse, an explosion is inevitable." The Aberavon MP, son of former Labour leader Neil Kinnock, ended on a positive note: "We must now stand up for something better because of someone better."
Leading pro-Brexit MPs like Chris Grayling, looked down at the floor. Michael Gove was away from the front bench, sitting in the small box seat near the Bar of the House. Boris Johnson was seated even further away from his own frontbench, on the far side from the Speaker's chair.
Jonathan Reynolds, yet another of the Cox generation, as it may come to be known, had a lovely story about a Labour party conference fringe event five years ago. His wife was breastfeeding their daughter and feeling quite self-conscious - "some older comrades were still not at ease with that sort of thing". As the laughter died down, he revealed " Jo saw that and she sat down next to Claire and began to feed her own son, just to show solidarity with Claire and to make her feel better."
Stephen Doughty, another very close friend was self-deprecating but got to the heart of Jo's Yorkshire straight-talking. "She once told me, in a one-to-one meeting as my manager at Oxfam, that she did not do touchy-feely, that I was being too emotional, that we needed to "get on with it" and sort out the campaign we were working on." And his best line was his final one, that Cox was "most of all focused on doing for others, not just being for ourselves".
Alison McGovern did her best to keep it together too, stating that her late friend's life had "real meaning". Her voice cracked, and so did many hearts listening, when she got to the section where she quoted Jo's own words about the plight of Syrian refugees. "I would risk a life and limb to get my two most precious babies out of that hellhole..."
Those precious children were still in the gallery as MPs rose to applaud the memory of their fallen mother. As the MPs filed out, young Cuillin waved at those friends of his mummy's that he recognised. Anna Turley, Stephen Kinnock and others waved back.
With a divided nation briefly united in grief, just days before the historic EU referendum, that book 'You Choose' seemed more apt than ever.