Good day from Rwanda. As I rose this morning, marvelling at the view of the hills and mist-filled valleys from my hotel, I thought how lucky I was to be here.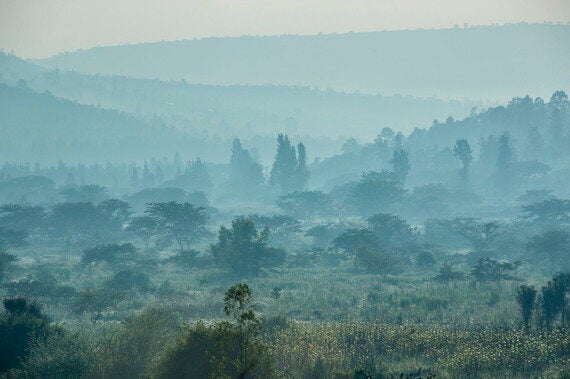 Photograph by Georgina Goodwin.
However, my thoughts were interrupted with the arrival of Georgina Goodwin, our photographer, to remind me there was no time to dwell on the view for long. It was 6am and we were up against the clock - we had a long drive deep into the rural areas of Eastern Province.
Although Kigali is a bustling, thriving city and Rwanda is making great economic strides forward, much of Rwanda's rural population still lives in poverty. In Eastern Province, where we were today, this is true of some 50.4 percent of the population.
Driving along the dirt roads, surrounded by banana trees, we passed one tiny hamlet after another. The homes were beautifully cared for, but I noticed pretty quickly that there were no pylons carrying electricity to this remote area, and that the queues at the village water pumps were long.
After about an hour on a very bumpy dirt road we arrived at the home of Maida, a Hand in Hand member who has developed a thriving business charging mobile phones. Apart from some great views, the best part of my job at Hand in Hand is meeting women like her. Each time I am struck by their determination, hard work and pride at having started a small business.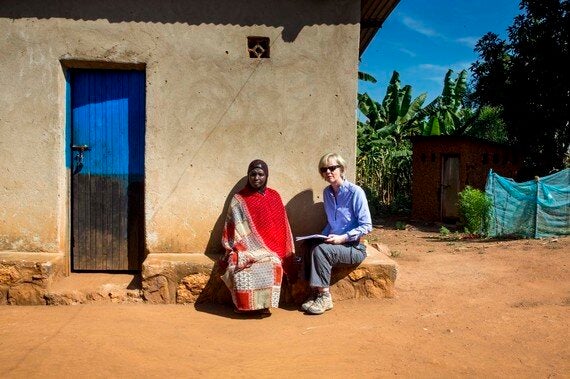 Photograph L-R: Maida, Ann Dickinson (photograph by Georgina Goodwin)
I last met Maida in 2014 when she was just starting her business of generating electricity from solar panels to charge mobile phones and laptops. Today I found her in a new home, to which her business had contributed. For the first time, her whole family of six could live together. What's more, she had been able to invest in an extra solar panel enabling her to expand her business.
It was not all good news, however. Maida had found that others were copying her idea and she was beginning to face a great deal of local competition. Unsure how to retain her customers, she attended at business refresher course with Hand in Hand.
At the end of the day-long course she had a brainwave. The extra solar panel she had bought would supply enough electricity to power the tools she would need to run a hair salon - and hers would be the only hair salon in the village. She came home, ran the wiring she needed outside, bought the equipment and set up shop. The business is only a few weeks old but Maida says it's doing well and she has high hopes for the future.
But that was not all. As I walked into her front room I noticed a small television screen in the corner. (I should say that in this small room there was only a table, two benches a car sized battery and a television.) There were no shelves with ornaments or the accumulation of everyday family life - no cups or plates or food - so the television was a surprise. Maida explained this was another new business idea. She charges people 100 RWF US $0.12) per person to come and watch the television, and she can squeeze 15 people at a time into this small room (standing only - there is nothing for them to sit on).
What is the most popular television program, I asked. Football, of course.
Suddenly, all these miles from home in a tiny house deep in rural Rwanda, I was having a conversation about the Premier League. Sadly, Maida's son is a Manchester City supporter. I tried to persuade him of the superior quality of Liverpool but he was having none of it.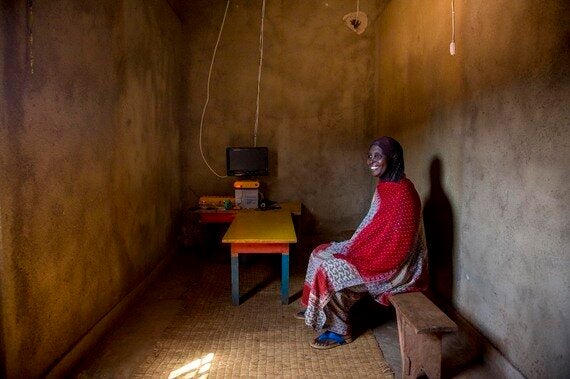 Photograph: Maida in her front room (photograph by Georgina Goodwin)
Related