Commonwealth leaders from around the world meet in Sri Lanka on Friday. Yet again they plan to ignore the criminalisation of lesbian and gay people in 80% of Commonwealth member states. They are refusing to even discuss the current homophobic persecution in Ghana, Cameroon, Zambia, Uganda and Nigeria.
The theme of the protest was: "Commonwealth must speak out and act against the persecution of lesbian, gay, bisexual and transgender (LGBT) people."
At least 41 of the 53 Commonwealth member states still criminalise homosexuality. They account for more than half of the world's countries where same-sex relations are illegal.
Most of these homophobic laws were imposed by Britain during the colonial era and were never repealed when these nations won their independence. The majority of legal statutes disparage same-sex relationships as "unnatural offences."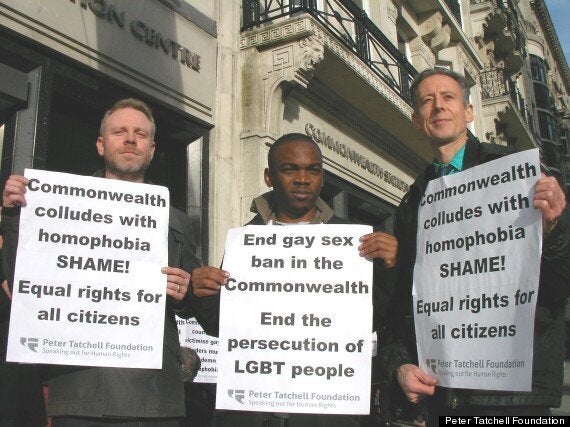 The penalties for homosexuality include 25 years jail in Trinidad and Tobago and 20 years plus flogging in Malaysia.
Six Commonwealth countries stipulate life imprisonment: Sierra Leone, Tanzania, Pakistan, Uganda, Bangladesh and Guyana.
It supposedly commits the member nations to respect universal human rights, which should, by implication, include the human rights of millions of LGBT Commonwealth citizens. Despite most member countries having failed to meet this commitment, the Commonwealth Secretariat says and does nothing. Silence is collusion.
The Commonwealth should have never agreed to hold its summit in Sri Lanka, given the country's appalling human rights record. An estimated 40,000 Tamil civilians were massacred by government forces in the closing stages of the civil war in 2009. Right now, opposition MPs, journalists and human rights defenders are suffering threats and intimidation.
Like many civil society organisations, the Sri Lankan LGBT movement has been forced to curtail its activities after threats against it. Individual activists have been warned. All suggestions of LGBT visibility and events to coincide with the Commonwealth Heads of Government Meeting (CHOGM) have been ditched. It is too dangerous.
Alistair Stewart, Assistant Director of the Kaleidoscope Trust, said:
"The Commonwealth has consistently refused to address the issue of human rights for LGBT people and the forthcoming heads of government meeting in Sri Lanka will be no different. More than half of all the countries in the world that still make being gay a crime are in the Commonwealth. This is a stain on an organisation supposedly committed to equal rights for all."
Edwin Sesange, Director of the African LGBTI Out & Proud Diamond Group, added:
"Although the Secretary General of the Commonwealth continues to condemn homophobia, we are calling for action. Countries that persecute LGBT people - such as Uganda, Cameroon and Nigeria - should be suspended from the Commonwealth. Homophobia and transphobia are violations of human rights and should be raised at the Commonwealth summit in Sri Lanka by the Secretary General, Prime Minister David Cameron and other national leaders. No future Commonwealth meeting should be held in a country that persecutes LGBT people or violates other human rights."
So what are the minimum LGBT human rights standards that Commonwealth member states should be expected to uphold? They should, of course, honour the principles of the Commonwealth Charter.
This means: 1) Decriminalisation of homosexuality; 2) Laws prohibiting discrimination based on sexual orientation and gender identity; 3) Enforcement of legislation against threats and violence, to protect LGBT people from hate crimes; and 4) Government consultation and dialogue with their own national LGBT organisations.
These are the very least legislative protections that LGBT people have a right to expect. Until they get them, the Commonwealth secretariat has duty to publicly advocate, encourage, promote and support LGBT human rights in all 53 member states, in accordance with the principles of the Commonwealth Charter. It should give lead by condemning homophobic persecution whenever it occurs and by praising countries like India that have struck down their colonial era anti-gay laws.
It is time to make homophobia history throughout the Commonwealth.