While presidents and prime ministers were getting ready for this week's G7 meeting, young people from the G7 countries came together at the Junior 7 (J7), Summit in Japan last month to decide what action they want to see the world's richest countries take on issues like access to education, climate change and youth unemployment.
Young people have a huge stake in tackling these problems. There are 124 million children and young adolescents not in school. There are 76 million young people unable to find work. There are more than 2.9 billion people under the age of 25. That's nearly half the world's population. It is this group who will have to live with the disproportionate impact of climate change that has been landed upon them for the rest of their lives.
Without the participation of almost half the world's population, can we really expect to achieve the Global Sustainable Development Goals by 2030? To think we can end poverty, combat climate change and fight injustice and inequality without their involvement is naïve, if not arrogant. We cannot move forwards without them - nor should we. They will be the ones living with the consequences of today's action or inaction, and it is right that they decide their own future.
The four British J7 delegates have all been International Citizen Service (ICS) volunteers. They have taken part in volunteering projects in Africa, Central America and Asia, seen first-hand the impact poverty has on young people and worked alongside youth volunteers from the countries they were in to overcome this.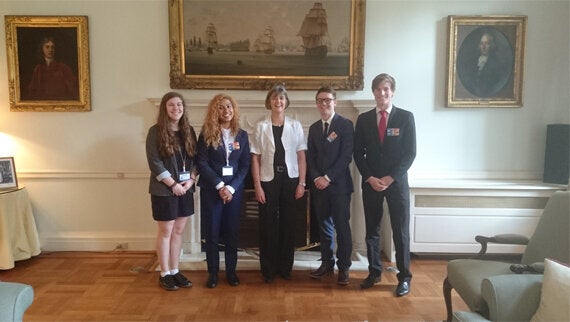 The British J7 delegates meeting with Julia Longbottom, Deputy Head of Mission to Japan at the British Embassy in Tokyo. Photo credit Marc Maringer/VSO.
ICS, which is led by VSO and funded by the UK Government, encourages young people to view themselves as global citizens and shows them what can be achieved by young people working together to tackle some of the world's most pressing problems - which is just what they did at the J7.
The J7 delegates worked with young people from the other G7 nations to create a series of solid, practicable steps that can be taken to reduce poverty, protect the environment and lift some of the barriers standing in the way of youth around the world.
Their recommendations include ensuring education provision makes up at least 4% of the overall humanitarian budget during humanitarian crises, increasing carbon taxes to encourage investment in renewable energies, thus creating more jobs and helping secure the wellbeing of people and planet for the next generation, and expanding internet access in the global south to improve the quality of and access to education.
It's brilliant to see young people's voices being given such a significant platform. But, for the J7 to have been meaningful and not a tokenistic exercise, those attending the G7 must give these recommendations the consideration they're due.
This week, the British J7 delegates will meet with Baroness Verma, Parliamentary Under Secretary of State at the Department for International Development, to discuss their recommendations. This is a great opportunity for the delegates to directly influence policy, and one I hope is replicated in the other G7 countries.
We must also ensure young people in developing countries agents of change rather than passive recipients. At VSO we are increasingly doing this through schemes like the VSO-led Youth Citizen Service in India, which promotes active citizenship and enables volunteers to develop skills and expertise which stay in country long after their placement has ended. To achieve our goals, we must do this on a global scale.
Unless we want to find ourselves in 2030 having failed to fulfil our commitments, writing another set of Global Goals, mourning the loss of a great opportunity for change, we must take the role of youth seriously. Young people have a passion for change that gives them the drive to shape the world they live in. In the mission to end poverty and deliver on the Global Goals, what better allies to have?