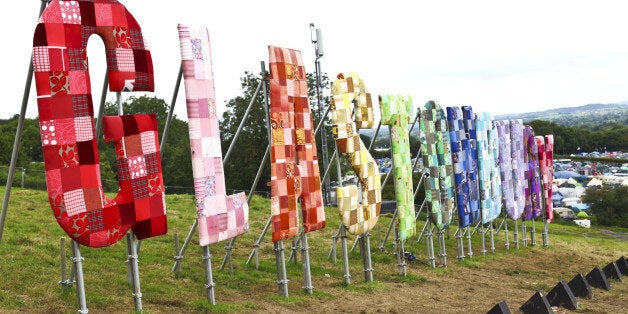 Glastonbury Festival's 900 acre site is jam-packed with plenty of potential "wow" moments and awe-inspiring acts. However, while many of these special seconds are shared with thousands of other people - and uploaded to YouTube by the Monday after - there are plenty of wonderful moments which are shared by just a few hundred of the 180,000 people in attendance.
With so much to do see and do - I can recommend yoga in the Green Fields - it's impossible to summarise every fantastic moment of this year's Glastonbury, but here are five of my favourite bits from 2014...
1. Skipping Metallica in favour of Dan Le Sac Vs. Scroobius Pip
With stages showcasing everything from heavy metal to poetry readings and meditation classes, there's no need for festival-goers to half-heartedly listen to a band they don't like - which is why I passed on Metallica and headed to the Left Field instead.
There, I found duo Dan Le Sac vs. Scroobius Pip, whose high energy set - Pip leapt into the crowd and performed the first two tracks in the mosh pit - delighted the few hundred fans who didn't fancy seeing James Hetfield and co.
2. Sunrise at Stone Circle
After attempting - and failing - to make it to the famed stone circle for sunrise in 2013, one of the very few things on my 'Must Do' list for this year was to climb to Worthy Farm's best viewing point and see the sun rise over the festival.
So, in the early hours of Saturday morning, I passed on the post-night out grub and headed to the top of the Healing Fields, where groups of friends sat on makeshift seats - read: bin bags - next to bonfires and waited for the sun to come up in the distance. Is it a bit cheesy? Yes. Was it worth the trek? Absolutely.
Metronomy's secret William's Green gig on Thursday served as an advert for their scheduled set at The Park a day later, giving everyone a taster of what to expect from the electro group. At The Park, Joe Mount and his band stepped things up, drifting between the poptastic tracks from Love Letters into fan favourites The Look and The Bay.
Glastonbury's famous South East Corner is a labyrinth of venues, each with their own theme and vibe. On Friday, after visiting the Day Of The Dead-themed clubs in The Common, and stopping off to gawp at The Cave's waterfall, I headed towards Shangri La. This year, Shangri La was reincarnated as Corporate Hell, an area that mashed together George Orwell, Aldous Huxley and Margaret Atwood's worst nightmares and brought them to life in the Somerset countryside.
The twisted magic of Shangri La is overwhelming and each corner of Shangri Hell brings something new, be it an actor posing as a murderous boss or '80s club where you need a tattoo to get in. Staying up until 5am might seem like a big ask, but Shangri La makes it impossible not to.
5. 'Coat Of Many Colours' by Dolly Parton
It's impossible to mention this year's event without sparing a few seconds to talk about the most-watched headliner of 2014's festival - Dolly Parton. While over 100,000 people saw the country legend stride out onto the Pyramid Stage, Dolly made it feel as though she was performing to just a handful of fans.
Hearing her shrieking with delight as everyone sang 9 To 5, before leading a sing-along to new track Blue Smoke was heart-warming enough, so it's no wonder Coat Of Many Colours and the anecdote that came before it inspired a few sobs from even the toughest of Glastonbury's festival-goers.
Follow Rachel McGrath on Twitter: www.twitter.com/rachelmcgrath