They say that fashion tends to repeat itself, that it is cyclical in nature. adidas revealed their latest and greatest football boots last week and soon after they could be seen on Liverpool player, Dirk Kuyt. The boots were worn for the first time competitively at Wembley Stadium for the FA Cup Final, you'd probably be surprised to find that some people's first thought was, "I've seen that idea on boots before"!
With the investment in design and technology always pushing the boundaries, to see an idea that first was used in 1967 crop up on the pitch again is unexpected for many. The boots below were known as the Power Points, a name first associated with zones on a football boot, not presentations and Microsoft!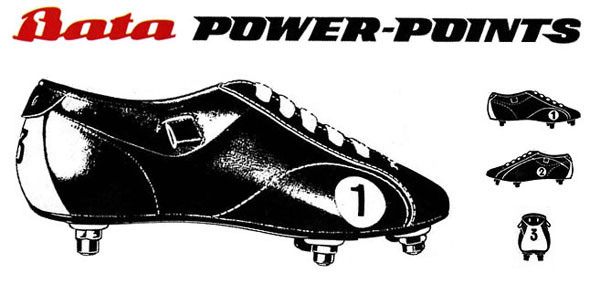 Power Points were the creation of the Bata company, who had a factory built in East Tilbury, Thurrock by Tomas Bata a Czechoslovakian entrepreneur, who created one of the world's biggest multinational footwear companies. They were the only football boots in the world with specially numbered target areas, to help players learn ball control. They even came with an illustrated booklet and were advertised by Sir Alf Ramsey, knighted in 1967 for his role as manager in England's World Cup win the previous year.
Fast forward forty five years and adidas have announced that their new boots will be called the Lethal Zones, as they have five differently named areas on them, all to aid the players ball control. This is a new stage in the development of the Predator boot, that has focused on spin and power as it's primary selling features in the past.

adidas have always been at the forefront of football boot design and technology. In 1954 they developed the first boot with removable studs and it was in 1994 that they first revealed the Predator. A boot concept created by former Liverpool footballer Craig Johnston, with rubber strips added to the forefoot to increase speed and spin of the ball.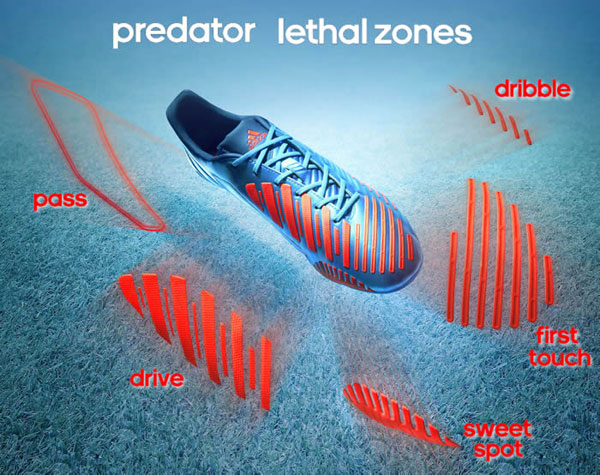 The fives zones of these new boots are:
Dribble; ribs on the lateral toe box for lots of quick ball contacts
First Touch; recessed ribs that cushion the ball for immediate control
Drive; designed to improve passing distance
Sweet spot: more spin and speed on shots & crosses thanks to raised ribs on medial toe box Pass; more confidence with passes thanks to longer contact time between foot and ball.
It seems that the players are impressed, Manchester United's Portuguese winger Nani has been quoted as saying; "the rubber ribs grip and release the ball while I zigzag. The ball only leaves my foot when I want it to, no matter how fast I dribble down the wing."
Images courtesy of FootballBoots.co.uk