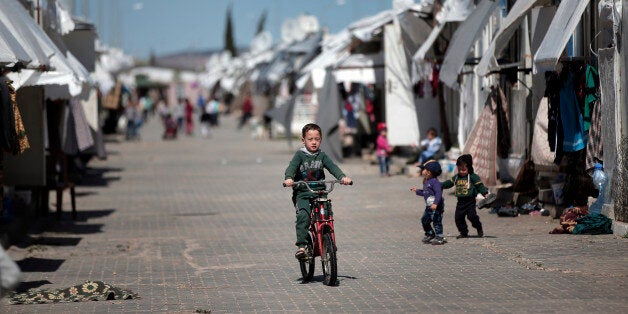 Today, as we mark 65 years of the UN Refugee Convention, more than 10,000 children are missing on our continent. Hundreds of them have disappeared here in the UK.
Ten thousand is disturbing enough - but the true number of lost unaccompanied asylum-seeking children is probably much higher. Europol's latest estimate from January is likely to be conservative - and the figure rises with every passing day.
On Tuesday, the Lords EU Committee laid out the full horror facing children who make it alone to Europe - separated from their families, often fleeing war and persecution - and the ongoing disgraceful failure of our Government to do anything of any real substance to ease their suffering.
In its Children in Crisis report, members deplored the "continuing reluctance of the UK Government to show solidarity with its European partners in helping to relocate such children" and "the failure by EU Member States, including the United Kingdom, to take urgent action following the announcement of Europol's latest figures".
But if there was ever an issue on which our Government cannot be allowed to drag its heels, this is it. The latest census of 'the jungle' in Calais by Help Refugees reveals the number of unaccompanied children there has risen by 64% since Cameron's climbdown, reaching 608 - the youngest of whom is just eight.
These children, all eligible for resettlement here, are currently languishing in appalling conditions just 20 miles from our coast. The Mayor of Calais has said the northern part of the camp will soon be evicted. It's estimated that 425 of those children will be displaced, and the last eviction left 129 unaccompanied minors unaccounted for.
This is the greatest humanitarian crisis in recent history, and it's playing out on our doorstep. We are the fifth richest country in the world. So what is our Government doing to help?
In May - after initial refusal and only under great pressure - the Prime Minister reluctantly agreed to accept unaccompanied refugee children from Greece, Italy and France - although he refused to commit to a number.
The scheme was proposed by Lord Alf Dubs - himself a child of the Kindertransport, which brought 10,000 children fleeing Nazi persecution safely to our shores.
Since then - nothing. A Home Office spokesperson claimed this week that "more than 20 children have been accepted for transfer to the UK ... and the majority of these have already arrived". But these are children with family members in the UK, not the lone children that are the focus of the Dubs scheme. Nearly 90,000 unaccompanied children sought refuge in Europe in 2015.
The Government must explain how children in Europe are being selected for resettlement. It must tell us when the children will arrive, and how local authorities will be informed about refugees due to enter their care.
And, crucially, it must ensure local authorities are in a position to provide the full package of care and support necessary to properly care for every unaccompanied child seeking sanctuary in this country.
Liberty has also worked with Lord Dubs on an amendment to the Children and Social Work Bill, currently making its way through Parliament, which is designed to press the Government to explain how it will implement and fund the scheme.
Promises are all very well. Soundbites generate headlines, but they don't pay for schooling, foster care, translators and counsellors. That needs action, careful planning - and money.
While the Government has committed to an enhanced daily rate of funding for each child, the Local Government Association remains concerned that it won't be enough to cover a full package of care - and the new rate is only guaranteed for a year.
Many councils stand ready and willing to help - but their resources are hugely stretched. And if councils express their inability to afford to properly care for asylum-seeking children, it could be a useful get-out for a Government that has been more than happy to go on shoulder-shrugging and buck-passing.
Many more councils are likely to come forward if they feel confident that they have funds to do their duty. That means we'll be able to offer protection to more children, more quickly.
Recent weeks have seen a spike in hate crime: a dark reminder of months of dangerously divisive political rhetoric in the Mayoral race and the EU referendum campaign and years of Government efforts to make Britain a "hostile environment".
The welcome and support we give these lone, vulnerable children could bring some urgently needed compassion to bear on a society battling a rising tide of discrimination.
When the UK signed up to the Refugee Convention all those years ago, it was an affirmation and recognition of common humanity - a demonstration of our willingness to share responsibility to protect fellow humans in the most desperate need of sanctuary.
There are children disappearing on our doorstep - vanishing into a nightmare of exploitation, slavery, sexual abuse. We can help - and we must press our Government to make sure we do.